LEFT BACK HOME – Why can't José Enrique get a game for Spain?
Updated: 9 November, 2011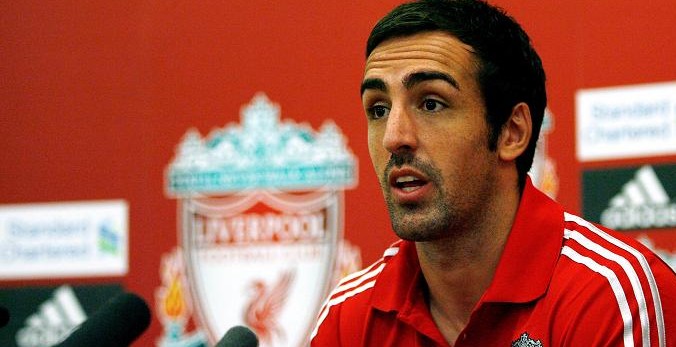 By Archie Buck
The Spain squad for the upcoming friendlies against England and Costa Rica was announced on Monday, with Vicente Del Bosque causing few surprises. 
It is a little over three years since Spain won the European Championship in Austria and Switzerland, and the squad is still very similar – in fact 14 of the players who went to the Championship are included.
In some sense it's surprising, but such consistency has so far proved to be successful.
In comparison the England squad contains four players yet to make their international debuts and 10 players that haven't reached double figures yet.
In total the Spanish squad have 1094 caps between them, the English a meagre 490.
One player who has been disappointed yet again however, is Liverpool's Jose Enrique.
The Spaniard is a relatively new acquisition for the Reds after joining in the summer from Newcastle United, but has hit the ground running at Anfield.
Yet the 25-year-old has again been overlooked by Del Bosque, leaving many wondering what the player has to do to break into the national squad.
Left back is arguably Spain's weakest position and one which is the main topic of conversation whenever the national side is mentioned.
First choice is currently Alvaro Arbeloa, coincidentally another player who really came to prominence while at Liverpool, but he is really a right back who is just filling in.
The other potential left backs in the squad are Jordi Alba and Nacho Monreal. Jordi Alba looks to be a promising talent, at 22 he has a lot of potential to come and some scintillating attacking performances this season or Valencia have seen him attract the interest of many clubs, including Manchester United.
With Valencia his role has evolved into a far more attacking position. In fact he has played left midfield at times interchanging with Jeremy Mathieu, another player comfortable in both midfield and defence. Whether he is a future Spanish left back is up for debate, but he could easily operate further up the pitch at left midfield and it is possible that that is where his future lies.
Monreal is currently plying his trade at Malaga after a summer move from Osasuna. His time in Andalucia has been disappointing however, and he is yet to cement himself as first choice left back,with the Portuguese Eliseu getting equally as much game time.
In comparison Jose Enrique has played every minute of Liverpool's season and has quickly won over the Anfield faithful with a string of impressive performances. Though not as impressive in attack as Alba, he is hard-working and has shown he can get forward when he needs to.
There have been suggestions that Del Bosque feels the player would not fit into Spain's style of play, however a left back is there to defend, anything on top of that is a bonus and compared to Arbeloa, Alba and Monreal he is arguably the strongest in terms of defensive ability.
He is also physically impressive. It is hard to think of many better athletes in the game in terms of pace and power, this was something which he worked on while at Newcastle.
Although his team have struggled with inconsistency so far this season, Enrique has been in fantastic form and many people now believe he should be given his chance for la furia roja.
It is probably a little far-fetched to call the left-back role, Spain's problem position, but it is one that has raised a few questions and Enrique has shown signs that he at least deserves a chance. Playing in arguably the most competitive league in the world he has also shown he can hold his own at the highest level.
With Euro 2012 looming Del Bosque will soon begin finalising his squad for next year's trip to Poland and the Ukraine and with Enrique again left out of the squad for the upcoming friendlies, it looks as though the chance to represent his country is becoming more and more unlikely.
_______________________
Follow @icentrocampista