HIGH NOON – Was Real Madrid's midday outing a watershed for La Liga?
Updated: 9 November, 2011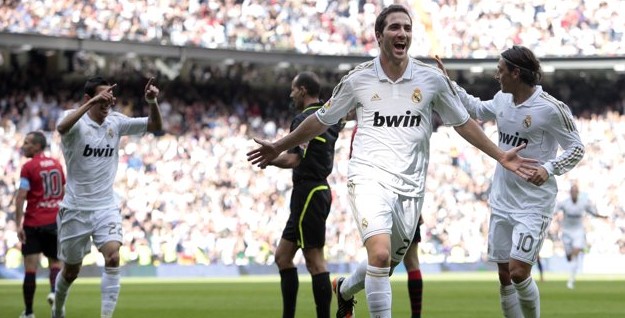 By Richard Thorburn
While Real Madrid's 7-1 thrashing of powerless Osasuna last Sunday may not have caused any surprises in terms of the result, the noon kick off time in the Spanish capital has opened the debate as to whether Real, and the La Liga in general are starting to recognise the importance of going global.
Of course we have had noon kick-offs all season; Mallorca, Osasuna, Athletico Madrid, Real Betis, Getafe, Espanyol, Athletic Bilbao, Sporting, Real Vallencano and Real Sociedad had all played at midday before Sunday's game at the Bernabeu.
But like many an issue in La Liga, it only raises importance and demands attention when either Barcelona or Real Madrid enter the equation and this was the first time in history los blancos had played a home game at 1200.
Cynics suggesting that the move to an earlier kick off was purely down to commercial sense would, on this occasion be one hundred percent correct. More fuel has certainly been added to the fire of those from far and wide who have criticised the sport from losing focus on the working class man.
Despite the popularity of La Liga in the UK and the rest of Europe, in the Far East it is not as popular as you may think and it is this that Spanish clubs are hoping to change.
Sure many a Chinese market may be weighed down with what let's just call it 'unofficial' Barcelona or Real Madrid shirts, but when you compare the coverage that La Liga gets in the Far East to the insatiable demand that exists for the Premier League, it is no contest.
Premier League wins hands down.
Aimed at being able to give the Far East market an opportunity to watch Real Madrid, it is hoped that brand 'Madrid' can grow as recognisable and subsequently profitable in Asia as it currently is around Europe.
With the new financial fair play regulations on the horizon, Spanish teams are going to have to tap every market possible to comply with the strict terms that UEFA have imposed.
UEFA's President, Michel Platini was recently quoted as saying that Madrid's "excessive transfers as representing a serious challenge to the idea of fair play and the concept of financial balance".
Although, like many a Platini comment, this is ill informed – Real Madrid's 2009/10 pre-tax profit of €31 million is very good compared to other leading European clubs – it is apparent that if Real want to keep giving manager Jose Mourinho a substantial war chest each transfer window, then they are going to have to generate income from other sources.
An estimated 60 million tuned in from Asia to watch the game at a peak 7pm time and a hat-trick from Ronaldo combined with a brace from Benzema and goals from Higuian and Pepe certainly helped Real put on a show for their newly found fans.
Rather encouragingly, the experiment also seems to have got the 'thumbs up' from Real Madrid fans as well. There had been many a rumour floating around that the Bernabeu would be half empty, but these were unsubstantial with 70,000 rising early to cheer on their team.
They may have not produced the best atmosphere; in fact José Mourinho afterwards thanked the fans at the south end of the ground for making noise because "otherwise I would have thought the stadium was empty" but the fact that they were in attendance must have been music to the ears of Florentino Perez, who was hoping to keep Spanish fans happy while also expanding to far east.
Up in Catalunya, and never one to miss an opportunity to  to try and gain the moral ground over their rivals, Barcelona president Sandro Rossel was quoted as saying:
"Barcelona is not a business, it is a feeling. We are not owned by anybody, we are an association; we do not have 'clients'. I will never put a game on at 12 noon for the Chinese audience. We do want to open up our market but not to forget our roots. While I am the president, Barcelona will never, ever be for sale."
While taking the morale stance on this may well be admirable, if other La Liga teams start benefiting from showing games at noon then, despite their insistence otherwise, the Catalans will surely have to follow suit.
They would be foolish not to.
It might take time for La Liga to fully exploit the opportunities that so many Premier League teams have taken advantage of inrecent years, but signs are there to suggest that it is a direction in which La Liga is heading.
Who knows, in two or three years you may even be sitting down to watch el clasico in your dressing gown and slippers.
Now that WOULD cause a debate…
__________________________
Follow @icentrocampista