Alleged fraud, tax evasion and transfer bans; a season to forget for brand Barca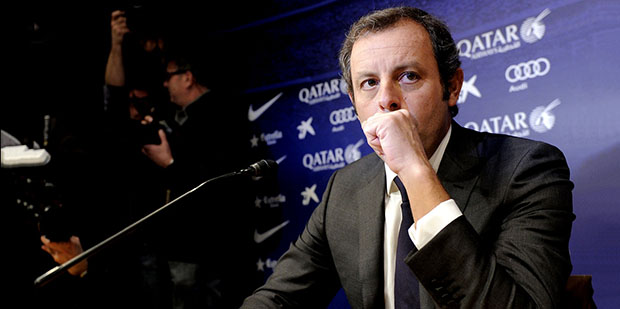 Last month saw FIFA hit FC Barcelona with a 14-month transfer ban for their improper recruitment of ten overseas youngsters.
It has been well documented that this could signal the beginning of the end for Barca, yet unfortunately for the Catalans, this is just the tip of the iceberg in a long line of bungled business by the men in suits at La Blaugrana.
The bad blood dates as far back as December 2012, when then President Sandro Rosell dared to challenge the untouchable Pep Guardiola for not visiting cancer-stricken successor Tito Vilanova enough during his 'managerial sabbatical'.
Rosell's comments angered Barcelonistas and sparked a PR disaster when the hypocritical President later refused to renew Eric Abidal's contract following the full-back's return from a liver transplant, much to the bemusement of the Frenchman.
Two months later Rosell became the first man in the club's history to sell the shirt sponsorship of Barcelona, turning his back on the previous agreement with worldwide charity UNICEF in favour of a lucrative deal with Qatar Airways worth €35m per year.
The club had gone against its principles, risking global image in return for financial gain.
The 'Mes Que Un Club' mantra had been dislodged.
In a bid to ease concerns amongst the Camp Nou faithful, club officials claimed that the sponsorship money would be spent on the signing of Brazilian sensation Neymar – or so they thought.
On 3 June 2013 Neymar da Silva Santos Junior was presented to thousands of starry-eyed Catalans inside a packed Camp Nou. As the 21-year-old superstar held his Blaugrana shirt aloft, his adoring public believed they had masterminded a €57m bargain.
However, not everyone was so convinced and Jordi Cases, a Barcelona member, filed a lawsuit against his own club demanding an investigation into the Neymar transfer.
"The signing of Neymar has been correct and his signing has caused despair and envy in some of our adversaries." insisted Rossell.
The President had no choice but to resign when Barca were formally accused of tax fraud earlier this year.
Including his five-year wage package, Neymar has cost Barcelona €128m – of which Santos received just €14m. On the other hand, father-come-agent Neymar Snr pocketed more than €40m from the deal.
The club also failed to mention Neymar's €8m signing on fee when fans welcomed their new idol with open arms back in June.
However, the most telling transaction of all was made last month when Barca paid a €13.5m "complimentary tax declaration" to the Spanish Treasury in the hope that the whole case would be forgotten.
Whilst maintaining that the club had "acted in the proper way", newly-appointed President Josep Maria Bartomeu recently hinted at just why Barca had stooped so low:
"We are the biggest club in the world but when we compete with unlimited sources [namely Manchester City and PSG] we have to find other ways, other strategies."
This month Barca's 64,000 members will vote on whether to accept one of those "other strategies": to sell the naming rights of their footballing cathedral as part of the €600m 'Nou Espai Barca' project to increase the Nou Camp's capacity from 99,000 to 105,000.
The potentially renaming of the iconic Nou Camp combined with the aforementioned sponsorship with Qatar Airways have left many in Barcelona pondering whether their club has done the almost unthinkable, and sold its soul.
It's a poser that could not come at a worse time amid fresh allegations of rule-bending involving Barca's youth set-up at La Masia.
This time the club has accepted wrongdoing and even pleaded with FIFA to change the rules in order to be treated as an exception. Indeed, under the current regulations the world may never have witnessed the talents of Lionel Messi.
Nevertheless, to date FIFA have stuck by their ruling to impose a 14-month transfer ban.
The Catalans now have two months to appeal before a crucial summer transfer window in which they hope to add a new goalkeeper and central defender to their struggling squad.
Frustrated with their team's fall from grace, the fans are in disarray as to the club's current predicament.
In response, Johan Cruyff – the godfather of Barcelona's all-conquering total football – has said: "People can't be angry with the team or Coach. They can be sad but the fault lies with those that control the club."
Coach Tata Martino remains defiant: "If we are going to succeed it will be as we have done for the last 15 years." And he has reason to be cheerful after La Masia's current crop won the first UEFA Youth League earlier this week.
However, the club now faces an almighty task in repairing the damage caused by senior officials.
On the pitch their side may have performed below expectations this season, but off the field, it has been near disastrous.
Follow @icentrocampista