MALAGA 2-1 VILLARREAL: THE CHALKBOARD
Updated: 29 November, 2011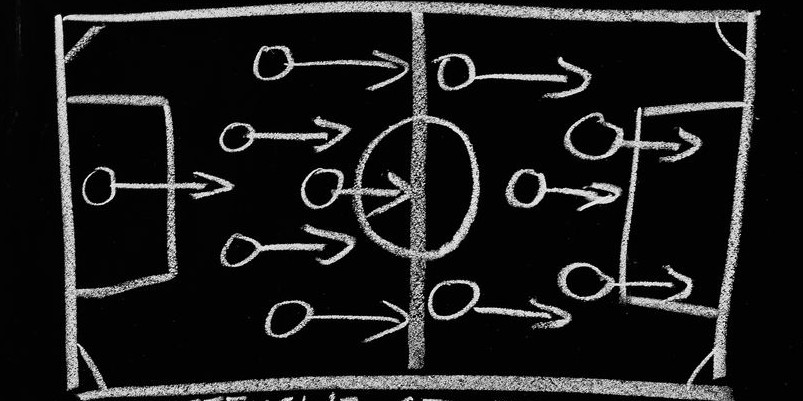 An enthralling match at La Rosaleda ended in a 2-1 victory to Malaga, but an intriguing tactical battle took place between former Villarreal manager Manuel Pellegrini and current incumbent of the role, Juan Carlos Garrido.
The teams lined up in similar systems, both deploying holding midfield players with a player supporting the front man – though Malaga's Seba Fernandez was far more advanced than his Villarreal counterpart Borja Valero.
Villarreal got off to the worst possible start though, as some very questionable zonal marking from a fifth minute corner led to Jeremy Toulalan getting free in the box to turn the ball home unchallenged.
It meant that so early on in the game, Villarreal were required to come out of their shell – which they did well, responding 10 minutes later as the outstanding Valero played a delightful through ball with the outside of his foot to Marco Ruben, who slammed the ball past Caballero and into the roof of the net.
After the equaliser, a noticeable pattern started to develop. The wingers were tucking infield for both teams, meaning that the full backs were relied on to provide the width. In Malaga's case, Cazorla and Isco were continually trying to come inside and make a very narrow 4 man midfield, meaning Sergio Sanchez and more prominently, Nacho Monreal had to bomb forward to supply the ammunition for the towering but often isolated Jose Salomon Rondon.
Villarreal's summer signing Jonathan de Guzman should have been taking full advantage of Monreal's marauding runs forward, but instead he also chose to come infield, forcing Valero to push wider than he would have liked at times. On the opposite flank, Hernan Perez was dragging Sergio Sanchez right onto the touchline, enabling Joan Oriol the chance to push into the space between the full back and the centre half, which he did with some effect in the first half.
As Cazorla and Isco floated around, the role of Duda became far more important in the latter stages of the first half, dropping back when Toulalan went forward and shifting out to the left when Isco moved inside. This really confused Angel at times, who was playing out of position and sometimes caught napping by the fluidity of the Malaga movement.
And it paid dividends on the stroke of half time, Isco notching from close range after good work from Rondon inside the area. Isco created the chance by running straight through the middle of the park, an area Villarreal were sometimes exposed in during the first period, before Rondon's shot was parried straight out to Isco – despite 4 other yellow shirts occupying the penalty area.
The second half began with Villarreal really looking to make the running and draw level, but Garrido's substitution of de Guzman for B team prodigy Moises Gomez seemed a big gamble, especially with not even an hour played. Malaga responded by bringing on Camacho and van Nistelrooy, which seemed to take the attacking edge away from them, as Rondon and Duda made way. Camacho sat in front of the back four with Toulalan, whilst van Nistelrooy was supported by Buonanotte after the Argentine replaced Seba.
Malaga were still standing firm, as Camacho sat a lot deeper than Duda, blocking any runs from Bruno or the subsitute Senna – and Hernan Perez joined Ruben up front as Valero was once again sent out wide, but his tendency to drift infield led to the gradual prominence of Mario Gaspar in the match, as he moved to occupy the right hand side of the pitch. Mario was pushing Monreal back, and this was felt as the former Osasuna left back made far fewer runs forward in the first half, so Malaga's attacking threat appeared to be dwindling.
And the game burst into life when Malaga's anchor in midfield, Jeremy Toulalan was harshly sent off for a second bookable offence – and the initiative was handed over to the Yellow Submarine.
Garrido sent on another striker in Joselu as the search for an equaliser continued, sacrificing the right back Mario – which led to Perez coming back out to the right hand side, but in a much deeper role.
As Senna and Valero pushed on, Bruno often slotted into a centre back role to create a 3-5-2 system, but the lack of mobility from van Nistelrooy meant that everytime the ball was cleared, Villarreal could regain possession and start attacking again, so Oriol became more advanced on the left hand side.
Few chances arrived though, as Joselu latched onto Gomez's pass only to fire wide from a tight angle, and despite throwing goalkeeper Diego Lopez into the box for a late free kick, Malaga fought hard and stood strong to record a solid 2-1 win in front of their home fans.
Villarreal often lacked penetration that could have been given to them by someone like a Santi Cazorla, who was uncharacteristically subdued for Malaga, but the absence of Cani, Nilmar and Rossi was felt strongly in this game, as Garrido had to resort to B team players in a bid to salvage anything for his side which ultimately they were unable to do.

Follow @icentrocampista