FRENCH YOUNGSTER AIMS FOR THE TOP WITH REAL MADRID
Updated: 28 November, 2011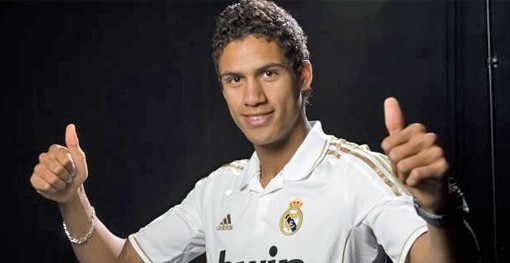 Raphael Verane completed his £8.5 million move to Real Madrid during the summer, having played just 23 first team games for French outfit, Lens.
He had also only just completed his high-school economics paper.
After being pursued by Manchester United for months, as well as being monitored by many more top sides across Europe, it was Zinedine Zidane – now an 'advisor' for Madrid – that actively encouraged the move to the Bernabeu. The French legend convinced Jose Mourinho and Florentino Perez that the young defender was worth the relatively high transfer fee being asked for such an inexperienced player.
Highly-rated he may be, but in terms of experience Varane is a complete novice. So, the question as to whether he can make the huge step up is very much on the agenda.
At 18-years-old, with just a handful of league games under his belt, many are asking if Verane made his first big career move too soon.
The fact that Real already have an abundance of options in central defence; Pepe, Carvalho, Sergio Ramos and Albiol – means he may have limited chances of playing regularly in the immediate future.
Varane's rise to the top began after impressing Lens' coaching staff with some assured performances that were well beyond his young years. He ascended through the youth teams, even playing for the club's under-19s despite being two years younger than some of his team mates. Lens' youth coach Eric Assadourian described Varane as a "truly first class player" who is "comfortable on both the tactical and technical level."
Such praise from his mentors convinced first-team manager, Jean-Guy Wallemme to call him into the senior side's training sessions. In November 2010, the French youngster with Martiniquais heritage got his break when Lens suffered a defensive injury crisis.
Verane made his debut against Montpellier, earning praise from his team mates for his impressive performance. He continued to start for the side, even moving into defensive midfield and looking equally comfortable.
In his first season at Lens, Varane had shown he had the attributes to become a truly special player. Possessing strength in the air, speed, positional awareness and elegant grace on the ball – he has been likened to former France captain Marcel Desailly.
These qualities show just why Real Madrid made their move. But just how successful can he be?
You would have to say that, with playing time, he could go on to be one of the world's top defenders. However, with regular football unlikely at present – he has made only two appearances so far – there are question marks about the wisdom of moving to a club with so much competition.
After all, he has stepped up from a failing French side to one of the world's leading football clubs – that is not an easy thing to do, and the pressure is on.
A likely option for both parties is that Varane makes a loan move to another club in an effort to help aid his development as a player. This currently seems to be the best way forward for the French under-21 international. He needs game time if he is to continue progressing and that seems to be the only way he will achieve it.
To add to the dilemma however, Spanish daily Marca have reported that certain Real youth coaches are unhappy that Varane is leapfrogging home-grown defenders such as Nacho and David Mateos. Despite this, it is clear that Real Madrid and Jose Mourinho have faith in him.
When he signed for the club, it was on a six year deal – highlighting just how highly regarded he is for the club's future.
Whether he stays and fights seasoned internationals for a first-team place, or makes a loan move, Varane simply needs to be playing football. He is far too talented to sit on a bench week in, week out wasting his talent.
Jose Mourinho will have plans for him, that is certain.
Verane's former coach Wallemmesummed up the player's situation perfectly when he said: "Real Madrid are not crazy, they would have looked at the market for young central defenders and decided that there aren't many of Varane's calibre.
"Apart from his tremendous abilities, he's amazingly calm, intelligent and a great listener. He faces a huge challenge at Real, but if anyone can make it, it's him."
There is a feeling that he can't be held back much longer, and whether it is at the Bernabeu or out on loan, Raphael Verane is sure to  carry on his meteoric rise to the top of the game.
Follow @icentrocampista