SIZE MATTERS – Squad depth a problem for Guardiola
Updated: 13 November, 2011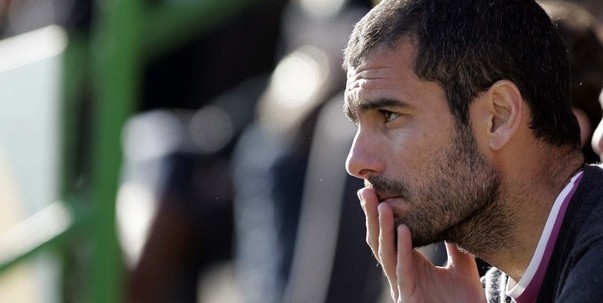 By Olly Dawes
It was cold, it was blustery. The rain was thundering down onto the San Mames pitch, forming a deluge of mud in the centre of the hallowed Bilbao turf.
Playing against a team in red and white stripes who fielded a 6ft 5in striker in horrendous conditions, this was what many people had wanted to see for some time.
This was the closest we would get to seeing the mythical kryptonite force of 'Stoke City', as so many have said 'Messi couldn't play like that on a wet, cold night at the Britannia'.
Well, the truth was, he didn't. Messi did end up rescuing a point for Pep's men in the 90th minute, but his all round performance wasn't quite what we've come to expect from the Argentine magician.
He seemed off colour, often bullied out of the game by the likes of Fernando Amorebieta, whilst the conditions wreaked havoc with Barcelona's usual sumptuous football, sometimes isolating the No. 10.
Slick passing wasn't on the menu for either side, instead serving up an end-to-end thrill-fest, more with passion and endeavour than natural talent. But the Messi rescue mission raises another point – why DID Barcelona need rescuing in injury time by their prodigal son?
Well, this doesn't all of a sudden mean that Barcelona will be cowering at the sight of Robert Huth and Kenwyne Jones.
It showed that there are certainly defensive deficiencies appearing under Guardiola. I don't mean the obvious rampaging, marauding runs of Dani Alves down the right flank that often leave Barcelona's defence exposed.
Alves has just renewed his contract amid speculation of a move to Manchester City, but centre back is the real problem. Pique and Puyol have well documented injury problems.
The ramifications of such injuries have hit Barcelona hard because Guardiola doesn't like to have a big squad – he prefers having very few players to use, instead of signing lots of players and struggling to keep them all happy.
This philosophy has been called into question on many occasions, as burnout is often cited as a reason for occasional disappointing performances, most notably after the international breaks.
Puyol's injury is more worrying, as at 33-years-old he may never fully recover from the knee injury that has plagued him for some time. What a miss he's going to be for Barcelona when the time comes for Puyol to step off the Barcelona steamroller and put his doubtlessly aching legs up on his coffee table.
Puyol epitomises everything about Barcelona – the pride, the passion – I hate to say it, but Puyol is possibly 'more than a player' to Barcelona – the question is, how on earth do you replace someone like Puyol?
Javier Mascherano has stepped into the centre back role admirably, playing with all the tenacity he almost patented in his Liverpool days whilst taking a lot of responsibility in a patchwork back four, but Sergio Busquets hasn't performed quite so admirably – and as a pairing, Barcelona resemble a cheap suit – falling apart upon any sort of pressure.
So where does the answer lie? Maxwell has been linked with a move back to Italy with AC Milan and Eric Abidal is being courted by moneybags Manchester City and Paris Saint-Germain.
We are at the time of year where Barcelona start to put together their wish list, and you can be sure that defensive reinforcements will be at the forefront of such a list.
A left back is needed and the front runner will be the new Spanish international and former Barcelona youth graduate Jordi Alba, a Catalan native who is impressing as a converted full back having started as a flying winger.
With his contract expiring in the Summer of 2012, Barcelona may just try and tempt Valencia into selling in January to save losing him for nothing a few months down the line.
And at centre back, many names have been linked. Barcelona media have reported that contact has been made to Dortmund in a bid to sign the German powerhouse Mats Hummels – but with finances dwindling at the Camp Nou, the feeling is that they might be priced out of a move.
Many rumours have been circulating that AC Milan cannot afford to pay the £20m they owe Barcelona for Zlatan Ibrahimovic, and have resorted to offering a long-term Barcelona target Thiago Silva as payment. Silva is a player who would perfectly fit the Barcelona mould – he's strong and powerful, quick and technically gifted for a centre back.
The fans also seem quite sold on the idea of bringing back another former prodigy in the Sporting Gijon defender Alberto Botia. When Botia was sold, Barcelona inserted a buy back clause over three years.
The first year has passed, so now if Barcelona want to sign him, they will have to pay £2m to bring him back which represents excellent value for a promising young defender.
The fact is that Real Madrid have improved a lot, and the main strength they have is that their squad is brilliant. It shoes great depth, talent in all areas and competition for places.
If Benzema isn't scoring, Higuain is. If they can't rely on Ronaldo, they have Ozil, Di Maria, Kaka – and it's paying dividends, as Madrid hold a three point lead at the summit of La Liga.
If Guardiola wants to maintain his swashbuckling, all conquering, journalist swooning Barcelona side, he may have to make sure his squad is more even in depth.
Mourinho's boys are catching, and his rotation policy has got all of his attacking forces firing on all cylinders. Will Pep change his stance on squad size or will he persist in keeping the numbers – and the wage bill – down?
__________________________
Follow @icentrocampista