GOAL GETTERS!
Updated: 13 November, 2011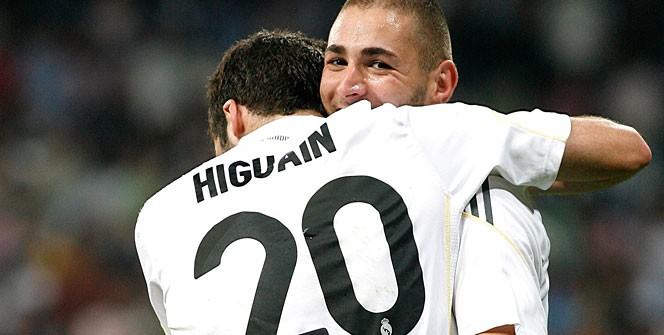 By Jamie Milligan
It is every manager's dream, the sweetest headache a manager can suffer; two world class strikers playing out of their skin, jostling for one position in the team.
That is the current challenging, yet delightful dilemma facing Jose Mourinho.
In Gonzalo Higuain and Karim Benzema, he has two lethal forwards at the top of their game, vying for the number nine jersey.
Mourinho has so far chosen to rotate the deadly duo, keeping them fresh and confident, but ultimately feeling like they still have something to prove.
Whilst, as a neutral, I would love to see both men form a partnership, Mourinho's rotation policy has proved to be a masterstroke.
Benzema, who started the season as the number one striker, but who has now given way somewhat to Higuain, has hit six goals in nine La Liga appearances.
Higuain, who sat the first five matches of the season on the bench, has hit an astonishing 11 goals in 11 La Liga games so far this term.
For tactical reasons, or perhaps reasons only known to Jose Mourinho, Benzema has started all four of Real's Champions League games, scoring one goal. Higuain has had to make do with a place on the bench in Europe's elite competition.
This would suggest to me that whilst he is undecided for La Liga matches, Jose Mourinho favours Benzema as his first choice number nine for European competitions.
When you consider Benzema's physicality, pace and link-up play, it's not hard to understand why Mourinho sees him as the perfect candidate for the sole striker role in Europe.
However, with just one goal in four Champions League outings, is he the right choice? In my opinion, no.
Higuain, for me, is the better striker of the two. I'd say Benzema is a more complete player than his Argentine teammate and is more adept to the sole striker role, but if I wanted goals, goals, goals, I would chose Higuain every time.
I feel Higuain is actually a little hard done by. He is far more than just a penalty-box, fox in the box goalscorer. He has decent pace, terrific movement and an honest work-rate.
Now, whilst Jose Mourinho will no doubt just be delighted that he has two on form top class strikers at his disposal, the point of this article was to reach a balanced conclusion on who I felt was the better of the strikers.
And on this occasion, I'm going to have to disagree with "the special one" and say that if I had to choose one striker to start week in week out, I'd pick Higuain every time.
Karim Benzema is undoubtedly a world class footballer, and as I have already implied, is perhaps a more complete footballer than Higuain. But, I feel that Higuain is the more clinical of the two and is more than good enough to lead the line for Los Blancos.
It has to be said that in previous Champions League campaigns when Higuian has been entrusted with the number nine jersey, the Argentine has had off nights- most notably against Lyon in the lats 16 stage under Manuel Pellegrini in 2010.
But, having watched Benzema over the years, he is far more erratic in front of goal than Higuain.
For that reason and that reason alone, Higuain wins the battle of the number nines for me.
____________________
Follow @icentrocampista