CLÁSICO BY NUMBERS – Real Madrid v Barcelona Preview
Updated: 9 December, 2011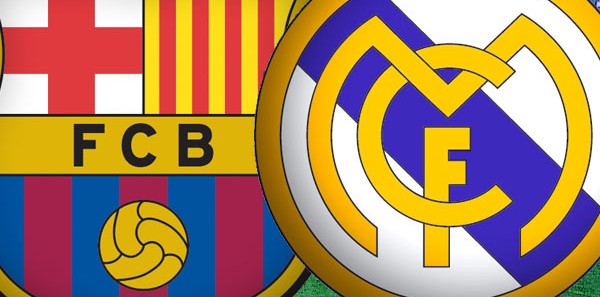 At 10 PM on Saturday (local time), Spain will forget about their economic crisis. They will forget about the almost five million who find themselves out of work. For two hours, the country will be focused on one thing.
The clash between Real Madrid and Barcelona will divide the nation, and there will be few households who do not have at least one eye on the game.
But before another historical chapter is written in the bitter rivalry that almost paralyses an entire nation, here is a small guide on what we can expect from this season's first la liga El Clásico.
Scoring Power
Real Madrid go into the game leading La Liga in points with 37 (having played one less game than Barcelona) and also in goals with 49. Mou's team haven't scored less than three goals at home this season and are averaging 4.7 goals per game.
Barcelona have scored only eight of their 47 goals away from home, averaging just above one goal per game as visitors. Plus, and curiously, Barça haven't won a game where they have scored more than once on the road this season, having conceded two goals in those three matches. Advantage Madrid.
What a goal can mean
Mou's team have conceded seven goals at the Santiago Bernabéu and have managed only one clean sheet this season at home. The Catalans have scored in all but one game away from home and have picked up at least one point in every match they have scored this season. Advantage Barcelona.
Accuracy
Guardiola's side have taken 259 shots this season shooting on target 118 times, averaging 45,6% of their shots on target. Madrid have shot 256 times, 108 on target which is a percentage of 42,2%. However, 45% of Real's shots on target have ended up in the back of the net compared to 40% for Barcelona. Madrid have scored 24% of their shots at home, Barça only 8% as visitors. Advantage Madrid.
Containing one another
Real scores on average, a goal every 5,22 shots while Barcelona move the net every 5.51 shots. However, Madrid concede 9.93 shots per game, eight shots when they play at home. Barcelona only concedes 5.67 shots per game and 6.2 went they are on the road. Real Madrid have six clean sheets, Barcelona eleven. Advantage Barça.
Recent History
Barcelona haven't lost in their last five visits to Madrid, having won three. Real Madrid have faced Barcelona on seven occasions between last season and this year Spanish Super Cup, Mou's side haven't won in 90 minutes in any of those games, picking their only victory in the extra time of the Copa del Rey final. Advantage Barcelona.
Taking every chance
Mou's side have been incredibly accurate when it comes to converting set pieces and penalties, having scored 12 goals this way this season – the best in La Liga  – six penalties with a 100% accuracy and six set pieces. Barcelona have scored six goals by set pieces but only one penalty in two attempts. Advantage Real Madrid.
Stars performance
Messi has scored only one goal away the Camp Nou with two assists this season. Cristiano has scored nine of his 17 goals at the Bernabéu, with four assists. Arguably Madrid's most impressive player  this season, Angel Di María has made seven of his 11 assists at home, scoring two goals. Barcelona's leading scorer on the road is Cesc Fábregas, who only has three. Advantage Madrid.
Conclusion…
The bottom line is that these two teams are evenly matched, as evenly as they have been in the last five years, and maybe in this millennium, (just to put a dramatic touch on it). Since Guardiola took charge of the club, Barcelona had the upper hand in the greatest rivalry of Spanish football. But as expected Florentino Pérez has used everything in his power to try to even the scores, first bringing some of the biggest names for the pitch (Cristiano, Ozil, Benzema, and Kaka) and then an even bigger name for the bench in Jose Mourinho.
However, last year Madrid disappointed in the Clásicos and had to settle with the less important Copa del Rey. This time around however, they are ready to take La Liga away from Barcelona, a win on Saturday will certainly help them to achieve this goal. That is no easy task of course, and Guardiola's side are sure to be ready for the challenge.  Ominously for Madrid, players like Messi, Xavi, Piqué and Puyol tend to shine in Clásicos,  despite their form in other games at the time.
Ultimately, this should be a fantastic match to watch with Madrid probably having the advantage as the home side and also probably have less pressure due to their position in the table. It could be argued that it is a must-win for Barça before they depart for the World Club Cup, but they also have their recent clásico successes to motivate them
Tomorrows match promises to be the closest for years and perhaps a draw could be the most likely outcome.
Follow @icentrocampista