WHAT THE PAPERS SAY: Clásico prediction time, Ronaldo likes clothes, and is Madrid the origin of Messi's genius?
Updated: 8 December, 2011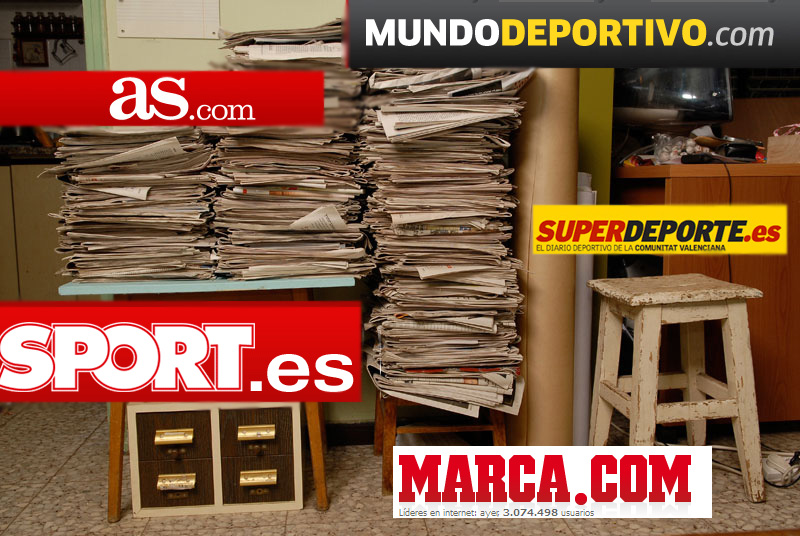 One day closer, loads more headlines. As El Clásico draws nearer, one Spanish sports daily is already guessing the Barcelona line-up  (and probably getting it wrong). Elsewhere, Cristiano Ronaldo has some confessions of a shopaholic, and a Madrid daily says the Spanish capital is the origin of Messi's genius. Guess which one.
Predictions first, and El Mundo Deportivo are inviting fans to submit their Barcelona line-up for Saturday's game. EMD go even further and submit theirs. Their headline "El 'once' del Barça para el Bernabéu" (Barça's eleven at the Bernabéu) looks a lot like a huge exclusive, yet turns out to be a faux pas.
The Catalan daily have Barcelona lined up with four at the back, something I see as likely, but it's in the personnel that I feel they get it wrong.
Sport say it's absolutely certain that Abidal, Pique, Mascherano and Alves will be the defensive four on Saturday night.  All players are contenders to play, of course, but considering Pique's form lately, it strikes me as highly unlikely that he'll keep Carles Puyol out of the starting line-up.
If Mascherano does play as part of a back four (and lest we forget, with Guardiola's tendancy to do the unpredictable in the Clásico,  this isn't guaranteed)  it seems much more logical that he'll replace Gerard Pique rather than Carles Puyol.
I'll explain my logic later, but to be fair to EMD, they explained theirs too. They say that Mascherano is the defender in the best form (true), and that Pique is there for two reasons: because he is the best at bringing the ball out from the back, and because he can deal with Cristiano Ronaldo.
It's at this point that EMD's thesis falls down for me. If Mascherano deserves to start on form, then surely Pique, by far the defender with the worst form, does not deserve to replace Puyol?
Likewise, Guardiola has always started his captain when possible against Madrid, even whilst carrying an injury. Such is the influence Carles Puyol has on Barcelona, not only in his playing style but role as a leader. I don't normally do predictions, but I'll go out on a limb and say it, Carles Puyol will start on Saturday night, whether that's as part of a back three or four, I don't know.
On a lighter note, Sport has another one of its patented irrelevant stories today, this time cantered on one of its favourite whipping posts, Cristiano Ronaldo. Sport ran with the headline "Cristiano Ronaldo: 'Puedo llegar a pasarme hasta una hora delante del armario'" (Ronaldo: I can spend up to an hour in front of the wardrobe).
No, Ronaldo doesn't have an antiques fetish, but rather, Sport are quoting from an article in the Daily Mirror in which Ronaldo admits his love for clothing.
It seems the Portuguese refuses to leave the house without looking his absolute best, which probably explains how his hair manages to stay so perfect after 90 minutes of football.  Ronaldo knows how good he looks, too, saying "I've never had a team-mate that looks better than me?".
A typical display of humility from Ronaldo, but let's face it, he's lying. We know he wasn't always the best looking. He played with the modern day Casablanca and heartthrob for grandmothers the world over that is Mr Wayne Rooney.
Finally, if you haven't guessed which Madrid daily tried to stake a claim for Messi's genius, we can reveal that it was none other than Marca (surprised?). Marca ran with the headline "El Bernabéu es la cuna del '9' mentiroso" (the Bernabéu is the birthplace of the false 9).
Yes, anyone who thought that Pep Guardiola's great tactical mind, or even Lionel Messi's desire to see more of the ball was the making of the now famous Barcelona false 9 is wrong, it seems.
We've all been fooled, as Marca can tell us that it was born in the Bernabéu and therefore by a small leap of faith, attributed to Real Madrid. Sounds insane, but that's what they want you to believe, trust me.
In fairness to Marca, further down the article they do try to provide some balance by explaining that Pep's decision to play Messi there was partly down to Cruyff's old habit of always having a surprise ready when setting his team out in Madrid.
None the less, Marca's headline is a little misleading, especially when placed in the context of their usual, common sense defying pro-Real Madrid ramblings.
Perhaps the best summary of this headline comes from someone who posted a comment on the article. Scroll down the page and you'll see "Otro motivo de orgullo para todos los madridistas" (Another source of pride for all Madrid fans).
Marca don't seem to quite understand that a team of the stature of Real Madrid have more than enough to be proud of without trying to steal other people's glory. But then, Marca never seem to understand anything that most people do, really.
More Clasico build-up tomorrow as always, stay tuned.
Follow @icentrocampista