WHAT THE PAPERS SAY: Sport foresee Mourinho march, Carles Puyol is Mr. Clásico and Marca losing faith in Ronaldo?
Updated: 12 December, 2011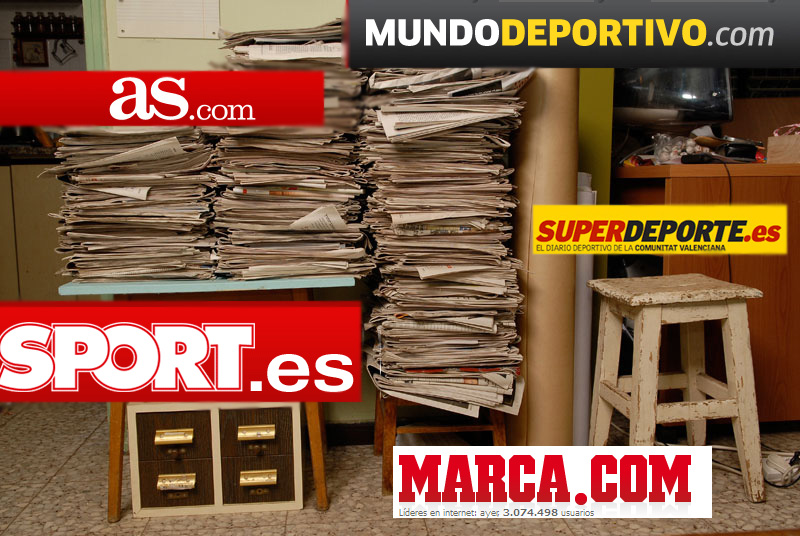 In the immortal words of Joey Ramone, one more time for the world!
It's time for the post-Clásico paper roundup, and with Barcelona's victory on Saturday night most of us would expect the usual, clear Madrid/Barcelona divide amongst the press, post-match.
Curiously however, there are signs from Madrid that both the Real Madrid support and some of the media alike are beginning to lose patience with the Mou project, and in particular, its star child, Cristiano Ronaldo. More on that later.
But first, it would only be right to begin with the victors, and indeed, one of the best post-Clásico pieces, courtesy of El Mundo Deportivo.
EMD ran with the headline "Puyol: El clásico es él" (Puyol: The clásico is he), and if you read my post-match analysis you'll know that I'm inclined to agree.
The Catalan daily quote the incredible fact that FC Barcelona have now gone 44 consecutive games without a defeat when Puyol has featured as part of the team. Even better, 37 of those games were victories with only four ending in a draw.
EMD then point out the alternative: without Puyol in the team, in the same period of time, Barcelona have lost seven times, drew on ten occasions and had 33 victories.
As EMD's piece quite clearly shows, Carles Puyol raises Barcelona to a higher level when he plays. The captain continues to be their true leader, as well as their most dogged defender. They further elaborate that Barcelona's impeccable reaction to going one goal down so early on against Madrid can be traced back to the never-say-die attitude of their captain, who howled at his teammates in the immediate aftermath of Benzema's goal.
EMD sum up everything that is great about Puyi, noting that as part of a three man defense on Saturday, "Puyol estuvo siempre atento, contundente, preciso en las marcas y excelente en el corte" (Puyol was always alert, robust, precise in his marking and excellent in cutting out the opposition). Together with Gerard Pique, Puyol forms "an unbeatable tandem", says EMD.
Further from the impressive statistics quoted earlier, when the two defenders have played together, the number of games Barcelona have played without losing rises to 56 (47 victories and 9 draws), showing beyond a shadow of a doubt that the two still form Barcelona's best defensive partnership.
With Puyol gradually returning to full fitness, Barcelona will hope that he can continue to play alongside Gerard Pique for years to come. Perhaps the only worry is that with the captain growing in years, can Guardiola really hope to find anyone capable of replacing the irreplacable defender? What is certain is that Carles Puyol is not only Mr. Clásico, but Mr. Barça, too.
However, one man who doesn't flourish in the biggest fixture in Spanish football is Cristiano Ronaldo, and whilst Marca are doing their best to avoid admitting it, their readers are forcing them to compromise.
Sitting prominently at the top of the Madrid daily's page is the headline "Un jugador con tanta ambición está deseando resarcirse" (a player with this much ambition is eager to recover). Probe a little further and scroll down the page however, and you will find a headline that Marca can't possibly hide.
The text reads "La afición suspende a Cristiano" (the support stops with Cristiano).
That is to say that, when it comes to the Portuguese, there isn't much support to be had at all. Marca invited its readers to submit player ratings on both teams, and whilst Iker Casillas was rated at 5.6, and Karim Benzema with 6.9, Ronaldo only managed a measly 1.8
It seems that Real Madrid's supporters are beginning to become frustrated by Ronaldo's inability to perform against Barcelona (indeed, the whistles that rang out in the Bernabeu confirmed this). Despite Marca's efforts to deny this, the one group it cannot possibly silence, its readership, have spoken.
Who can blame them really? With the amount of money and indeed, faith, invested in him by the supporters, the Real Madrid fan-base deserve a better performance than the wasteful, selfish one we saw yet again on Saturday. Ronaldo, like any other player, is not infallible, and he may find that unless he takes note, his star won't shine forever in Madrid.
The Madrid-based paper gives a damning breakdown of the reasons for Madrid's defeat, and specifically how Mourinho failed to react. Amongst the reasons are Guardiola's decision to change to a 3-4-3 with Alves advanced further up the field, and that "Mourinho had no answer to this tactical switch throughout the match".
AS also say that Mourinho's surprise choice of Coentrao at right back, when he had Lass and Arbeloa available, was a grave error, and that he was "killed by Iniesta in the second half".  They further bemoan the decision not to start Sami Khedira as a poor one, as he "could have deactivated Barça" in a midfield three with Xabi and Lass, which they highlight as the effect of such a setup in the Copa Del Rey final.
AS were also critical of the changes made by Mourinho, saying that when they came they were already too late, and that Madrid were lucky not to see the back of Coentrao, Pepe and Ramos, who all could have been sent off.
Hardly the most flattering breakdown of Jose Mourinho's performance, then. Could it be that the once untouchable tactician is beginning to rub the Madrid press the wrong way?
On the one hand it would be harsh to make such a drastic switch from adoration to disdain for the Portuguese based on one game alone.
On the other, Mourinho's record against Barcelona at Madrid is poor, and despite several different approaches tactically, he has rarely gained the upper hand against the Catalans.
In a league contested so tightly, such games are of the utmost importance, and every decision Mourinho makes from now on will likely come under the same kind of scrutiny from AS.
That leads us on nicely to the final piece, courtesy of Sport.
The Catalan red-top go down a similar road to AS, but are typically more sensationalist with their headline "Mourinho podría plantar al Madrid en junio si fracasa" (Mourinho could drop Madrid in June if he fails).
Sport suggest that Mourinho "has demonstrated that he only defends the interests of Mourinho FC", and that if he fails to win either the Champions League or La Liga, the Madrid coach may opt for a change of scene, leaving Florentino Perez "without a girlfriend" at the end of the season.
They highlight that Mourinho opted out of his contract at both Porto and Inter, and that he could do the same if things don't go his way in Madrid. On those occasions, he left having won the Champions League, but on one other, at Chelsea, he left having failed to achieve his greatest objective: to win the biggest trophy in Europe.
Sport also warn that it isn't impossible that Perez will opt to terminate Mourinho's contract, should he fail, despite being signed on until 2014.
The final stab comes with their last line, in which they sneer that in any case, Mourinho will consult with his agent, Jorge Mendes. "They share interests."
All very dramatic of course, but let's be clear. Mourinho, despite the defeat on Saturday night, still leads a Madrid team that are placed first in the league and have qualified for the knockout stages of the Champions League with a ridiculous number of points.
As significant as Real's defeat in the Bernabeu may prove to be, winning the league or big European trophy would obliterate its memory and absolve Mourinho of any of his sins.
It's still only December, and to suggest that Mourinho has failed already is childish (and in line with Sport's editorial strategy, then).
What is more likely to be the case however is that Mourinho (along with his biggest player, Ronaldo) will be watched with a much more cynical eye in the forthcoming months by the Madrid support and at least half of the Madrid press.
Any slip up, misstep or faux pas will be noted, and could make Mourinho's road much rockier for the rest of the year. The tides are changing, but are not yet decided. Football has an incredibly short memory.
Follow @icentrocampista