IS DAVID SILVA SPAIN'S BEST MIDFIELDER? – The Manchester City man has the stats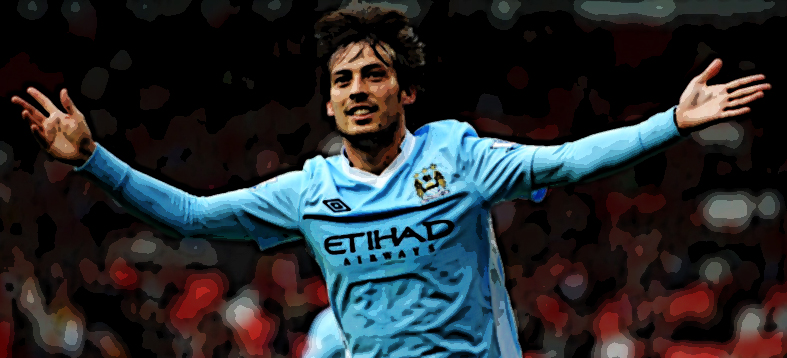 It is fair to say that Manchester City playmaker David Silva will not have particularly enjoyed his 26th birthday today.
He may have taken the Premier League by storm since his arrival from Valencia eighteen months ago, but with his team three-nil down to rivals Manchester United, the Spaniard was sacrificed at half time as manager Roberto Mancini looked to reorganise a defence that had earlier lost its leader Vincent Kompany to an absurd red card.
Such is the impact that the diminutive midfielder has had at Manchester City, the decision to remove Silva was seen by many at the Ethiad Stadium this afternoon as the almost unthinkable.
Widely regarded as the first name on his manager's team sheet, Silva is currently enjoying cult status with the Premier League leaders.
Venture outside the Ethiad Stadium on a match day and it is little surprise to discover that a t-shirt bearing the slogan that simply reads "Keep calm and give it to Silva" is a best seller.
In the eyes of many Manchester City fans – when David Silva is on the pitch, everything is going to be alright.
And with a season that has to date yielded five goals and ten assists in 17 appearances for the blues, this is something that it is hard to argue against.
Those who questioned whether Silva could adapt to the English games have been made to look rather foolish.
Worth remembering that this is only his second season in England, a tantalising thought for many City fans must be that there is more to come.
That however, is probably just being greedy.
But despite his scintillating performances for his club thus far, international recognition is something that still alludes with his role considered 'bit part' rather than 'starring'.
A victim of his national team's almost embarrassing array of talent – especially in those midfield areas – Silva has been frustrated by his lack of a regular starting berth.
Rather ominously for Silva is the fact that Barcelona trio of Iniesta, Xavi and Fabregas all ahead of him in Del Bosque's plans.
But although there is little doubt that these three players are not wonderfully gifted in their own right, are they any better than David Silva at the moment?
Statistics seem to indicate not.
When looking at assists so far this season, it is clear that there is only one winner with Silva averaging one assist every two games. Fabregas comes in a second with a respectable one in every 2.4 games, while both Iniesta and Xavi average one every three games.
While it could be argued that with Manchester City in free flowing goal scoring form at the moment, assisting goals isn't that hard, let's just remember that Iniesta and co are feeding the likes of Messi on a weekly basis.
On the goal scoring front both Silva and Xavi have five for their clubs domestically this season, Fabregas fares slightly better with eight, while Iniesta hasn't found the back of the net thus far.
And if your still not convinced as to the midfield schemer's attributes, then perhaps you would be wise to take a close look at his time spent with Valencia in La Liga.
In his 36 appearances during his last season at the Mestalla, Silva notched up ten goals and assisted thirteen.
As a way of comparison, Iniesta has never domestically scored ten goals in his ten season career with Barcelona so far.
Invaluable at Valencia as well as Manchester City, Silva formed a lethal combination with David Villa which at times seemed to carry Valencia to victory more often than not.
It was perhaps this fact then that made Valencia coach Unai Emery once comment:
"Logically Kaka has won more and done more in the game, but David is heading that way with steady performances. If I had to choose either, I'd stay with David."
High praise indeed; so why is it then that David Silva keeps getting overlooked?
The player himself offers a fascinating explanation as to why he feels that this may be the case.
"Whether my situation would have been different if I played for Barcelona or Real Madrid? To be honest, I sometimes get the feeling that I would be treated differently if I had joined one of those two teams."
It's an allegation that all in the Spanish Football Federation will no doubt be quick to quash, but perhaps there is a deep rooted inclining to go with all things Real and Barcelona.
Considering the stature of both clubs in the game its perhaps understandable, but maybe just maybe David Silva is an example of what happens when you focus solely on the two giants.
Ask anyone in the Ethiad Stadium and confusion reigns as to why their little genius isn't receiving the recognition from his country that he undoubtedly deserves.
As it turns out, everything nearly was okay in the end for Manchester City who produced a brave and defiant second half performance that acted as a prompt reminder as to why they are currently sitting top of the league.
Despite eventually losing 3-2, any reservations that Roberto Mancini may previously have had about whether his side has the mental strength to keep in pole position, must surely now have subsided.
David Silva may have a Premier League medal in his hand come May, but what he wants more than anything is for more Spanish caps on his head.
Follow @icentrocampista