BATTLE OF THE BANKRUPT – Zaragoza and Racing fight for their very existence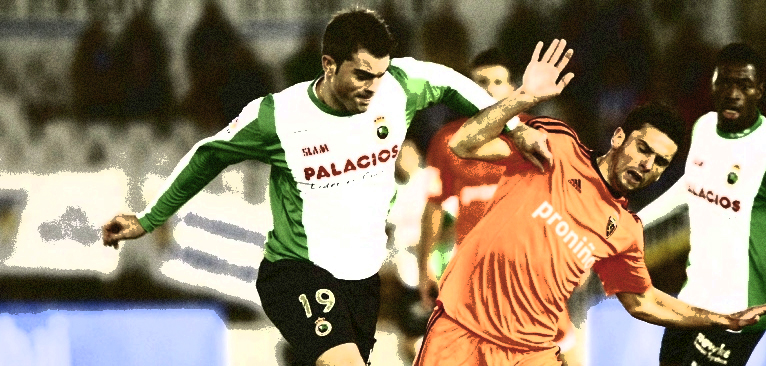 If any of the Racing Santander and Real Zaragoza fans making their way to 'El Sardinero' last night were disciples of Robert Louis Stevenson, they may well have been tempted to agree with his oft remembered proclamation that it is better to travel hopefully than to arrive.
Both sides' supporters have endured a miserable 2011, with the only saving grace being that they enter 2012 still in the Primera Liga, a status which they both came very close to losing last May.  Just over seven months on, the two clubs find themselves deep in the mire again, and history suggests that these types of relegation six pointers tend to be dire attritional affairs.
If the two clubs' supporters were to treat the whole season as a journey, they might be even more reluctant to complete it, such is the uncertainty surrounding the very existence of the clubs beyond this summer.
Racing's problems have received more press coverage – their Knight in shining armour, Ahsan Ali Syed, has effectively brought the club to its knees since buying it last January. As with Zaragoza, the club had to enter administration in July after Ali Syed disappeared without paying any of the bills, apparently in an attempt to elude Interpol who were pursuing him because of numerous dubious business transactions.
Indeed, he stayed completely off the radar as the debts continued to mount, before sending a German lawyer as his representative to a pivotal board meeting three weeks ago. A board meeting that had been called as a precursor to rendering his shares worthless and thus effectively removing him as owner.
Worse than that, Horst Weber reasserted Ali Syed's desire to continue in charge, and presented a new board of eight administrators which included the owner and his cousin as well as himself, with four Spanish based members apparently foolish enough to play the role of sitting ducks whilst Ali Syed remained at large.
Unsurprisingly, three of the four had resigned within 48 hours, unprepared and unwilling to cope with the abuse being levelled at them by the club's supporters. On the pitch the club now has a unique triumvirate of cheap but loyal coaches running the team, but the thinness of the squad was clear for all to see in an embarrassing 2-0 Copa Del Rey defeat for Racing's reserves against Third Division side Mirandes in midweek. Moreover, away from the football there remains the very real possibility of liquidation if the club cannot rid itself of the scourge of Ali Syed.
By comparison Zaragoza would appear to be decidedly well off, and indeed their extremely unpopular owner Agapito Iglesias seems almost angelic in comparison to his Racing counterpart. However the threat to their club's existence is every bit as real, and although the new board of administrators that was announced last week might just have the clout in the business community to turn the club around, the extent of the debts are truly crippling.
In footballing matters, the decision by club captain Leo Ponzio to end his seven year association with the club this week and return to Argentina and to River Plate could not have come at a worse time. With more departures likely, and the coffers seemingly empty, everything points to a real uphill struggle for new coach Manolo Jimenez.
With regard to this weekend's crucial encounter, his talk this week of tightening up defensively against the backdrop of opponents who have scored only 11 goals in 16 La Liga games hardly gave much encouragement of an entertaining encounter for those filtering into one of the more scenically located Spanish grounds.
After the first 45 minutes, it was those who had made the 250 mile journey north from the Aragonese capital who had most reason to feel depressed, after a decidedly anaemic showing from their team. The visitors' dazzling all orange kit seemed to be of little assistance when it came to attempting to string two passes together, and Racing gradually began to exert a stranglehold on proceedings.
Colsa forced a fingertip save from Roberto, and Stuani's back heel was blocked almost on the line by Pinter before the home side deservedly went ahead on the stroke of half time, Bernardo heading home a Diop corner from the left at the near post.
Jimenez looked equally unimpressed with his new charges, bringing on Ruben Micael for Juan Carlos at the start of the second half, and the introduction of West Ham loanee Marco Antonio Barrera shortly afterwards also had a positive effect on the 'maños' display.
Regardless, it still took until the last five minutes for them to manage an effort on target, with Luis Garcia forcing the first save of the encounter from home 'keeper Toño.
Moments later, the Santander custodian wore a relieved expression as sub Edu Oriol's 25 yard piledriver crashed against the bar. Overall, the team from Asturias deserved the three points which took them out of the bottom three.
Meanwhile, Zaragoza appear doomed, six points from safety and heading only one way if performances like this one continue.
In truth, the real battle for both teams is simply to make it to the 2012-13 season.
Follow @icentrocampista