WEEK 18 LA LIGA GOALS AND HIGHLIGHTS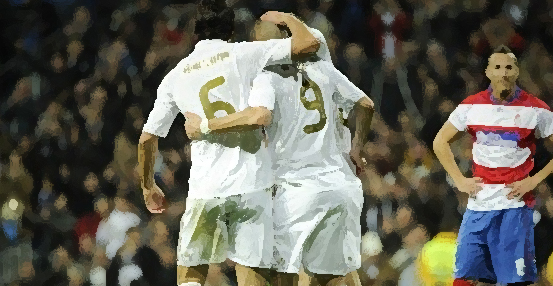 Real Madrid began 2012 in ominous fashion as they smashed Granada for five at the Santiago Bernabeu.
Mourinho's men enjoyed a 5-1 thumping of the Andalusians, opening a five-point gap over rivals Barcelona who were pegged back to a disappointing 1-1 at Espanyol.
Elsewhere, Valencia fought back from two goals down to draw 2-2 at Villarreal, Rayo Vallecano beat Sevilla and Real Zaragoza lost the basement battle against Racing.
MALAGA 0 -0 ATLETICO MADRID
http://www.youtube.com/watch?feature=player_detailpage&v=NgvVwPFpZwk
LEVANTE 0-0 MALLORCA
http://www.youtube.com/watch?feature=player_detailpage&v=7CIcQNjDF1U
RACING SANTANDER 1-0 REAL ZARAGOZA
http://www.youtube.com/watch?feature=player_detailpage&v=KHCLE7DoIgk
REAL SOCIEDAD 0-0 OSASUNA
http://www.youtube.com/watch?feature=player_detailpage&v=3goWD0PRE8s
REAL MADRID 5-1 GRANADA
http://www.youtube.com/watch?feature=player_detailpage&v=5XOUmzkDRQk
RAYO VALLECANO 2-1 SEVILLA
http://www.youtube.com/watch?feature=player_detailpage&v=rbTzkKL35Lo
GETAFE 0-0 ATHLETIC CLUB
http://www.youtube.com/watch?feature=player_detailpage&v=1GFsS3XRqkY
VILLARREAL 2-2 VALENCIA
http://www.youtube.com/watch?feature=player_detailpage&v=qXUUarSoVtI
REAL BETIS 2-0 SPORTING GIJON
http://www.youtube.com/watch?feature=player_detailpage&v=nRMZNRkJMG4
ESPANYOL 1-1 BARCELONA
http://www.youtube.com/watch?feature=player_detailpage&v=Fk-P_mFGEl4
Follow @icentrocampista