CELTIC, RANGERS, BARÇA AND MADRID – How La Liga has become the new SPL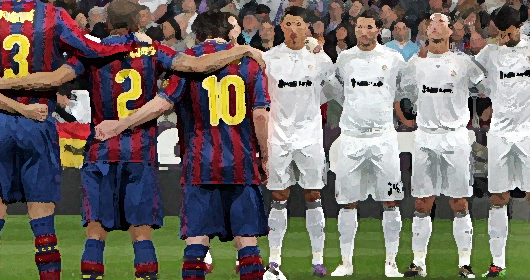 With Real Madrid and Barcelona set to add two more Copa del Rey clásicos to their busy season, many fans in Spain now feel La Liga is simply a two-horse race similar to that seen in the Glasgow-dominated Scottish Premier League. 
The two clubs have opened up such a big gulf between the rest of the league, similar to that of Celtic and Rangers in past seasons, that some of their stats go from unbelievable to a rather ridiculous. To show a quick example – between the two they have scored 25% of La Liga goals this season, yes, 106 out of 424.
Another astonishing stat is discovered when comparing Barcelona to Osasuna.
The Navarra squad have conceded 12 goals at the Nou Camp in two games,  eight more than Barça in this whole season (in all competitions!), in fact it is actually more than the Catalans have conceded in their last 30 La Liga games at home, going back to May of 2010.
Checking the figures of Real Madrid  we can see that Cristiano Ronaldo, who has 20 goals already, has scored more times in La Liga than 12 other teams as a whole! He also ties with Málaga in that category and doubles Granada, who have only found the back of the net ten times this term.
Angel Di Maria, arguably Madrid's best player so far,  has delivered more assists in the league with 13, than 11 La Liga teams.
In fact Madrid also doubles every La Liga team in goals scored with 56, except Barcelona of course.
Talking of the Catalans, Pep Guardiola's side have conceded half the number of goals leaked by every other team with eight, except, you guessed it Real Madrid.
Barça lead La Liga with a +42 in goal difference, Madrid is second best with +41, no other team has more than +10.
Barcelona also lead La Liga in shots on target with 125, Madrid have 123, while no other team has yet to reach 100.
The 'big two' also lead the league in fewer shots received. In this statistic, Barcelona defensive numbers are just ludicrous. For example, the average La Liga team have conceded 206 shots, Barça only 102 while an average team receives 74 shots on target the Catalans have conceded just 32.
Taking a deeper look to percentages, the superiority just keeps growing. Apart of scoring 25% of the Liga goals so far, Madrid and Barcelona have delivered 28% of the assists, have scored 23% of the penalties (Madrid have scored 20% of La Liga penalties this season), have taken 17% of the shots on target, and have made 17% of the clean sheets. In fact the list goes on.
There is really not surprise that La Liga hasn't been won by another team since the 2003/04 season and we have to look back to 2008 to see a side outside of these bitter rivals that finished in the top two at the end of the season. Ominously,  we can probably already mark 2012 as another year on that streak.
The comeback victory in the Cup by Real Madrid over big-spending Málaga, was rather a statement victory against those who believe that Málaga may challenge the duopoly in the league.
The Andalucian's still hold a slim hope of stopping two more Clásicos this year, but it would be a brave person who bet on Manuel Pellegrini's side.
La Liga is fast-becoming akin to the Scottish Premier League, but instead of fighting in one city as Celtic and Rangers do, this battle covers two cities and sometimes even spills over into Europe itself.
The stats after all, speak for themselves…
Follow @icentrocampista