WHAT THE PAPERS SAY – Mou hails King Pep, Espanyol embarrassed and Wiel on his way.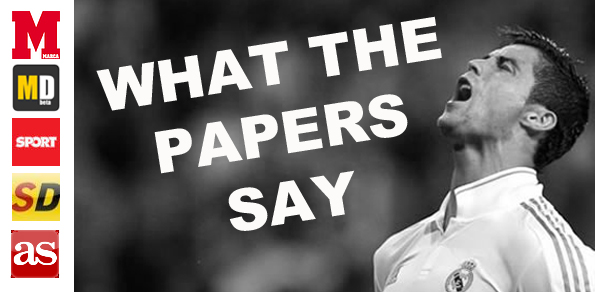 If you're outside of Spain you'd be forgiven for thinking that Christmas is over, but over on the Iberian Peninsula the festivities are still on going. With the three Kings taking a pit stop in España, Valencia have only one gift on their list.
In Barcelona on the other hand, gifts are already being received, and even Jose Mourinho is in the festive spirit (sort of), heaping praise on Pep Guardiola, though somewhat rediscovering his inner Scrooge with regards to his own players.
When it comes to RCD Espanyol, the Copa del Rey has only brought a huge lump of coal, though a second leg fightback could yet turn it into a diamond. Here's what the papers say.
When it comes to all things Valencia, Superdeporte are the people to follow. The Valencia based daily has been a feature of our video paper review in the past, and is usually right on the money when it comes to Los Che.
On Friday, Superdeporte's front page ran with the headline of "El Ajax espera la cita definitiva con el VCF" (Ajax await their final meeting with VCF).
Yes, finally a transfer headline from Valencia that concerns a big name coming to, rather than leaving the club, and it seems the new year has brought a new sense of optimism to La Mestalla.
Inside, SD explain that Valencia made contact about Gregory Van der Wiel last year, with the most recent meeting being just before Christmas. Whilst Ajax confirm that there was a slight discrepency between the figure they wanted for the fullback and the numbers offered by Valencia, their sporting director Danny Blind none the less says that negotiations have been "pleasant".
SD imply that talks are certain to move forward soon, and Los Che look to be in a strong position. The Valencia daily reminds readers that Mr. Blind is quoted as saying that "the only club that has made an official request for Gregory is Valencia".
Indeed, SD say that Ajax will be eager to wrap up the deal quickly, as to avoid losing out on a substantial sum by letting the player's contract run closer to its expiry date of 2013.
Much of the transfer window remains, and negotiations may be slow paced, but it certainly looks like Valencia are about to pull off a coup unseen in their parts in recent seasons.
The odds are in their favour, and most importantly, the player is keen to join them. SD end by quoting Van der Wiel's agent, Hakim Slimani, who says "it would be great if everything was finalized quickly, so Gregory can concentrate on these next six months".
If the festive mood is high in Valencia, it's skyrocketing in Barcelona. With Pep Guardiola being declared "Club Coach of the Year" by the International Federation of Football History & Statistics (IFFHS) on Friday.
It's the second consecutive year that Guardiola has claimed the accolade, and if anyone ever said statistics are only half  of the story, they forgot to tell Sport.
The Catalan daily had not one but two stories on their front page dedicated to the Barcelona boss. The first, "Rey Guardiola" (King Guardiola) was a standard kind of gloating affair, with the oh-so-witty play on the idea of Guardiola as a King both because he won the prize, and the fact that it happened on the day that the three Kings shower gifts on Spanish children.
The Kings also have something to do with Jesus, apparently.
By far the more interesting story is the second however, with the headline "Mou: Pep se merece este premio" (Mou: Pep deserves this prize).
Yes, it seems that even Jose Mourinho isn't afraid to praise Pep, and the Catalan press has gladly obliged by plastering it all over their front pages.
Inside, a subdued Mourinho says, without a hint of irony, that Guardiola's prize is "deserved, absolutely deserved", and jokes that he only hopes that "Pep doesn't have to wait so long to get the trophy, because I won in 2010 and still haven't received it!".
Mourinho's words are in line with the more laid back persona he has been showing to the public this season, seemingly emerging after the Tito Vilanova eye-gouging affair. But if you think Mou's getting soft, maybe you should take a look at the cracks reportedly emerging in his own team.
Madrid based AS have been following the Jose Mourinho/Iker Casillas relationship closely this season (because let's face it, Marca wont), and today added more fuel to the fire with the headline "Las vacaciones son para descansar" (The holidays are for relaxing).
If you're wondering why someone stating the obvious is a big deal, then you'll understand when I mention who said it. The relaxee in question was Iker Casillas, and his quote comes only days after Jose Mourinho suggested that some of his players have been unprofessional by allowing themselves too much relaxation over the Christmas break. Bah, humbug!
(That sounds out of season, but remember, it's still Christmas in Spain, honestly).
AS don't actually say it outright, but by running this story on their front page in the biggest font ever,  the connotations are clear.
Whether Casillas was actually responding to Mourinho, or is simply being taken out of context is open to debate. What is certain is that this isn't the first time the two Madrid men have reportedly saw things differently this year.
Finally, if there's one team that want to trade their Christmas gift in for a new one, it's poor old Espanyol. The blanc i blaus were humbled by lowly Còrdova in the first leg of their Copa del Rey clash, and Catalan broadsheet El Punt Avui are quick to point it out.
The headline reads "Copa d'aigua freda" (cup of cold water), with the suggestion being that Espanyol were on the receiving end of a cold, harsh wakeup call.
El Punt admits that Kiko Casilla was unjustly sent for an early shower, but that regardless, "the night of Kings, the night of dreams, almost became a nightmare for Espanyol". Nasty.
All to play for in the return leg, but Espanyol now face the very realistic proposition of being eliminated from the cup by the second division side. A lump of coal indeed.
Follow @icentrocampista