FRENCH LIEUTENANT – Toulalan settles in at Malaga
Updated: 11 January, 2012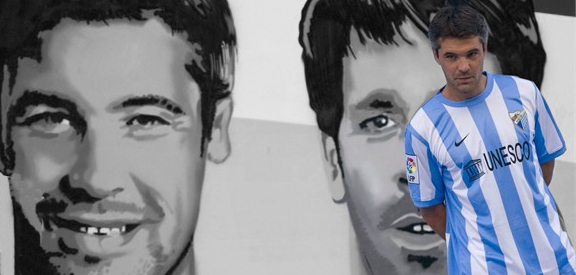 Real Madrid progressed to a probable Copa del Rey clash against Barcelona last night, but Malaga certainly pushed them all the way.
Chasing a first leg deficit of 3-2, the Andalusians battled hard at La Rosaleda but were ultimately undone by a tame shot from Frenchman Karim Benzema, ably assisted by a goalkeeping howler from the hapless Willy Caballero.
No doubt their will be a club post-mortem this morning, but Manuel Pellegrini's men can take pride in the fact that they were able match the current league leaders every step of the two-game way.
Despite the obvious disappointment of seeing their copa dreams end for another 12 months, the two closely-fought ties were an indication of just how far Malaga have progressed following the much-publicised Sheikh Al-Thani takeover 18 months ago.
Indeed, it is fair to say the future is bright for the south-coast club.
If one man encapsulated the current strength of the club last night, then surely you need look no further than Jeremy Toulalan.
The mild-mannered French midfielder almost grabbed a late consolation for his side in the dying moments of the game, only to see his powerful header fly past the wrong side of the post.
However it was the effort Toulalan put in to make the initial contact on the ball that was the impressive part – in fact it was a small, but perfect snapshot of what the 28-year-old midfielder brought to the club when he signed from Olympique Lyonnais in June of last year.
Ruud van Nistelrooy captured the majority of headlines on his summer arrival, and it was the key signing of Spanish international Santi Cazorla that had fans drooling in anticipation, but many are now beginning to believe Jeremy Toulalan has played an even more pivotal role than both these two high-profile stars.
The fact that he has been an ever-present in Pellegrini's starting XI this season tells its own story.
Dynamic and hard-working, watching Toulalan is certainly an eye-opening experience.
While players such as Cazorla and Isco may stand out for their flicks and fancy moves, the Frenchman quietly gets on with the game almost un-noticed.
Remove him from the Malaga team however and it is almost certain he would be very much noticed by his absence.
There is a need for flair players of course, these are the men who ignite crowds and possess the ability to change games with one deft touch or a defence-splitting pass.
However a player such as Toulalan is equally, if not more, integral to the performance of a side.
The Nantes-born defensive midfielder may lack the showboating skills of Cristiano Ronaldo or the amazing range of passing exhibited by  Xabi Alonso, but what he does possess is a talent as equally rare in a professional footballer.
While there are many players who occupy the same role as Toulalan in world football, few can match the former-French international when it comes to timing a tackle.
Sitting in a deep-lying position, guarding his defense, even becoming part of that defense when needed, requires a special type of player and Toulalan is certainly that.
During Malaga's next match, take time to watch him and note down how many times he mis-judges a challenge – it is doubtful you will have much writing to do.
Tackling is a dying art, especially it seems in today's game where players are penalised for the slightest misdemeanour.
If you take a look at this season's overall statistics for tackling, Toulalan ranks in second place with 192 successful challenges, just behind Mallorca's Chico.
Glance at the fouls committed however, and you have to travel a long way down the list before you come to the Frenchman's inclusion.
Toulalan so rarely fouls in fact that the red card he received during November's 2-1 victory over Villarreal was his first in ten league seasons – and his club were later successful in their appeal to have the decision rescinded.
Ironically he also scored his only Malaga goal in that game.
The importance of Jeremy Toulalan has become obviously apparent this season, and when you consider the club paid a modest fee of €10 million to secure his services, it could be argued he is among the best la liga buys of recent seasons – he was certainly a shrewd one.
He is a no-nonsense player who also possesses great technique and a cool head – a vital attribute in the part of the football pitch.
If Malaga are now to continue their step up into the higher echelons of the Spanish game, a player of Toulalan's experience and ability will prove vital.
Next time you watch the Andalusians, and the next time they find the net – look where the move began.
It is a fair bet it came from deep in the Malaga half, and more than likely followed an inch-perfect tackle from a certain silver-haired French midfield general.
Follow @icentrocampista