IN TO THE ABYSS – Fears grow for future of La Liga club
Updated: 11 January, 2012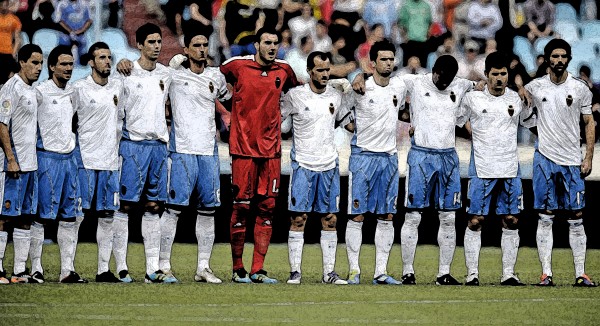 Those Real Zaragoza fans unfortunate enough to witness Saturday's dire performance against Racing Santander, in a game widely billed as a 'relegation six pointer', will have started their working week believing nothing worse could befall their team in the immediate future.
Not until a probable defeat in another crucial encounter against Getafe this Saturday, at least.
Sadly by Monday lunchtime things had got even worse. Just ten days after becoming the club's new board of administrators, local businessman Salvador Arenere and his three colleagues had resigned, and their reasons for doing so have raised the level of unpopularity of club owner Agapito Iglesias to a whole new level.
In a statement released, which they promised would be their only comment on the matter, the quartet made clear the reasons for their departure; they had been promised complete control over the direction of the club as it seeks to avoid liquidation, and yet claimed 'this hasn't happened, nor do we see it as likely to happen in the near future'.
Iglesias and his few remaining supporters took all of four hours to respond to this, with a statement of their own on the club's official website insisting that this was not true, and that the new administrators had indeed been in control of all the major decisions which had been taken in their short stay.
However the chain of events which led to the sacking of Javier Aguirre and the appointment of new coach Manolo Jimenez seem directly to contradict this. Arenere had previously cast doubt on the notion that he and his fellow administrators were in favour of a change of coach, and has also made very clear that once Aguirre was shown the door, Jimenez was the administrators' preferred replacement.
Yet Iglesias clearly favoured ex-Getafe coach Michel, travelling to Madrid to negotiate with him and indeed even leaking the news to the press that he would be the new coach, before the Real Madrid legend's subsequent refusal left him in the lurch and hastily searching for another option. Meanwhile Jimenez suggested on Sunday that it had indeed been Iglesias who had been the key to his appointment, despite the fact that the owner was nowhere to be seen when the new coach was presented to the press by Arenere and fellow administrator Carlos Irribarren.
Whoever one is inclined to believe, the fact remains that what many saw as the last chance to save the club from extinction has disappeared with the quartet's resignation, and it has proved to be the final straw for action group 'Salvemos (Let's Save) El Real Zaragoza'. Saturday's clash with Getafe had been intended to unite the fan base, with tickets on sale for as little as five euros to guests of season ticket holders in an attempt to fill La Romareda.
Now social networks are alive instead with plans for a mass demonstration outside the ground prior to kick off, with a minute of whistling scheduled to start in the 32nd minute of the game, to coincide with the year in which the Aragonese club was formed. Even the mayor of Zaragoza has got involved, describing the current situation as 'lamentable'.
Meanwhile in the face of this apparent off-field meltdown, the players continue with their daily routines. Jimenez has again focused training sessions on defensive solidity as the key to an improvement in results, despite the rather more glaring statistic that it took 86 minutes for his new charges to muster a shot on target last Saturday in El Sardinero.
New captain Javier Paredes, installed in place of the departed Leo Ponzio, has admitted that the players' salaries are now nearly two weeks overdue, before predictably denying that this was the reason for the poor showing against Racing. Even more predictably, ex-Real Madrid midfielder Guti seems to have gone off the idea of joining the 'maños', having suggested in a radio interview in November that he love to do so.
Rumours continue to circulate that fellow ex 'merengue' Mahamadou Diarra and former Zaragoza favourite Adrian Colunga have also been targeted as possible reinforcements, but one has to wonder why any of the trio would pass up the opportunity of getting paid regularly to join a club which seems to be on the edge of the abyss.
Indeed with this in mind, there are very few who are prepared to see this as anything other than yet another PR smokescreen thrown up by an embattled but seemingly entrenched owner.
Follow @icentrocampista