A REAL MESS IN ZARAGOZA – Jiménez takes over after Michel farce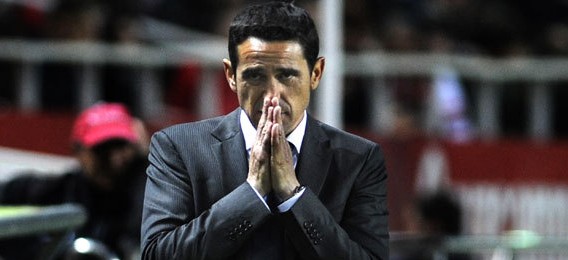 Real Zaragoza's off-field turmoil continues to make headlines in Spain just one week before the Aragonese side resume their season with a crucial relegation six-pointer at Racing Santander.
The widely expected sacking of Mexican coach Javier Aguirre duly materialized on Thursday evening, but the events of the last 72 hours have only been predictable to the extent that they have kept the decision making of the fans' public enemy number one, owner Agapito Iglesias, firmly in the spotlight.
Iglesias held a surprise press conference on Friday in which he introduced four men who he claimed would have 'full powers' to turn around the club's disastrous financial fortunes, which threaten its very existence beyond the end of this season.
This new 'Consejo de Administracion' will be headed by prominent local businessman Salvador Arenere, and will be working without pay until the end of the season to try and sort out the mess.
On paper this seems too good to be true – a local man with excellent contacts in both the regional and international business community, giving his assistance willingly and free of charge. And herein lies the problem with regard to the fans' reaction to this news – after years of feeling hoodwinked and let down by Iglesias, they are finding it very hard to believe that there is not more to this than meets the eye.
There has been no indication that this is the beginning of the end for the owner in terms of his involvement with the club, and what better solution for him could there be right now than to get someone else to clear up his mess whilst still regaining full control, with handy scapegoats as well should the future not be assured by the new men?
Whatever the truth of the matter, there are many Zaragoza supporters who are hoping that Arenere manages to live up to his Christian name, which translates literally as 'saviour'.
Unfortunately any morsel of goodwill which Iglesias might have managed to accrue with this move was swiftly extinguished by an extraordinary series of events over the remainder of Friday.
Early in the afternoon, reports began to appear that Real Madrid legend and former Getafe coach Michel would be the new man in the hot seat, signing a contract until the end of the season.
There was only one problem with this – the Zaragoza delegation had not even held negotiations with their 'new coach' at that stage, but presumably had leaked the story in the expectation that they only had to show up to talks in Madrid for it to become a reality.
Cue serious egg on faces when late that night, Michel declined the offer, citing as one of his reasons the fact that he really did not appreciate reading about his new job on in the Internet!
Fans remain divided as to whether this is actually a blessing in disguise, with rumours abounding that as is often the case, it was all about money – a suggestion which Michel has denied. Certainly we know that his demands did include some money for new faces in the January transfer window.
However given that one of his targets was reported to be Santander midfielder Adrian, who happens to be his son, there seems little suggestion that he was expecting big money to be spent. Indeed when one bears in mind that there is expected to be an exodus of players over the next month, an exodus which is almost certain to begin very soon with the departure of club captain Ponzio, a few new faces would seem to be a must rather than a maybe.
Michel's snub yet again calls into question the decision making of a man who on the very same day that he appeared to be relinquishing some power, was clearly heavily involved in this PR own goal.
The man Iglesias had wanted may be seen by some as a money-grabbing opportunist with little coaching success on his cv, but most will side with Michel's questioning of the timescale of the approach made to him. It was an open secret that Aguirre's goose was definitively cooked the minute the manos crashed out of the Copa Del Rey to second division Alcorcon ten days ago, yet it took until six o'clock Friday night for his intended replacement to be interviewed.
Following Michel's very public snub, Iglesias moved quickly and announced late last night that former Sevilla coach Manolo Jiménez would be Aguirre's successor.
Jiménez, who quit his role as coach of Greek outfit AEK Athens in October, will hold his first press conference later this morning but he is quite obviously second choice for the job and now faces a tough task to get his new side ready for the trip to El Sardinero next Saturday, a game they really cannot afford to lose.
Follow @icentrocampista