CRISTIANO FINALLY SHOWS HIS METTLE BUT MADRID FALL TO BARÇA YET AGAIN
Updated: 19 January, 2012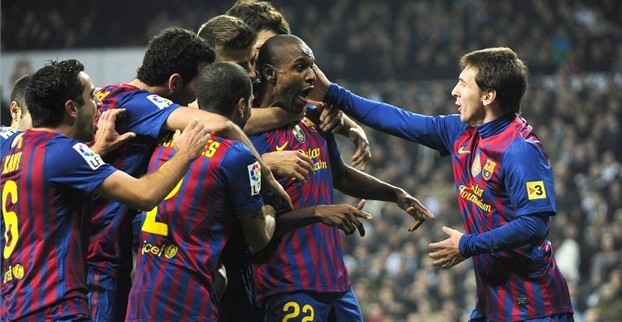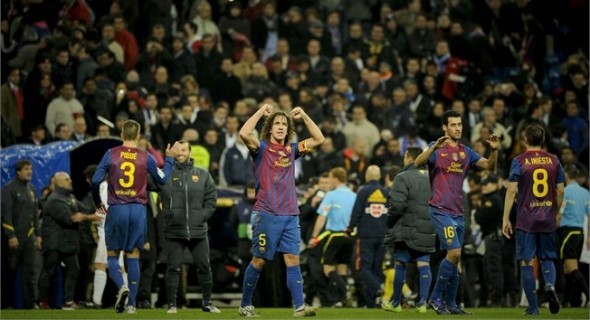 Getty Images/Denis Doyle
So that was La Copa Clasico 2012 part one. In the build-up, there were plenty suggesting that the last thing we needed was a seventh and eighth clash in a little over twelve months between arguably the best two sides on the planet.
There were others who said that neither side were that bothered about the Cup, with both having bigger fish to fry in La Liga and the Champions League.
However those closest to the action as it unfolded seemed to have a rather different take on the evening.
In a week when the first two Cup quarter finals underlined the general apathy of the Spanish public to the competition, with plenty of empty seats on show in both the San Mames and especially the Cornella-El Prat, there was not even the hint of an unoccupied berth in the Bernabeu.
Some Madrid fans had travelled from as far away as Alicante to witness the spectacle, whilst there were no doubt a number of visiting fans sitting on their hands in the home end after failing to gain one of under 500 tickets on offer in the away end.
Had they waited until arriving at the stadium to try and get their ticket, reports suggested that they would have to pay up to 1200 euros for the privilege.
Meanwhile on the pitch, the two managers' team selections suggested that they were indeed taking it very seriously. The only Barcelona change from the team which had triumphed 3-1 in the Bernabeu little more than a month ago was the inclusion of habitual Cup keeper Pinto, and Mourinho's starting eleven also included eight of the same names as that night, with one of the three absentees being the injured di Maria.
So what did this game offer us that we have not already seen many times before in the last twelve months? Well, there were some differences.
Despite what the Sky pundits might have you believe, choosing a Turkish international midfielder to play his first game against la Liga opposition at right back is definitely more of a gamble than playing an experienced centre half, albeit one who has not played since September, at…err….centre half.

AFP Photo/ Pedero Armestre
Added to that you have the curiosity as to the identity of the winning goal scorer, although the fact it was Eric Abidal's first goal in a Clasico is perhaps not as surprising as the discovery that it was only his second ever goal in a Barcelona shirt.
And then there was the Ronaldo show. In a week when he has been whistled by his own fans, refused to celebrate scoring a goal and had to endure some very unfavourable stats about his performances in the big matches, Mourinho picked a perfect time to tell the world that Cristiano had had his best half of his time in charge at the weekend against Mallorca.
And what a response he got in the first twenty minutes. Ronaldo was like a man possessed, hounding Barcelona players deep in his own half and of course scoring what for him is a rare goal in these Clasicos. 'Toma', he screamed at his suddenly adoring public, which in translation is pretty much as close to 'Have that!' as you can get.
However whilst it was nothing short of riveting from beginning to end, there was plenty during the ninety minutes which the viewing public has seen all too often in recent encounters between the two sides.
There must be an awful lot of neutrals out there who would be more than happy to see Sergio Busquets and Pepe suspended from all future Clasicos, such is their relentlessly pernicious influence on proceedings.
At times the game seemed in danger of boiling over, and the usual crowd scenes around beleaguered referee Muñiz Fernandez did nothing to enhance the spectacle.
But for 'merengue' fans, the most depressing similarity between this latest attempt to triumph against their bitter rivals on home turf is that once again, they came away with a defeat. In recent weeks, there has been little doubt as to which side has been better – whilst Real have had the odd bad half, they have been generally unstoppable, whilst Barcelona have been unconvincing even in victory.
Yet despite taking the lead once again and defending as if their lives depending on it, there was an air of inevitability about the eventual outcome. Will that lead to have a half empty Camp Nou and a drastic reduction in armchair viewers next Wednesday?
There is as little chance of that happening as there is of Pepe convincing us that he didn't really mean to stamp on Messi's hand……..
Follow @icentrocampista