SO LONG, FAREWELL – Reyes departs for home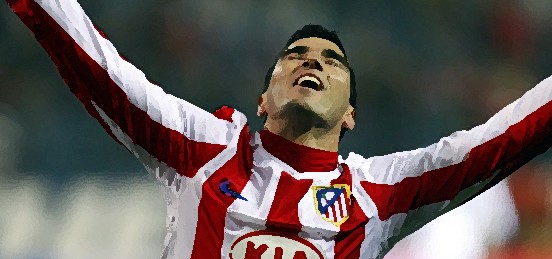 Jose Antonio Reyes has left Atlético Madrid. It was known fact he wanted to move on, and it was a known fact that Diego Simeone, while slightly disappointed, would respect his wish.
Sevilla seemed the likely destination as it's a former club of Reyes' and they expressed an interest. It was only a matter of time.
It's hard to say this has come as a surprise. Ever since Quique Sanchez Flores was removed as manager, Reyes, a known Quique supporter, hasn't seemed very happy. His attitude both on and off the pitch appeared to have been affected and his relationship with Sanchez Flores' replacement, Gregorio Manzano, wasn't always the best.
As a result, the former Arsenal man's performances hadn't been quite up to the standard that Rojiblanco fans have come to expect. Admittedly, there have been moments of brilliance, however, with the arrival of Diego Ribas and Arda Turan, Reyes' importance to the club had diminished.
Despite Manzano being shown the door and being replaced by a former Atléti player in Simeone, Reyes still wanted to leave, having told 'El Cholo' prior to a the Argentine's first training session in charge in late December.
Speaking to AS, Reyes explained some of the reasons behind his desire to leave.
"Sevilla have given me the chance to return home. It's an option that might not be available in the future and I want to take the opportunity. I think it's the best for my career and now is the time to make this move.
"I left Sevilla when I was very young and I think this is the time to return home, because that's best for my family."
He also discussed the influence of Manzano in his decision to leave, denying the boss had anything to with it.
"Manzano did what was best for the team and I respect that. These things happen in football, I understood that the coach preferred other players over me."
The situation is, of course, a hot topic at the moment in the Spanish capital and there was nowhere to hide for Simeone. When asked about Reyes at a training session recently, his answers created no ambiguity.
"Atlético Madrid is above all names.
"On the first day, Reyes arrived two hours before the training session and told us of his desire to leave.
"He's an important player, we would've liked to have been able to count on him, but there's no time to wait for anyone."
Not that long ago, Reyes' departure would have upset even a mild Atlético fan. These days, it's a different story.
While Diego is still yet to play his best football in an Atlético shirt, he'll undoubtedly begin to find his feet as he continues to gel with his new teammates. As he is on loan, whether he stays for longer than 12 months is questionable but I'll save that for another post on another day.
Arda Turan is quickly becoming an important midfield option while Simeone pointed out that he believed Koke and Pizzi were other 'important players' who will most likely receive more game time under the new boss.
With the transfer window open, los Colchoneros have an opportunity to bring in a suitable replacement. Obviously the club's financial situation may restrict the amount of funds available, however, this has never seemed to stop Atlético in the past and Reyes didn't exactly leave for free.
Losing a player of Reyes' quality won't be easy for Atlético, however, the way things stand at the moment means his departure may be what's best for all involved. The time is right for Reyes to face a new challenge and for Atléti to cash in on a player who has given his all for the club in the past few seasons.
His relationship with the fans wasn't always the best but the good times will be remembered much more strongly than the bad times at the Vicente Calderon.
Follow @icentrocampista