ETERNAL DANI JARQUE – The tragic story of an Espanyol legend
Updated: 13 February, 2012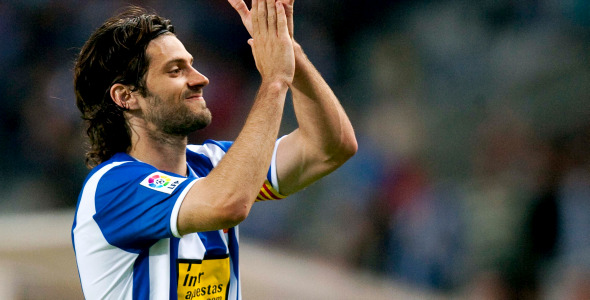 Despite all expectations and in typically anti-climatical fashion, Espanyol managed to blow their opportunity to consolidate a place in the top four yesterday.
After all the praise Mauricio Pochettino's men have received this week, which was rightly deserved after a fantastic season, a home win against bottom side Real Zaragoza was an almost certainty. However, in almost predictable fashion the blanquiblaus managed to succumb to a dreadful 2-0 defeat to a side that have been in terminal free-fall for weeks. Some things it seems, never change – Espanyol just cannot seem to keep their good form to a prolonged constant before falling when least expected.
However there is one thing that remains a constant at the club, and something which will always be more important than the odd unexpected result. The usual round of applause for former captain Dani Jarque swept around the Cornella- El Prat in the 21st minute of yesterday's game, as it has done for over two years now.
Espanyol have moved house a few times, changed their name and even survived a civil war, but one of the most tragic episodes in the club's history must be the death of their skipper on 8 August 2009.
Such was Jarque's impact at the club that he still lives fresh in the memory of Espanyol supporters everywhere and the fans have their own special way of remembering their late captain. When it comes to minute 21 (the number Dani traditionally wore),  supporters  start chanting his name in unison and without fail, clapping and displaying banners in his memory.
Daniel Jarque González was Catalan to the core and as is typical of so many people of the region, he was hard-working, humble and friendly. Many who knew Dani personally have gone on record as saying that despite being a great footballer, he was an even better person, such was his humility, personality and willingness to help his friends out.
Dani was born on New Year's Day 1983 in the sprawling Barcelona suburb of Sant Boi de Llobregat. His first steps into the world of football were playing for the local team in his 'barri', CF Cooperativa de Sant Boi. 
It didn't take long for the scouts of professional clubs to come calling and at the age of only 12, he was incorporated into the ranks of RCD Espanyol. Dani stood out as a leader imeediately both on and off the pitch, and with his obvious talent he progressed quickly through the ranks.
Finally he was at the point of realising the dream of making his first-team debut. The dream came true on the 20th of October 2002, when Ramón Moya introduced Dani for the final 10 minutes of a game against Recreativo de Huelva. Wearing the number 32, Dani immediately looked comfortable and at ease with his more established and experienced team-mates.
Dani's rapid progression at the heart of the team's defence continued and he improved working alongside players of such calibre as: (the club's actual coach) Mauricio Pochettino, Soldevilla and Lopo. Dani had become invaluable to the team and was instrumental in Espanyol's Copa Del Rey victory in 2006 and it's run to the final of the UEFA Cup in 2007.
In total Dani Jarque played 212 times for Espanyol and fate had it that his final game against Liverpool, was the inauguration of the club's new stadium at Cornellà-El Prat. Prior to the game, his peers and the coaching staff had voted unanimously that he should replace Raul Tamudo as the club's captain.
A few days later he tragically died whilst on tour with his club in Italy. There have been many tributes to Dani, but perhaps the most emotive and heart-warming came from Andrés Iniesta who, after scoring the winning goal in the 2010 World Cup Final,  ripped off his shirt to reveal a dedication to his friend, which read 'Dani Jarque siempre con nosotros'.  The slogan needs no translation.
Dani Jarque, you are eternal, keep resting in peace Capità!
Follow @icentrocampista