THE STRANGE AND BIZARRE – Footballers and their injuries
Updated: 22 February, 2012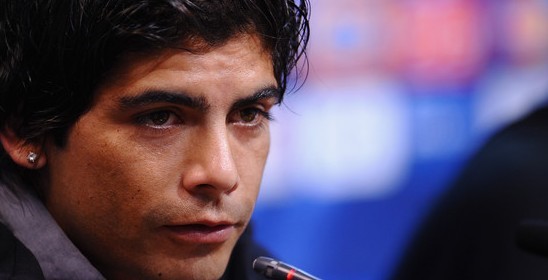 Valencia midfielder Ever Banega is facing a battle to be fit in time for the start of next season with a broken ankle suffered in a bizarre petrol station incident.
The 23-year-old failed to secure his handbrake when filling up last Sunday and the car subsequently rolled back over the Argentines foot.
Very much a revelation this season, Banega forthcoming absence will come as a huge blow to 'Los Ches' who saw Banega as a key part of their plans to try and break the monopoly at the top of La Liga.
Banega's signature on a three year contract extension back in January, was a clearer sign as any that Valencia had transformed from a selling club to one with an eye on progression themselves.
Just days after signing the deal club president Manuel Llorente said: "We have renewed Ever's contract, not with the intention of selling, but to continue to build here for a long time, that is what we all want at Valencia."
So the freak like nature of the injury is something that must be sickening to all at the Mestalla, however Banega is not alone when it comes to bizarre injuries.
Those who stereotypically mock footballers for being short of a brain cell or two might just have a point with a couple of these ones:
Ivano Bonneti broke a cheekbone after having a plate of chicken wings launched at him by then manager Brian Laws.
David James managed to strain his back when reaching for a television remote control.
Alessandro Nesta required surgery after rupturing thumb tendons after a long spell on his Play station. He was out for over a month.
Milan Rapaic contrived to jab a boarding pass into his eye before a flight.
Sticking to the holiday theme, Richard Wright once dislocated a shoulder after falling backwards through a loft door when putting his suitcases away.
Former Norwegian international Svein Grondalen had to miss a game after an early morning jog was interrupted by an angry moose.
Spanish goalkeeper Santiago Canizares missed the 2002 World Cup after severing a tendon in his big toe when an aftershave bottle broke in his hotel room.
Kevin Kyle spent a night in hospital after his son spilt a jug of boiling water over him.
Ex-Aston Villa full back Alan Wright once strained his knee reaching for the peddle in his new Ferrari. He quickly swapped it for a Rover.
And finally, Darius Vassell spent a spell on the sidelines after deciding to use a power drill to relieve pressure on a swollen toe. Predictable it didn't work and his toe got infected.
Evidence then that footballers would be safer throwing themselves into tackles on the training ground then they would be resting at home. Post season recovery time? More like danger ridden injury time.
Follow @icentrocampista