THE MOST SELFISH TEAM IN LA LIGA? The stats suggest so…
Updated: 25 February, 2012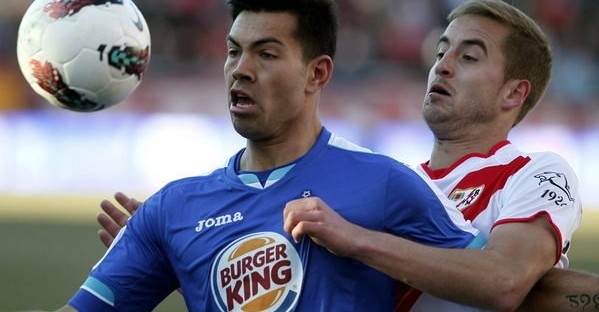 Getty Images
Getafe may just be the most selfish team in La Liga. Harsh statement?  Yes, but untrue? Probably not after taking a look at their statistics this season.
No team in La Liga have made fewer assists than Getafe, not even Granada, Sporting, Racing or Real Zaragoza who have all scored fewer goals than Luis Garcia's side. The side from Madrid have made only 10 assists despite scoring 23 goals and they are the only La Liga team who haven't made assists for at least 50% of their goals – they have an average of only 43,48% goals coming directly from assists.
In fact, they haven't recorded a single La Liga assist since  17 of December when they record two assists (for the first time this season) against Mallorca. Since them Getafe have failed to make an assists in seven games despite scoring six goals during that time.  Curiously enough Getafe have also managed an assist in five straight games this season.
Getafe are also the only team in Spain that don't have at least two players with two assists this campaign.  The only 'azulon' player who can proudly say he has made two goal passes this season is Dani Guiza, who made one for Miku in the second week and, over a month later to Diego Castro. So the former Mallorca and Fenerbache forward still leads the team, despite not making an assist since 29 October.
This apparent 'selfish' attacking style hasn't affected Getafe's winning chances however, as they still only managed to win three games of the nine they record an assist in and drew two of them. This means they have manage 17 more points in games where they didn't record an assist than in the games they did, winning one more game and drawing five more.
No wonder then that Getafe have the fifth worst record of goals scored as a result of set pieces, with only five, the six worst percentage of accurate passes and are, together with Espanyol the only La Liga team who haven't scored yet from a counter-attack.
If we make a comparison with their neighbors Real Madrid, Getafe not only lose six to one in the numbers of total assists but will also lose in total assists with Di Maria who still leads La Liga with 13 and Ozil who has made 11. But it is not only Real who outdo Getafe in unselfishness, even Atlético (21) and Rayo (20) have doubled the amount of assists than that of their neighbours.
Miku: The lone ranger
Despite these numbers, the Venezuelan striker Miku has had one amazing season. Playing, more often than not as the only striker, in a team who struggles to pass the ball, Miku has been forced to generate his own chances in order to score, and he has done just that.
Nicolas Fedor has scored seven times already this season, 13th best in La Liga, however he is one of the nine Getafe players who have picked up a single assist yet. Miku has been quite active in front of goal taking 45 total shots, with 19 being on target. He has the 10th best average of goals per shot on target amount La Liga striker with a minimum of 15 shots on target, with a goal every 2,7 shots.
Putting the label of 'selfish team' on to Getafe may be a little harsh, but the stats speak for themselves up to now. However, Luis Garcia will be confident  his players can show some improved team work and earn their first assist of the year at Real Betis this evening.
Follow @icentrocampista