WILLING AND ABEL IN ANDALUCIA – Resino leads the Granada revolution
Updated: 21 February, 2012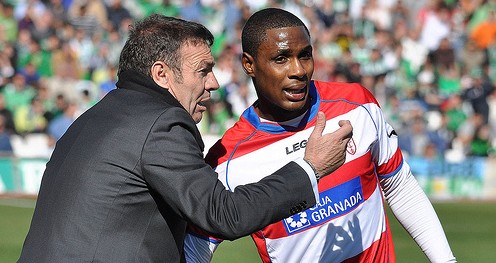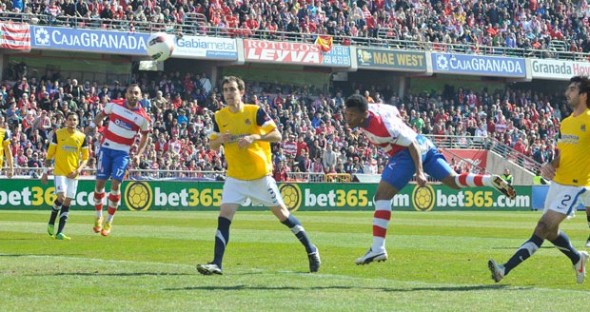 Four games played, three victories and one defeat. Those are the numbers since Abel Resino took the helm at Granada CF.
His first task was to restore confidence amongst the players, in the dressing room and on the training ground, whilst also offering a clean slate when it came to squad selections. That didn't seem to take him too long, when in his first match in charge, Granada enjoyed a comfortable win at Real Betis, playing much more attacking football than his predecessor Fabri.
Abel Resino had set out his preferences. He wanted his team to be more creative, push higher upfield and press opponents more. He saw no reason whatsoever, that given the qualities of the players at his disposal, why they should play defensively or fear opponents.
His managerial home début against Málaga produced a second win, against an expensively assembled side, who were expected to be challenging strongly for a Champions League place this season. Not only that, but Granada played the better football.
The trip to Villarreal, who had also been enjoying somewhat of a resurgence under their new manager and another former goalkeeper, José Francisco Molina, would prove a sterner test. Again, Granada produced a good footballing display and certainly didn't lack when it came to effort, but the spectres of the poor goalscoring record from Fabri's tenure returned, with the side failing to capitalise on all but one of the chances they created. At the other end with Roberto still out injured, young Brazilian keeper Julio César had one of those games he'll be happy to forget. Beaten twice at the near post and a calamitous error for the third.
Abel Resino wasn't overly concerned about the result, feeling his team had matched Villarreal in a difficult encounter. They had played well, matching Villarreal in all but the scoreline.
The weekend tie against Real Sociedad, would be another opportunity to collect points against another direct rival in the bottom half of the table. Whilst Granada have collected most of their points from teams in the top half of the table, regularly beating rivals around them had so far eluded them this season.
Whilst Granada went behind, they quickly restored equilibrium in the game, before going on to dominate. The 4-1 final score was well deserved and could perhaps have been much more, with a very animated Abel Resino urging his team forward from the touchline.
Being the first match in which Granada have scored more than two goals, Abel Resino was undoubtedly pleased that the team had shown the goalscoring ability he feels they're capable of, mentioning that having previously scored so few goals in the first half of the season, as being "abnormal".
It's not just the win percentage, or the teams they've beaten particularly that's perhaps the biggest change for Granada. It's the change in belief, quality of football and the ability to unlock the talent in the squad that had been shackled by Fabri's more rigid tactical preferences.
The MARCA headline after the Real Sociedad game read "Martins desquaza a la Real". Basically meaning that Carlos Martins "scrapped" or "wrecked" Real Sociedad. As one of the players that Abel Resino has unshackled, playing in an attacking midfield role in space between the central midfield and attack, he could perhaps be considered a "trequartista".
Given license to roam into space, pick up the ball and either run at the opposing defence, or fashion out chances for those around him. In the Sociedad game, he was tireless and his opponents simply couldn't handle his movement, on or off the ball. Carlos Martins is but one example of the tactical changes that has unleashed the potential of the team.
Compared to the more cautious approach of Fabri, which was more often than not to sit deep and counter-attack from wide areas, Abel Resino has demonstrated that he wants his team to use the whole pitch. Since the new manager took charge, Mikel Rico has been a revelation in midfield, working as part of a central pairing with either Hassan Yebda (who now is unfortunately injured for 6-8 months), or young creative midfielder Fran Rico.
Out wide, many believed using Argentine Franco Jara as a winger was a waste. He's now being employed as an inside forward, cutting inside to create chances or take them himself, as he did with his superb finish against Real Sociedad.
Rather than being used in an unaccustomed wide role, Ike Uche was used as a centre forward substitute for fellow Nigerian, Odion Ighalo. Uches scored twice against Real Sociedad.
Meanwhile defensively, little has changed. Nothing there was really broken, thus little needed fixing.
Abel Resino hasn't only restored belief to the team, he's unlocked the potential that was already there. They're a team that's realising they have the ability to compete well at this level of the game.
Perhaps most telling in his post-match press conference, was Abel Resino's feeling that the team is "gaining confidence and getting rid of the laziness to dare to do things", whilst adding ""the team has been undergoing many changes" in a short space of time.
Granada now head into another tough run of fixtures. Their next four games are Osasuna (A), Valencia (H), Atlético Madrid (A) and Sporting Gijon (H). With the tactical adeptness of their new manager and a resurgence of belief that they can win games, there's no reason not to believe they can't at least maintain the 75% success rate from the last four matches.
Crazy as it might sound, certainly for a team who were tipped as favourites for relegation, plus with the positions between 4th and 18th so open, Granada could see themselves climb into the top half and look comfortable there.
Whilst the key objective this season was always about permanence in Liga BBVA, that "dare to do things" belief of the manager, players and the fans, could propell the club towards a European spot, which nobody would have dared to believe, at the start of the season.
As for myself, my own "prediction" at the start of the season was to suggest the team had enough quality for a mid-table finish. I still believe that's where they'll be at the end of the season. That said I have to admit, I've been very impressed with the start to Abel Resino's tenure and see no reason why they can't push higher than mid-table, with the league (outside the obvious top two) being so open.
The question is, could Granada shock everyone and qualify for Europe, looking at their remaining fixtures? Well, that was actually part of the longer term ambitions of the directors of the club. What a fairytale story it would be, to manage it in their first season back at this level, following back to back promotions from the third tier of Spanish football.
Follow @icentrocampista