A Win is a Win – Unremarkable Barça continue to chase Madrid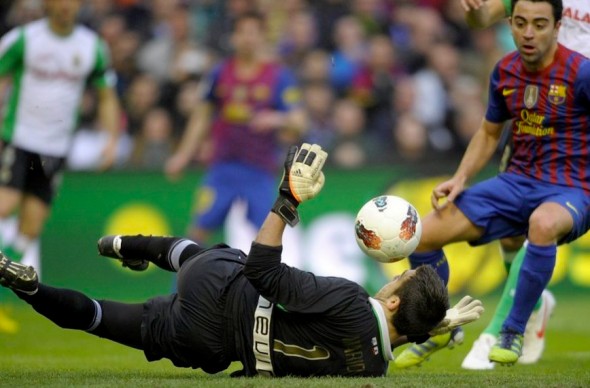 MIGUEL RIOPA – AFP
Barcelona leave Santander tonight with three necessary points, the satisfaction of getting the job done and little more.
Getting the job done is exactly what Guardiola's team have failed to do away from home at time this season, and so the lack of breahtaking football played by the blaugrana in El Sardinero tonight will be of little concern to Pep Guardiola.
It was clear from the start of the game that Racing just wanted the night to be over. New coach Álvaro Cervera has been in the job just over a day, and seems to have seen this tie as something to labour through and little more than a necessity. Racing defended deep with a lot of aggresion but often little precision, and in truth had Barcelona been sharper they could have taken more from the hosts.
Despite scoring both goals on the night, Lionel Messi was surprisingly unremarkable. Perhaps the little Argentine's level of inspiration has dipped to no higher than average after emptying a tank's worth on Bayer Leverkusen. Regardless, Messi made sure his team left with the win courtesy of his double. The first, a poke home in the box from an excellent Cesc Fabregas cross was the type of goal typical of Radamel Falcao than Barça's number ten.
Messi's second was more noteworthy because it came from the rarest of species: the lesser spotted Barcelona penalty. Cesc Fabregas was hauled down the box in one of those moments where romantics  claim "he could've stayed on his feet", but the foul was incontestable none the less. Messi gladly slotted home, and that was about it for Leo, for the most part.
A special mention should go to Pedro Rodriguez. The Barcelona forward has looked a pale shade of his former brilliant self as of late. In terms of his movement, drive and overall play however, tonight was his finest display for months. The only thing he lacked was a goal, though his willingness to shoot earlier and his constant presence in the box suggests that it'll come with time. Indeed, with better service, he would no doubt have claimed at least one, but it was not to be. This performance will go a long way in renewing his confidence.
A few chances fell at the other end, mainly through the odd Victor Valdes error, but Racing failed to make anything of them. The Barça keeper could be forgiven for dozing off at times: the lack of danger created by the home side made his role virtually redundant.
With the absence of Gerard Pique and Eric Abidal, Pep Guardiola will be pleased with the clean sheet maintained by a three-man backline composed of Alves, Puyol and Mascherano. The Argentine in particular looked composed in his role as the central sweeper, though undoubtedly has to work on his distribution to become a complete central defender. In any case, any errors in this regard were of no importance to the outcome of the game.
With Barcelona still ten behind Real Madrid, winning tonight was vital, as it means Guardiola's side can now put some league-deciding pressure on Mourinho's men. Madrid now approach their most difficult stretch of the season, featuring crunch ties against Malaga, Villareal, Real Sociedad and Valencia. After that, it's Barcelona at the Camp Nou.
The Yellow Submarine and Pellegrini's Malaga in particular will be playing for their respective lives. Malaga are in resurgent form as of late, and one imagines Manuel Pellegrini would like nothing more than to march to a Champions League place via a victory over his former employees.
Villarreal, at the other end of the spectrum, need to take something from every game possible from now on in order to avoid being drawn into an unfortunate but realistic relegation battle.
Guardiola and his players for their part done the job on the night. It is now up to Real Madrid to prove they are worthy champions and emerge from the other end of the storm. If they falter, Barcelona will be waiting to pounce.

Love Barcelona? Love Messi? Courtesy of the guys at Back Page Press, we're giving away a signed copy of Graham Hunter's sensational "Barca: The Making of the Greatest Team in the World", as well as another copy for the runner up.
To enter, we want you to tell us about your favourite FC Barcelona memory. It's that simple!
Send your entry via the form below before Friday, March 16. The winner and runner up will be announced on Monday, March 19. Good luck!
____________
Follow @icentrocampista