MOURINHO STILL COY AS CHELSEA DOOR IS THROWN OPEN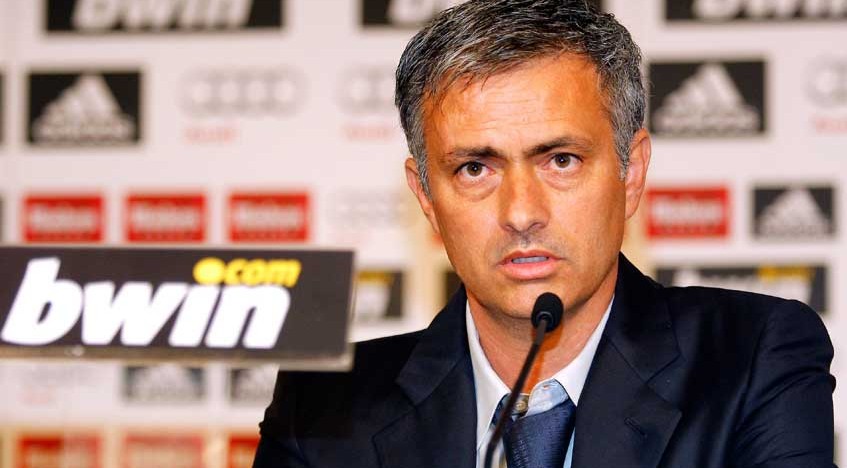 Roman Abramovich's decision to relieve Andres Villas-Boas of his job as Chelsea manager today seems to have opened the door to a Stamford Bridge return for Jose Mourinho.
The Real Madrid manager  refused to clear up any doubts about his future at the Spanish league leaders this week, amid growing speculation he was on the verge of a return to England after just two seasons in la liga, and events at Chelsea this afternoon have done little to dampen the rumours of a move back to London in the summer.
The 49-year-old was spotted 'house hunting' in London last week but reacted angrily when questioned about the purpose of his visit when asked ahead of his teams match against Espanyol this evening.
"I don't have to give anyone any explanation about my private life," he said. "Through respect to the club and because I ask my players to do the same, we tell the club when we made a trip out of Madrid. We do that out of respect.
"It's been a long time since I was out of Madrid and I told Florentino Pere  I am going away again Monday and I don't think I have to present a document to ask for permission," he said.
Despite guiding Madrid to a seemingly insurmountable lead in La Liga this season Mourinho is reportedly unhappy in the Spanish capital and would be open to a move back to the Premier League.
And with Roman Abramovich deciding to end Villas Boas ill fated spell in charge at Stamford Bridge perhaps a reunion with Mourinho might not be absurd as it sounds.
In recent weeks Arsenal and the England national team have been linked with the services of the self proclaimed 'special one', however Mourinho has often spoken about having 'unfinished business' with Chelsea.
With allegations rife that a number of Chelsea players are still bitter about the way that the beloved manager exited Stamford Bridge in 2007, Roman Abramovich may well be tempted to pick up the phone and start grovelling. It's a move that to most seems a no brainer.
But would it really be the perceived 'match in heaven' for a Chelsea team that need to go through a transitional period like no other before them?
If Abramovich is serious about challenging on both the international and European stage then a major revamp is needed.
The old stalwarts of Terry, Lampard, Drogba and co may have proved vital in successes in previous years but the clocking is starting to count down as to how long they can continue to perform at the elite level.
Yet despite this the influence that they appear to have 'off the pitch' has never been greater with the hierarchy at Chelsea all wrong. If Mourinho doesn't come to Stamford Bridge, then how long will it be before Chelsea's senior players turn against the new man in charge?
Abramovich needed to make a statement by backing Villas Boas. He didn't and now its all back to square one.  In the short term Mourinho may be the answer, but to be seen to be giving in to his playing squad could in the long term be fatal. As for Mourinho, surely a new challenge would be of equal temptation.
With Harry Redknapp widely accepted to become the new England manager, perhaps Tottenham could become Jose's new home. The opportunity to transform nearly rans into champions, could well be an attractive proposition.
Follow @icentrocampista