THE UGLY DUCKLINGS WHO STILL DREAM OF EUROPE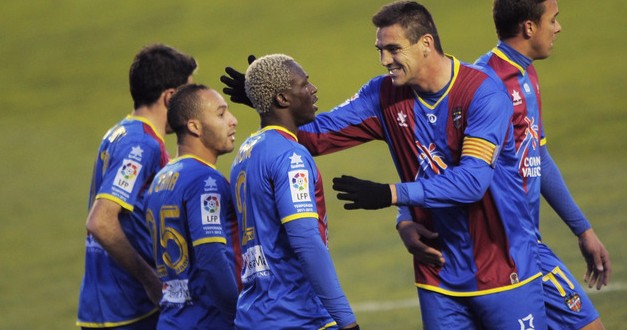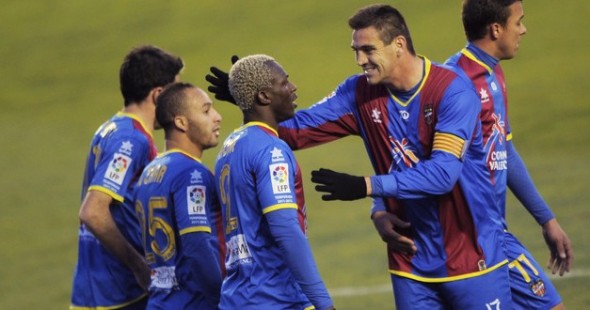 EFE
The poem  Tithonus by Alfred Lord Tennyson includes the famous line "after many a summer dies the swan",  a quote Aldous Huxley also went on to use as the title to his 1939 novel that tells the story of a Hollywood millionaire who seeks immortality when fearing his impending death.
I'm taking the liberty to rephrase Tennyson a little in order to tell the story of Levante and their cold harsh winter.  A team that are far from millionaires, or scientist, but a side that have clearly experienced a Hollywood-like story this season and are now looking to achieve immortality.
Starting with captain Sergio Ballesteros, who at the age 36 is playing at a standard he failed to reach when he was ten years younger, going all the way to their striker Koné who has scored eight goals in 23 matches with Levante despite only scoring only once in 40 games with Sevilla.
Levante, the 'Ugly Duckling' who have blossomed into a 'swan', finds themselves in fith place after 24 La Liga matches, despite picking up only one win in 75 days. Actually, their 2-1 victory at the Cornella against Espanyol last week was Levante's first win on the road in La Liga since 23 October 2011.
So how did the 'swan' survive the cold winter days without a win? Well, actually a lot has to do with La Liga itself. There is only six points difference between Levante in fifth and 14th placed Getafe, and all of those teams in between have gone up and down trying to catch Juan Ignacio Martínez's side.
In fact, in the last five games only Rayo, Sevilla and Betis (currently eighth, 10th and 12th respectively) have managed to win at least two straight games. The irregularity of the league has clearly helped Levante's chances of playing in the Champions League next season.
The club's winter was as cold as it gets, with only one win between December and January, and Levante were outscored 17 goals to eight in an eight game winless streak in that period. They conceded three or more goals in three matches but only managed to score three times against Rayo, where they lost 5-3.
Their top striker Koné picked up only one goal in those two months, while their other top scorer Rubén Suárez has only scored one of his eight goals this season between December and January. Meanwhile their leader in assists, Jose Barkero picked up an injury in January and hasn't registered an assists since November.
During those eight games, Levante played with 10-men on three occasions, while during the rest of the season they have suffered only one red card. However, JIM's side did manage to alternate defeats with draws during six games and only suffered two straight defeats.
So with the winter days over and the spring just blossoming in Spain, can Levante regroup and make it into Europe next year? The next five games may be key – las Granotas will play against Betis, Villarreal and Real Sociedad, three teams that are in the bottom half of the table and they will also face to direct rivals in Málaga and Osasuna.
Levante will probably need to pick up at least 10 points in those five games as they then have the tough challenge of facing Valencia, Atlético, Barcelona and Sevilla in just five weeks. They then finish the season facing Granada, Zaragoza and Mallorca, perhaps easier games to secure a European spot if they are still well-placed, before a final day showdown with Athletic Club.
Ultimately, only time will tell  if the swan does manage to reach immortality or not…
Follow @icentrocampista