The Battle for Valencia: Can Levante heap more pressure on Unai Emery?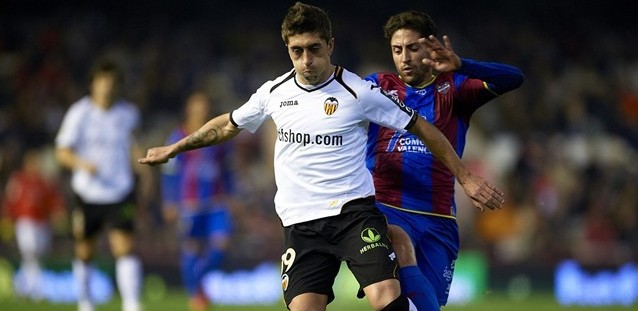 Manuel Queimadelos Alonso/GETTY IMAGES
At 6pm on Sunday, Valencia face what could prove a season-defining game at the Mestalla. Their opponents, and city rivals, Levante could move level on points with Unai Emery's side if they win, leaving the home side's Champions League hopes hanging very much in the balance. 
How soon fortunes can change in football. Valencia have been the undisputed third-best side in Spain for almost three season's now and were well on the way to securing that accolade again until experiencing an unexpected slump in form. They were even resorted to cheering Osasuna last weekend as the Pamplona side beat Levante to stop them moving level on points with los Che.
The relief brought by Nino's goal just before half-time, doubling Osasuna's lead and making sure of a Levante loss was somewhat conditioned by a Ruud van Nistelrooy equaliser in Sunday's other European football decider at the Cornella-El Prat, even more so when Martin Demichelis scored a winner two minutes later.
Losing third place to a Malaga side that has spent 97.4 million Euros since Sheikh Abdullah Al Thani took over in June 2010 would no doubt be disappointing, but considerably more bareable than a loss of their status as leaders of Spain's theoretical second league to cross town rivals Levante.
Despite the Granotas' defeat at the hands of Osasuna there is every chance they could go level on points, (and even above if they were to overturn the 3-0 head to head deficit) in Week 31 with a win in the Valencian derby, setting off panic alarms in the black and white side of the city.
Unlike Malaga, Valencia and Levante share a similar problem with finances, with both clubs selling more than they have bought since the latter returned to Spain's Primera Division the same summer that Malaga's takeover commenced in 2010.
Since that time the problems that the two Valencian clubs suffer from have been highlighted in the transfer market; not a single penny exchanged hands in 2010 to or from Levante with all deals being free transfers or loans.
In 2011 the club spent a huge amount, for their standards, shelling out €400,000 on Pedro Lopez and Pallardo, and then went to break their record transfer fee making Felipe Caicedo's loan deal from Manchester City permanent for a modest €1 million. They then went on to sell him less than a month later, breaking another record at €7.5 million. None of that money is yet to be reinvested however, in fact the opposite has happened with Nano leaving earlier this year for €500,000.
Valencia's issues are created from the same source – miss-management and a league's financial structure that's biased against any team that isn't Barcelona or Real Madrid. The problems are just as severe on the other side of the city, but on an inflated scale – in the year that no money entered or exited Levante's bank account, Valencia sold, among others, David Villa and David Silva. Total sales equated to a whopping €83.9million of which they spent €26.7million, with the remaining €57.2 million going towards servicing debt. The trend remained last year but to a lesser extent, the club were only able to spend €34.8 million of the €39.8 million they sold.
Whilst the belt tightened over that period in Valencia and profit was maximised, further south in Andalucia, Malaga forked out a huge €97.4 million, creating a squad that can now challenge for a Champions League spot. During that time they have only raised €250,000 through player sales.
While the difficulties remain for the Valencian clubs, Champions League football is imperative for any chance of progression, and as fierce as the rivalry can be, as soon as Sunday's game finishes, the purists will be hoping Malaga aren't the team that ultimately steal one of the spots that Levante and Valencia have owned for most of the season.
Follow @icentrocampista