Who is Markel Susaeta? Introducing the brilliant Basque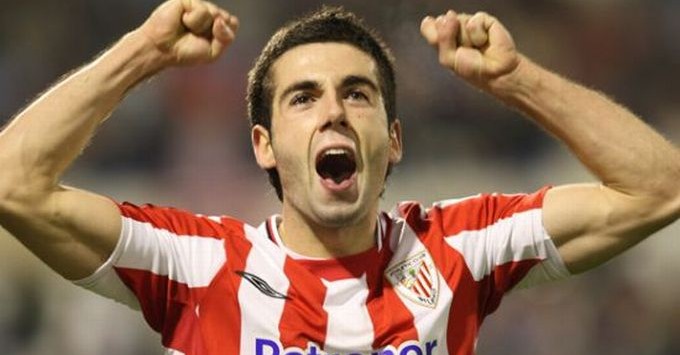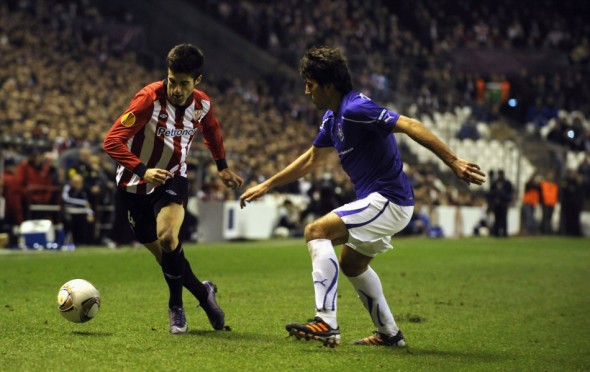 REUTERS
English giants Manchester United and Chelsea have both been linked with a summer move for Athletic Club's exciting young winger, Markel Susaeta, with the Daily Mail suggesting the Premier League clubs could pick the 24-year-old up for as little as £6 million.
Sir Alex Ferguson is said to be keen on bringing Susaeta to Old Trafford after the player impressed during Athletic's Europa League victories over United, and Chelsea owner, Roman Abramovich has also been reported to be showing interest in taking the Spanish under 21 international to Stamford Bridge.
Susaeta put in star-performances against United, both at Old Trafford and San Mames, and is fast emerging as one of the hottest talents in Spanish football. But how much do you know about Markel Susaeta? Let Michael Moschetto tell you more…
___________________
Athletic Club de Bilbao are in the midst of a what could be described as a breakout year this season. Between the appointment of tactical mastermind Marcelo Bielsa and their barnstorming runs in the Copa del Rey and Europa League, the Basques have been fierce competitors and seem to be an emerging force in La Liga.
Football supporters may be aware of Los Leones' tremendous talents in teenage wonder Iker Muniain, devastating striker Fernando Llorente, and defensive stalwart Javi Martinez, but there is an unsung hero who has been a solid contributor to Athletic's success. Right wing Markel Susaeta has quietly put together a stellar season and can be the club's primary supplier of crosses for the next decade. The native of Eibar, Gipuzkoa has impressed Bielsa with his stamina and pace and has appeared in 30 out of 31 possible games in La Liga this season.
Born in 1987, Susaeta began his football at the age of 10 in the Athletic Bilbao youth system. His professional debut came in 2005 playing for CD Baskonia, an independent feeder club for Athletic. Many of the Basque giants' youth players ply their trade for Baskonia before wearing the red and white stripes for Athletic, and Susaeta is the quintessential example of this process. After toiling for Athletic's B team afterward (cleverly named Bilbao Athletic), he was given his first-team debut in September of 2007, at the age of 19. Making his debut against Barcelona, he scored Athletic's only goal in a 1-3 defeat at Camp Nou. Since then, he has appeared in over 150 games for Athletic, eventually earning a starting spot and refusing to relinquish it.
Susaeta has been arguably Athletic's most consistent performer; the highlight of his season so far has been the showcase he put on against Real Sociedad in the Basque derby on March 4. In the 24th minute, after an impressive passing move by Athletic, Susaeta finished with a fancy flick for the first goal of the game. In the second half, Markel walloped a beautiful far-post free kick to finalize the score at 2-0. In 49 games (La Liga, Copa del Rey, and Europa League), he has amassed 10 goals and 14 assists, including two assists in last week's Europa League match at Schalke 04 of Germany.
While Susaeta does not have the widespread recognition (and probable transfer value) of his colleagues, he remains an interesting case and would become a valuable contributor to a bigger club. His pace on the right wing is always a threat to stretch opposing defenses, and his crossing is top-notch, contributing to Llorente's vast collection of goals. One would consider Susaeta to be an old-school type of winger, as many of today's wide players prefer to cut inside towards the middle of the pitch on their stronger foot. His skill set and experience may command a transfer fee of about 10 million euros if he is to leave Athletic this summer.
Susaeta has caught the eye of top European clubs, including Chelsea and Manchester United, who seem to have been particularly impressed by the 24-year old's performance against Sir Alex Ferguson's side in the Europa League. A Daily Mail article speculated about Markel leaving Athletic to go play in England, which may become a reality if he ends this campaign in top form. It has also been confirmed that La Liga juggernaut Real Madrid have been watching the Basque and may try to swoop him up, although that move would hypothetically hinder Susaeta's development as a player; his playing time would be practically minimal.
Susaeta's contract expires in 2013, so it will be intriguing to see what Athletic chooses to do with this promising player. In the upcoming Copa del Rey final in May, look for Susaeta to stretch Barcelona's defense, especially against the Catalans' vulnerable left-back position. From a long-term perspective, Athletic has an outstanding young core in defenders Mikel San Jose and Jon Aurtenetxe in addition to midfielders Oscar de Marcos and Ander Herrera. Athletic supporters want this young and dynamic team to stay together for as long as possible. Susaeta is a vital cog in this machine that, under Bielsa, doesn't stop running.
Can you see Susaeta playing at Manchester United or Chelsea next season? Give us your thoughts below.
Follow Michael on Twiter @Moschetto11
Follow @icentrocampista