Players speak out on La Liga duopoly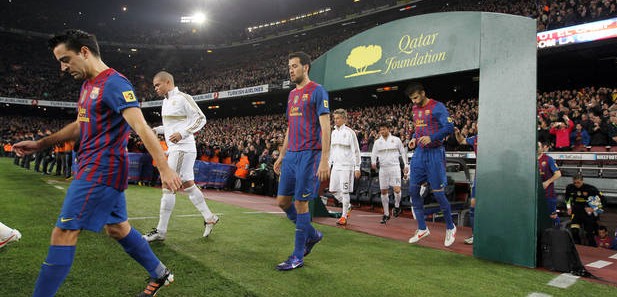 With two clubs in the semi finals of the Champions League, and three clubs in the quarter finals of the Europa League; it is fair to suggest that La Liga is currently holding an almost unprecedented grip on the rest of Europe.
And when you combine these clubs successes with the recent achievements of the Spanish national team it is easy to understand why almost everyone is casting an envious eye on footballing matters in the majority part of the Iberian peninsula.
Nothing however is perfect, and while there should be little doubting that the league is technical far superior than its peers, the uncompetiveness that the monotony of Real Madrid and Barcelona bring, is something that is constantly hanging over La Liga.
And while it would be foolish and wholly inaccurate to suggest that some degree of continued dominance isn't evident in other leagues around Europe, nothing can really compare to the reigns of King Barcelona and Madrid.
This season will be the 24th that one of Barcelona or Real has been crowned champions in the past 28 seasons and with 60% of all television revenue going to the two it is unlikely that they will have many rivals for quite a while to come.
The fans know it, the league knows it, the country knows it, and the players of 'rival' – at least for two weekends a season – also know it.
This week has seen both Malaga's' Santi Cazola and Atletico Madrid hit man Falcao speak out about what it is like to play in the same league as the two giants of the game.
"We have to be aware that today Real Madrid and Barcelona are on a different level and competing directly against them is practically impossible," Cazorla said to Goal Show.
"Hopefully in the next few years projects like the one here at Malaga, like at Valencia, Villarreal and Atletico Madrid can be closer to them. It would be good for the league to be more levelled out so all teams can have similar chances.
"But for now the difference is very big and it's practically impossible to compete with them. Let's hope Malaga will be able to be up there in the near future."
Backed by many millions of Qatari dollars there has been some criticism of the way that Malaga have gone about their transfer business, but realistically a huge amount of investment is the only way that teams of the same statue are ever going to compete – Manchester City the perfect case study in England.
Falcao explained to Radio9: "In terms of economic power, the difference is enormous and both clubs have great players. Barcelona and Real Madrid have built teams that are much superior and against which it is not possible to compete.
"But there is more to the league than being champion. Some teams fight to play in Europe, some try not to be relegated.
"Each club plays their own league and this makes the competition very attractive."
In one league sit Real Madrid and Barcelona, in the other are the eighteen other teams.
Follow @icentrocampista