Substance over style as Villarreal edge closer to safety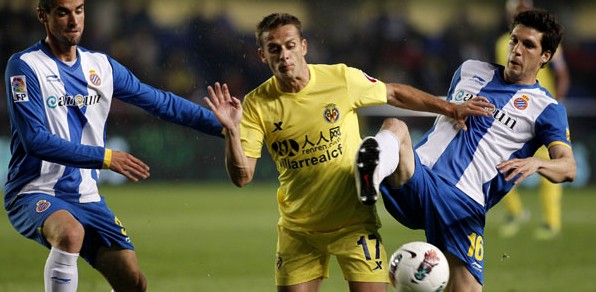 EFE

Villarreal continue to strengthen its defence under Miguel Ángel Lotina, and a 0-0 draw with Espanyol meant the Submarine have now not conceded a goal for over two matches. Many people saw the latest match as something of a disappointment, with much of the play in the middle third of the pitch, and both teams content to play not to lose rather than to go all-out in attack.
However most Villarreal supporters who were at the match didn't see it that way, praising the team's workrate, commitment, and overall strong play.
Unfortunately both teams were missing players who would have brought a stronger cutting edge in attack—Nilmar for Villarreal, Coutinho for Espanyol— and without them, both teams struggled to create good chances.
The main talking point in this one, though, was the poor performance of referee Gonzalez Gonzalez and his linesmen. I counted five key calls that were all made incorrectly: in the first half, a legitimate goal from Marco Ruben, pouncing on a ball that had not been controlled by Espanyol keeper Casilla, was ruled out.
The second half was even worse. Linesmen at both ends ruled players offside who clearly were not, denying Espanyol a possible one-on-one and Villarreal a certain chance for Martinuccio. Borja Valero was hauled down in the box by Forlin,who should have been sent off for the challenge and a penalty awarded, but nothing was given, and finally the referee came to the aid of Diego López, blowing for a push on him to rule out an Espanyol goal when contact, if any, was minimal.
Villarreal players, especially Borja Valero, were critical afterward of the refereeing standard in our games of late. Mistakes like this are magnified in a game where there aren't that many chances, and I have no idea what would have happened if Ruben's goal had been allowed, for example—there would still have been over a half to play, and certainly Espanyol would have attacked more than they did–but the game desperately needed a goal, and for the referee to wave off a legitimate one was frustrating.
Neither coach seemed happy on the touchline; Lotina seemed more upset with the officials than his players, Pochettino seemed disappointed in the effort in the second half from his players. Not even the introduction of Pandiani near the end resulted in anything. Both coaches claimed their team could have won, so perhaps a draw was just about right.
Matches involving teams below Villarreal pretty much spelled the end for Racing and Sporting, unless both can defeat Lotina's men and win several other matches as well. But with Zaragoza winning again and cutting the gap to four points, Villarreal cannot relax. It's great to keep a clean sheet, but the Submarine needs some wins, not just draws, to haul itself to safety.
Nilmar should return for the Betis match; so too should Marcos Senna, who came out with a hamstring twinge after an hour. The Submarine will miss Cristian Zapata, though, who is suspended after receiving his fifth yellow card of the season, Gonzalo will probably end up partnering Musacchio in the center of defense. It's not the swashbuckling, attacking style we've come to expect from Villarreal, but Lotina's approach is bringing results—five points from three matches—and at this stage, results, not style points, are what Villarreal need.
____________________________
For more news, views and opinion on Villarreal visit the team at VillarrealUSA
Follow @icentrocampista