Ruthless Ronaldo blows Atleti away – Tactical Analysis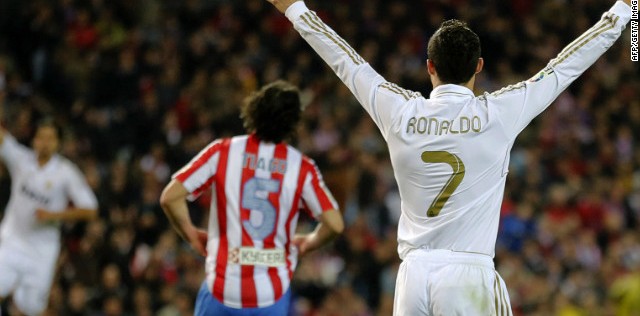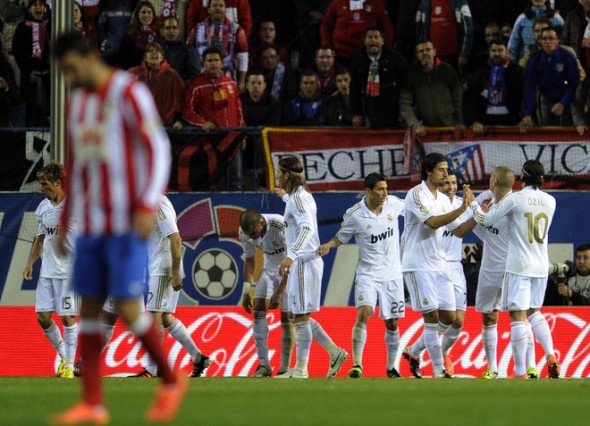 GETTY IMAGES
And so the wait continues for Atletico Madrid. It is now 23 games since they last beat Real Madrid in a league or cup game. The year was 1999, Spain still had peseta's and Jimmy Floyd Hasselbaink scored the winning goal. What's stranger still is that Atleti were relegated that season too.
Line Ups
Atleti came into the match on the back of a disappointing 2-0 away defeat at Levante. Three changes were made to the team with Falcao, Perea and Tiago being recalled as replacements for Salvio, Suarez and Miranda. The inclusion of Perea was clearly due to his pace, Simeone obviously aware of the Madrid counter attack.
Atleti varied from a 4-4-2 when defending with Arda wide left to a 4-3-3 when attacking. Arda pushing forward and Adrian moving to the right.
Mourinho made four changes to the Madrid line up following their 0-0 draw at home to Valencia. Ramos, Kaka, Di Mario and Coentrao all came into the starting line up at the expense of Albiol, Ozil, Higuain and Marcelo.
The changes for Madrid indicated that Mourinho expected a tougher game than normal. A front four of Ronaldo, Ozil, Benzema and Higuain would have been too open and attacking away from home against a better quality opponent. Di Maria was recalled for his first start after injury. The workrate of Di Maria on the right and his ability to tuck into form a midfield trio with Alonso and Khedira when Madrid are under pressure is highly rated by Mourinho.
In addition to this, Coentrao replacing Marcelo at left back signalled a stronger defensive set up. The Portuguese international is more defensive minded than Marcelo and provides greater stability here but there is a reduction in the attacking potential of Madrid as a consequence.
Madrid went with their default 4-2-3-1.
First Half
Despite starting at a high tempo, the opening minutes were fairly tentative from both sides with little in the way of scoring opportunities. Madrid seemed quite content to ease themselves into the game gradually and were quite direct in the opening period, happy to play long diagonals to their forwards with little in the way of build up.
Atleti looked for combinations from their three central midfielders before pushing forward, Diego often trying to run forward in possession with Arda and Adrian breaking wide and supported by their respective full back. The majority of Atleti's positive play though, was being conducted away from the Madrid goal. Linking with Falcao further up the pitch was an issue for them.
Wide vs Narrow?
Madrid were far too narrow in the first half. This was a similar problem to that which they faced against Valencia and it was partly remedied then by the introduction of Di Maria in the second half to provide width
Although positioned on the right, Di Maria continually drifted in-field during the first half. This enabled Felipe to run directly at Arbeloa without worrying about leaving space for a winger to exploit. Arbeloa struggled as Atleti attacked down the left via Felipe and supported by Arda. Without adequate covering help from Di Maria, Arbeloa was cautioned on 34minutes for a foul on Felipe.
The narrow approach also assisted Atleti with their three central midfielders successfully winning the ball and working it towards the wide areas. The central area was far too congested and contributed towards Madrid's direct approach.
By contract, Atleti sought to get width into their game. The lack of attacking threat from Madrid's full backs during the opening period allowed both Juanfran, but in particular, Felipe to push further forward and provide width to the Atleti attack, allowing Arda and Adrian to move closer to Falcao.
Atleti were patient in their build up play, working 1-2's to create space for crosses into the box aiming for Falcao, whose presence had caused concerns for the Madrid defensive earlier on when they defended two set pieces badly. Coentrao had appeared a little nervous with two rash clearances from inside the penalty area and needlessly conceded a corner early on.
Second Half
Madrid introduced Ozil for Kaka at half time. A straight swap but Ozil was much more willing to drift from side to side and adopt wide positions as and when required. This would become more noticeable as the half wore on.
The goal for Atleti was as expected. They were patient with build up play, working space before Adrian delivered a cross which Falcao, unmarked, converted. Madrid had been unable to deal the aerial problem posed by Falcao and were duly punished. Also worth noting though that Falcao was the only Atleti player in the penalty area at that time. Despite the success of the goal, Falcao was still quite isolated with Atleti's best work continuing outside of the penalty area.
The equaliser had an energising effect on Madrid who increased the intensity of their play. Both Coentrao and Arbeloa began to push forward and with Ozil appearing on both flanks, the threat from Juanfran and Felipe was declining. This consequently pulled Arda and Adrian wider, further isolating Falcao.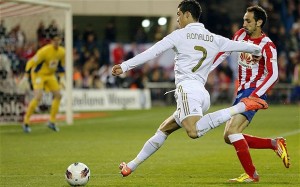 The Madrid Left
The relationship between Marcelo and Ronaldo is a key feature of Madrid attacks. Marcelo is very attack minded and his overlapping runs help create the space for Ronaldo to cut infield. If Marcelo does not overlap, Ronaldo is faced by a full back who can track him either inside or outside and possibly supported by a midfield colleague.
When Marcelo overlaps, the full back is forced to track either Marcelo or Ronaldo but clearly not both. This prevents opponents from doubling up on Ronaldo without leaving space elsewhere. This season, 38% of Madrid attacks have come down the left side of the pitch. This figure increases to 41% when you consider away games only.
The second Madrid goal was greatly aided by an attacking run from Coentrao. When Ronaldo took possession of the ball on the left, Coentrao overlapped. This forced Junafran away from Ronaldo and provided enough space for him to shift the ball before shooting.
Conclusions
Another ruthless performance from Madrid. Similarly to the recent game against Osasuna, Madrid were not at their best, however in front of goal they were clinical.
Madrid took the initiative following Atleti's equaliser and Simeone failed to respond.
The influence of Diego was already on the wane in the second half when Ronaldo put Madrid 2-1 ahead. Similarly, Adrian and Arda were moving to far away from Falcao to provide width. How Simeone rectifies the issue of Falcao and his poor link play outside of the penalty area will be crucial for Atleti in the last few games of this season but more importantly, if they are to progress next season.
An important step for Madrid towards reclaiming the La Liga title.
_____________________________________
For more tactical observations from Spanish football visit the excellent Chalk on the Boots
Follow @icentrocampista