Can the Lions become Kings? – Bielsa's final challenge for Athletic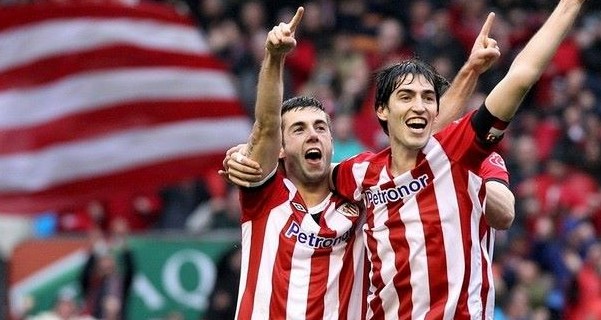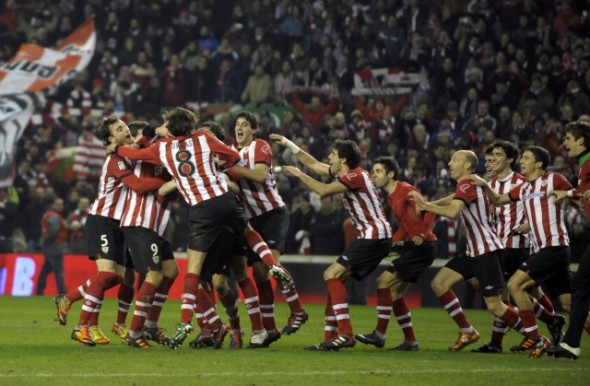 REUTERS/Vincent West

Everything that you needed to know about how Athletic Bilbao performed in the Europa League final was epitomized in Iker Muniain's posture after Atletico Madrid scored their third goal of the contest five minutes from time.
In actuality, it was Muniain's lack of posture that told the story; after Diego's goal, the young Basque literally dropped to the ground and lay flat on his stomach, crying in frustration and disappointment. The pint-sized forward had arguably been Athletic's best player on the night, taking on defenders and dribbling through tough tackles in an effort to drag his side back into the gamet. His low centre of gravity prevented him from falling during the match, but the trophy-clinching goal had literally grounded him. After the match ended, Muniain was inconsolable. It was the  biggest match of the 19-year old's career so far and his club had come up short.
It took seven seconds for Fernando Amorebieta to go from Athletic Bilbao's unheralded defensive stalwart to the goat of the Europa League final in Bucharest. Radamel Falcao had darted into the penalty area after receiving a ball from Diego when the game clock said 6:00. When the clock flashed 6:07, the ball was still moving; specifically, it was still spinning in the back of the net after a beautifully-curled shot from Falcao's left foot put it well out of Gorka Iraizoz's reach. Amorebieta had stumbled when Falcao cut to his left, allowing the Colombian to line up his majestic shot that sent Los Colchoneros to the first jubilant celebration of the game.
After the humiliating 3-0 defeat in Bucharest, Athletic followed up with another lifeless performance as they went down 3-0  in the final league game of the season at Levante. Algerian striker Abdelkader Ghezzal scored two goals and Francisco Farinos scored a penalty after an Amorebieta handball to pour even more salt in Athletic's wound. The Basque club ended the 2011-12 campaign in 10th place, two points ahead of hated rivals Real Sociedad. After a slow start and blistering middle of the season, Athletic truly finished in the middle of the table. It is relatively easy for critics to point out where things had gone wrong: at the end of games, when a defensive stand was most needed:
August 28 – conceded equaliser in 62' against Rayo Vallecano
September 24 – conceded equaliser in 53' against Villarreal
October 23– conceded equaliser in 89' at Valencia
October 30– conceded equaliser in 71' at Sporting Gijon
November 6– conceded equaliser in 91' against Barcelona
December 11– conceded equaliser in 92' against Racing Santander
February 4– conceded equaliser in 91' against RCD Espanyol
February 26– conceded equaliser in 66' at Villarreal
March 25– conceded equaliser in 90' against Sporting Gijon
In total, nine of Athletic's 13 draws this season saw the Basques give up a second-half equaliser; of those nine, five occurred in the 89th minute or later. Futhermore, five of those occurred against the three relegated sides (Villarreal, Gijon, and Santander.) Six of those nine results came at home in front of the San Mames faithful. No matter which way you look at it, this futility represents nothing but lost points and a constant argument of "What if…?" Had Bielsa's rugged tactics simply sucked the life out of his players during the most crucial moments? Was the youth of the club being exposed, with the players simply failing to concentrate for the entire length of the game?
With these questions looming over the Basques, the club is now preparing for the lastl fixture of the season: the Copa del Rey final against Barcelona at the Calderon in Madrid. Pep Guardiola's side will arguably be motivated like never before as it prepares to play in the 41-year old's final game as the coach of the Catalan giants. Athletic must look past its recent struggles and showcase the football that has come to epitomise the club in cup competitions.
With both sides able to bring out their usual starting XIs from this season, Athletic will be looking to out-press Barca and disrupt the passing of Xavi and Andres Iniesta. Using diligent defending, centrebacks Amorebieta and Javi Martinez are capable of alternately man-marking Barca's forwards and act as a sweeper. The advantages in size and strength that Los Leones possess will make for an interesting matchup regarding aerial challenges featuring the fearsome Fernando Llorente.
A Copa del Rey triumph would offer a sort of redemption for Marcelo Bielsa after his club's adventurous yet ultimately fruitless journey through the rigorous Europa League. After practically sacrificing La Liga in order to reach the two cup finals, Bielsa has no choice but to throw the proverbial kitchen sink on 25 May against Barcelona and exhaust every resource available in order to win the match. After losing to Diego Simeone (his former captain at Argentina) in the Europa League final, Bielsa must battle against Guardiola; much has been made of Guardiola's now-famous 11-hour conversation with Bielsa in Argentina before he became manager of the Blaugrana. In yet another master-versus-pupil contest, Bielsa must prove that he has a few extra tricks up his sleeve in preparing for the match.
Not to take anything from the Copa del Rey, but few would disagree with the notion that Los Leones coveted what would have been their first-ever European trophy more than one from the Spanish cup, of which they are twenty three-time winners. Going into their second cup final this month, Athletic cannot afford to go to feel the slightest bit of leftover disappointment from what happened in the Romanian capital. At this juncture of the season, the Basques have absolutely nothing to lose and we should expect to see a fury of the wild pressing and possession game Athletic have exhibited at their peak under Bielsa this seasom/
Follow @icentrocampista