The Flying Dutchman – When Kiki Musampa ruled the wing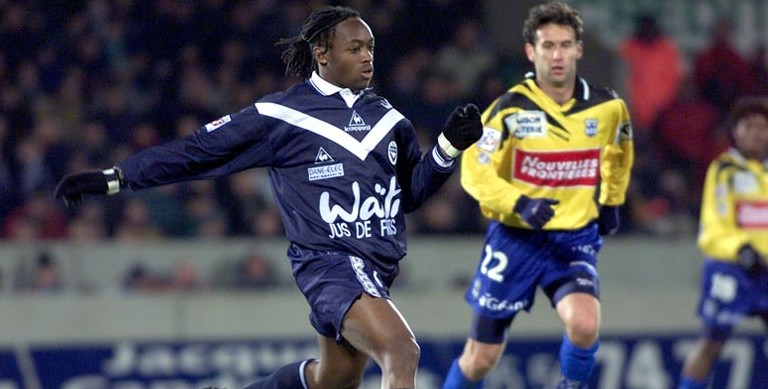 Whilst I always dreamt of taking in a football match at the Nou Camp or the Santiago Bernabeu, my first visit to a Spanish football stadium was actually to Estadio La Rosaleda.
I travelled to "The Rose Garden" back in 2002 whilst on holiday to see Malaga take on Belgian side Genk in the now-defunct Intertoto Cup. My tickets had been arranged through a Malaga supporter's club based in an ex-pat bar in Marbella. To be perfectly honest, I was a little dejected that my first taste of Spanish football was to be from a provincial Spanish side taking on a Belgian outfit I'd never heard of in a second-rate European competition.
However, partly down to the enthusiasm shown by the ex-pat Malaga fans and partly down to the fact that my dad told me I was going, I put a brave face on and looked forward to the match. Aside from the 3-0 victory to Malaga, the only thing I can remember from the game is being blown away by a little dreadlocked winger.
That winger was Dutch international Kiki Musampa, who would later go on to turn out for Atlético Madrid and Manchester City. It was Uruguayan striker Dario Silva I had been told to watch out for but Musampa, who had signed for the Andalusian club from Ligue 1 side Bordeaux three years earlier, stood out that day above anyone else.
Although my memories have faded, I think I'm correct in saying that Musampa scored and set up another that night. The Belgians had drawn the first leg 1-1 but Musampa's class and eye for goal ended their European ambitions.
After the match, through a family friend, I had the pleasure of meeting Musampa and getting my picture taken with him. He was a friendly, down to earth guy who happily chatted away to me and signed my Malaga top, but the one thing that I really remember about him is the way he played keepy-uppy with his infant son using a small hacky sack ball
It may seem like a trivial and irrelevant thing to remember but I can vividly recall being amazed at the way he continually kept a ball of that size in the air.Musampa spent almost two seasons at Manchester City on loan. The next day I proudly wore my Malaga top around with Musampa's signature on the front and his name and number emblazoned on the back. He had become somewhat of a cult hero to me.
It may not have been "el clásico" at the Camp Nou but my visit to Estadio La Rosaleda and Musampa's solo performance really caught my imagination and are no doubt partly responsible for my love of La Liga. I have since fulfilled my boyhood ambition of watching a game at the Camp Nou and, spectacular as it was, there was something special about my first match watching Malaga and Musampa.
It may be down to nostalgia, but when people ask me where my fascination for Spanish football came from, I immediately relate to that night.
Malaga have come a long way since  then and are now on the verge of qualification for next year's Uefa Champions League; no doubt the long suffering regulars at the Tavern will be licking their lips at  the prospect of more big-name stars coming to the club in the summer to join the likes of Santiago Cazorla and Ruud van Nistelrooy.
Amid this new-found euphoria, it is likely that many fans will have forgotten all about Kiki Musampa, I however, will always cite him as the man behind my love of La Liga.
Follow @icentrocampista