Do Spain need a Plan B? – EURO2012 Tactical Preview: Part One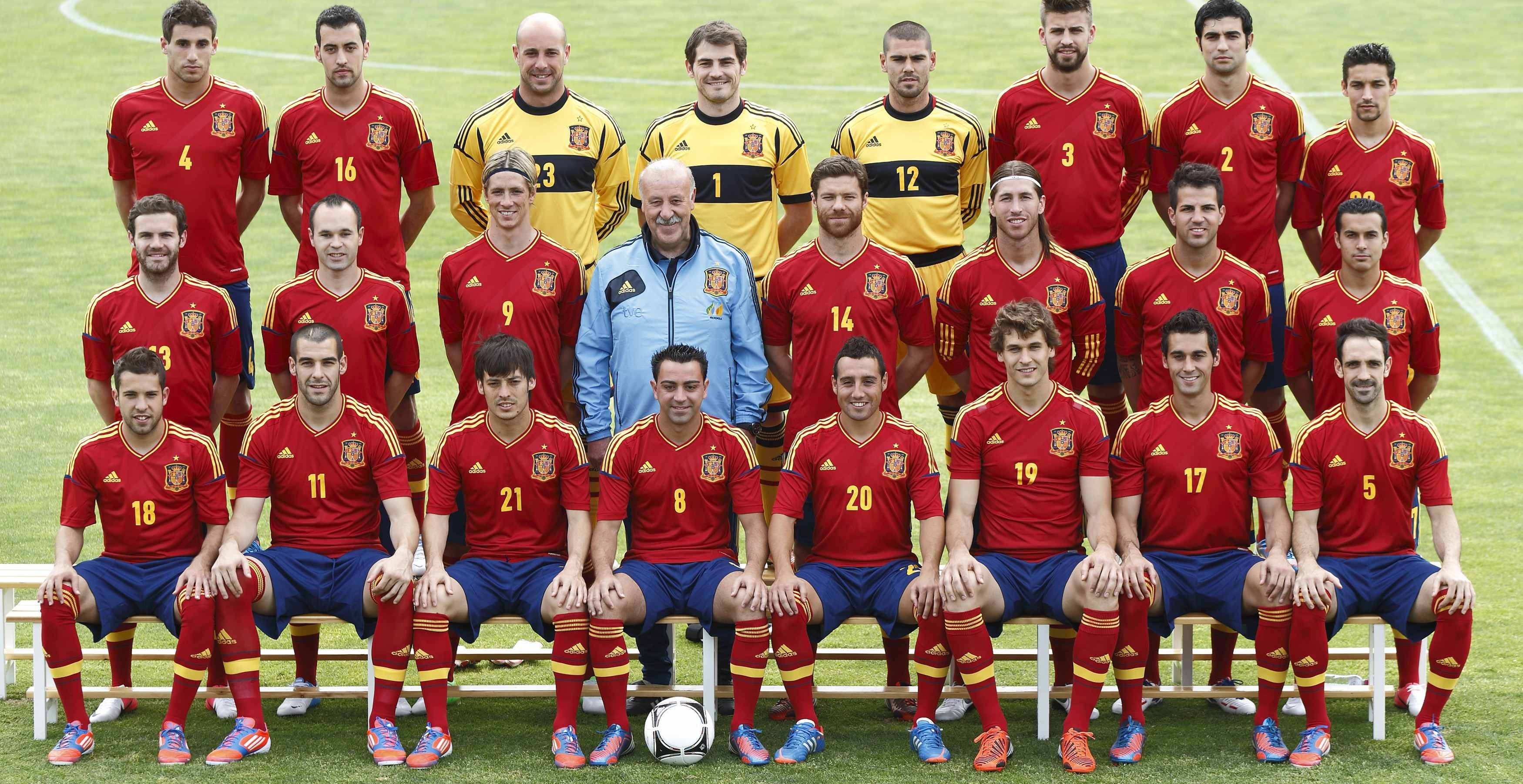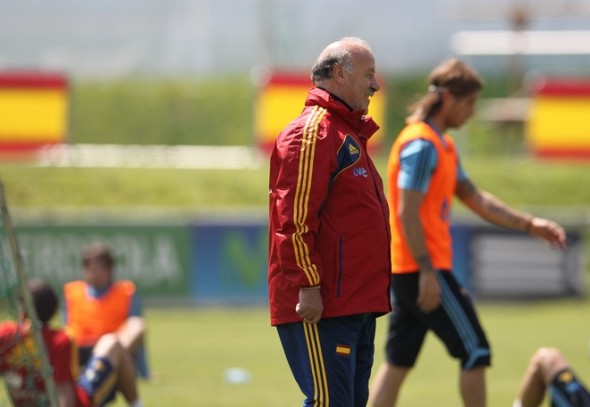 AFP PHOTO / ALEXANDER KLEIN

<<<PREVIOUS PAGE
The Current Position
There were few surprises when Vicente del Bosque announced the Spain squad. The expected names were all there. Juanfran was confirmed in place of the injured Andoni Iraola. This was the perfect platform for Iraola to demonstrate why he is the best Spanish right back.
It also offered Spain the option of having two excellent attacking full backs on either side. In the forward department, Soldado and Adrian were both overlooked despite recent goalscoring debuts with Alvaro Negredo joining Llorente, Torres and Pedro. There was also no place in the squad for Iker Muniain. His form shaded towards the end of the season as Athletic struggled physically and mentally.
Del Bosque will remain true to his favoured 4-3-3 formation and despite the injuries to key players, the bulk of the Spanish starting eleven can be stated with a degree of confidence. There is only likely to be a couple of positions where there is any doubt and these revolve around attacking positions. Who does del Bosque choose on the right and who starts, nominally at least, as the central striker?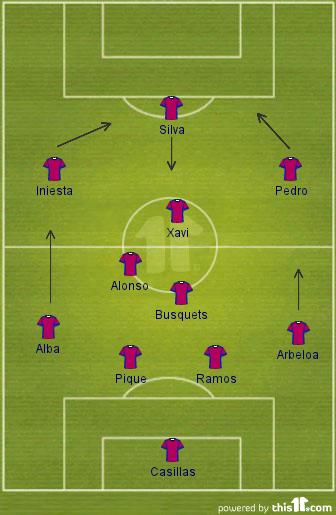 The team will broadly follow the same system as utilised successfully during the 2010 World Cup.
The back four will contain two full backs who attack but its unlikely that both will do so simultaneously with Alba more likely to push forward than Arbeloa. The left flank will be more attacking than the right, the reverse of the position in 2010 when Ramos stormed forward on the right and Capdevila was more circumspect on the left.
Busquets will sit deepest in midfield with Alonso just in front of him. A slightly lopsided double pivot. Xavi occupies a central position which is more advanced than that which he fulfills for Barcelona.
Iniesta will adopt the wide left attacking position and naturally drift diagonally inward as he does at club level.
The remaining two positions are those where there can be some movement.
The use of David Silva, previously expressing his disquiet about being overlook for la seleccion, in the false 9 role gives further credence to the flirtation with a Barcelona-esque model for the national side but there are specific differences between both primarily the choice of personnel which both teams have at their disposal. Alternatively, could Fabreagas be used here?
Assuming Silva does start as the false 9, on the right wing, it becomes a straight choice between Pedro and Navas with the man from Tenerife probably shading it.
With the startling line up and likely system confirmed, the faults within the system can be identified.
The Problems
It seems slightly ridiculous to be closely examining one of the most successful international sides ever and finding faults.
Let's be clear. These faults are stopping Spain from fulfilling their true potential and playing at their maximum. It has so far not stopped Spain from winning, but at this Championship, Spain may need to operate at their peak. It is testament to the talent within la seleccion that a side with faults can be both the reigning European and World Champions and enter the forthcoming tournament as favourites to defend their crown.
The problems have been slow burners. Not openly seen in the 2008 European Championships because of the attacking options, they saw their birth under Luis Aragones. Coming to the forefront in the 2010 World Cup, the difficulties were overcome with del Bosque making some key substitutions such as introducing Llorente against Paraguay or bringing on Fabregas and Navas when a more vertical approach was needed.
In 2012, the problems are easily identifiable. Del Bosque sees them and yet, for whatever reasons, chooses to seemingly ignore them and push forward.
Over Indulgent Midfield?
Do Spain really need to play both Xabi Alonso and Busquets together?
This is the starting point from which the remaining issues all stem. Yet it seems inconceivable that del Bosque would remove either from the team. Del Bosque himself has stated "If I were a player, I would like to be like Busquets".
Playing Alonso and Busquets together necessitates that Xavi plays in a more advanced position than he does for club. Xavi is the conductor of the orchestra, yet with the national side, he has both hands tied behind his back.
Xavi receives the ball from Busquets or Alonso. He needs to be able to see the full pitch, to see the options available, the darting runs of Pedro and Iniesta ahead of him, the surging runs of Alba from full back, the presence, if they play, of Llorente or Negredo centrally. Yet by starting so far upfield, receiving the ball in the opponents half, the darting runs of Iniesta and Pedro start immediately adjacent to him, the surging run of Alba occurs yet Alba is still slightly behind him. Llorente and Negredo remain a possibility but opponents mark them tightly and Xavi has few options. He is forced to return the ball to Busquets or Alonso. His creativity stifled. The opponent's hard work achieved by Xavi's own team.
If Xavi is tightly marked, Busquets may pass to Alonso who then may look for a diagonal ball, the type of pass he has hit with such precision all season for Real Madrid.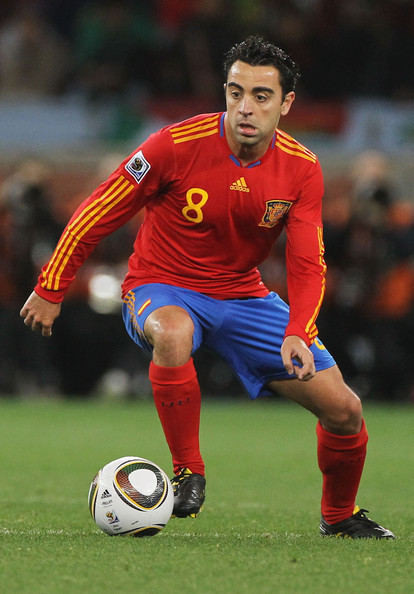 Xavi is bypassed.
This maybe an extreme example but is it one which will play out in the coming days. Both Alonso and Xavi need the ball to function properly but only Alonso is in his correct position.
Why does del Bosque persist with his selection of Alnso and Busquets? Is it politically motivated to a certain degree, del Bosque selecting the Real Madrid man lest fielding the Barcelona trio in midfield?
With Xavi struggling from fatigue and dogged by a persistent achilles problem, is the unthinkable possible? Could Xavi's position be under threat from the form and dynamism of Santi Cazorla?
Furthermore, the inclusion of Busquets and Alonso requires Iniesta to adopt the wide left attacking position which he sometimes occupies for Barcelona. Iniesta will drift inwards and Alba can provide width overlapping from full back. But opponents know this. Iniesta will rarely take on the full back on the outside or hug the touchline and pull the full back towards him. He moves centrally to be involved in the action.
As Iniesta moves centrally, Silva drops deep into the area which Xavi is occupying. Spain are left with no central focal point in attack and unless Alba pushes forward there is a lack of genuine width.
This will be exacerbated considerably if Spain line up without a recognised forward in their team.
How del Bosque chooses to implement his 4-3-3 system is crucial as he lacks key components within his squad to fully implement the Barcelona system. What we are left with is a hybrid which is not functioning properly as del Bosque shoe horns his best players into the starting eleven rather than focus upon selecting his best team.
______________________________________________
Catch Part Two of the EURO2012 Tactical Preview Tomorrow
Follow @icentrocampista
Pages: 1 2