Forget the rest, this Spain are still the best – Why Del Bosque's men remain the team to beat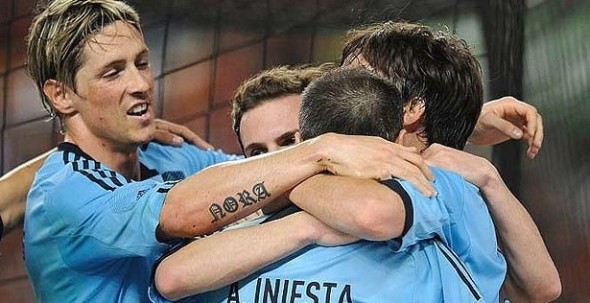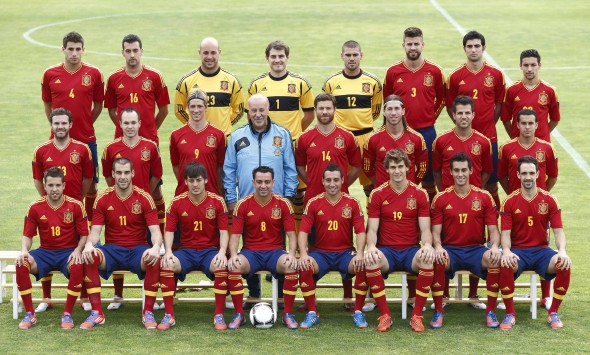 REUTERS/Carmelo Rubio/RFEF


Exactly two years ago, rather obsessively to the date, I wrote an article valiantly declaring that Spain would win the World Cup. Even with La Roja-tinted glasses off, after their emphatic performances during Euro 2008 to me there was no alternative. Sure the likes of Brazil and Argentina may provide some resistance, but the refreshing rise of 'Tika Taka' was bound to prevail against all.
I had never been so sure about anything in my life. Now at the time I was a poor student, but not wanting to be accused of talking with my mouth rather than my wallet, I decided to back my claims and took full advantage on any 'sign up' free bets on offer at any bookmakers going.
The rest of course in history and after an anxious hour and a half against Holland, Spain prevailed. In fact so had I. Move over degree, get on my plate Paul the Octopus, I was the true betting oracle.
Unfortunately however, this proved to be nothing but a strong dose of 'beginners luck' and the fact that I am not sat on a beach in the Barbados writing this, indicates my plight since. Now this little anecdote isn't meant to boast, however hopefully it can set a background ahead of thoughts to the European Championships.
I will level with you at this point. Just last month I had begrudgingly written off Spain's chances of completing a back to back European double. It felt dirty and it felt wrong, but I just couldn't see it. In fact the 5/2 on offer at Bookmakers was as much value as I recently got for getting a quote with a unnamed car company who buys any car. £100? No thanks, I will scrap it.
In my eyes everything was stacked against the World Cup holders. The tipping point came when in one calamitous week, it was not only confirmed that David Villa had failed to recover from a broken leg but that iconic captain Carles Puyol would also join him on the side-lines.
Despite missing the majority of the season there was a degree of hope that David Villa would make the squad, arrive on a unicorn half way through the final and score the winner. It would have been the ultimate fairy-tale story for the man who has endured such a frustrating season.
Perhaps it would have softened the blow if Fernando Torres had been scoring goals for fun, but with form that can at best be described as 'indifferent' for the first time in years they is a certain degree of uncertainty as to who would lead the Spanish forward line.
Fernando Llorente and Alvaro Negredo are both fine players in their own right but simply cannot compare to the influence that Villa and Torres had on the squad last time out. In fact going into South Africa, Torres and Villa had hit a combined total of 39 goals.
In their final friendly game before going to Poland last Sunday, Spain struggled to break down a Chinese side who shouldn't really have posed the toughest of questions. Negredo started up front, but did little to cement a place in their first game against Italy.
When you combine this with some surprising and uninspiring performances in friendly's against England, Argentina and a 4-0 hammering at the hands of neighbours Portugal then you could be forgiven for thinking that time has finally caught up with Spain. Playing exhibition matches in the far reaches of Timbuktu may widen UEFAs global game, but they also collect air miles that can ultimately do nothing to assist the team's preparation.
Now when you write for a website based on Spanish football, you are rightly considered as knowledgable by friends and family. And it was when discussing these points with mates that out of nowhere I had an epiphany of biblical proportions.
"If you are certain about it, lay them. Back them not to win" they taunted. Truth is I couldn't. Ultimately however it is as Rafael Benitez once put it, hard to ignore the facts.
Since they were knocked out of Euro 2004 by Portugal, Spain have played 103 three games and have lost just nine of them. Meanwhilethey cruised through qualification for the tournament with eight wins from the same number of games, 26 goals scored, eight conceded.
But the crucial thing for me is that 'Tika Taka' system that I mentioned right at the start of the article. Having watched Spain for the past decade, it is a system that doesn't rely on one particular player – they are all interchangeable.
It is a system that has been skilfully refined and oiled over the past decade. Every player coming in knows his job and the way in which they will be asked to play. Right from the youth setups to the first team the principal is the same.
Villa and Puyol may be absent and Torres may be misfiring however Spain still have, not only the best starting eleven but also the best squad in the tournament, while the midfield combinations remain as frightening as ever.
This morning I saw that Spain had drifted out to 3/1 for the tournament. There may have a few uncertainties to answer, but considering that they weren't priced me higher for the World Cup, that is pretty good In my book. And you know what; I think La Roja can do it again. Money is down.
Follow @icentrocampista