Forget the critics, Spain stand on the cusp of footballing history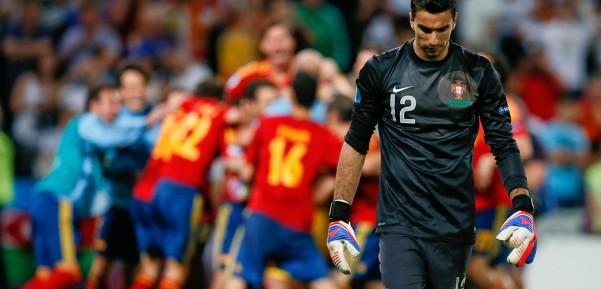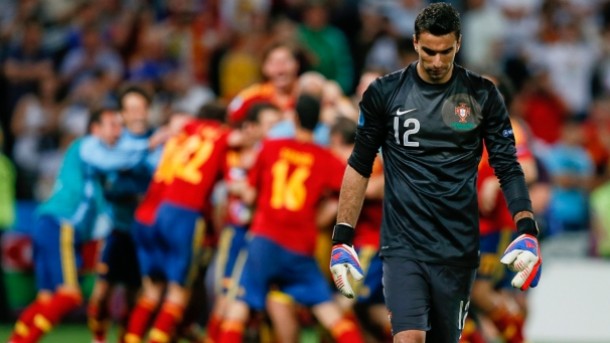 Spain beat Portugal 4-2 in a penalty shoot-out on Wednesday and will now contest their fourth European Championship final, aiming to become the first team to successfully defend their title.
This was a highly interesting game, if seldom electrifying until the conclusion, which witnessed a Portuguese team determined to attack Spain and yet failing to register a single attempt on target in 120 minutes of play.

Line Up
Del Bosque made one change to the side that had defeated France in the Quarter Finals. It was not the change that many had envisaged, that being the choice between Torres and Fabregas again.
Alvaro Negredo made his first start of the tournament in the central striking role.
Bento had one change enforced upon him with Hugo Almeida replacing the injured Helder Postiga otherwise Bento kept faith with his normal starting eleven.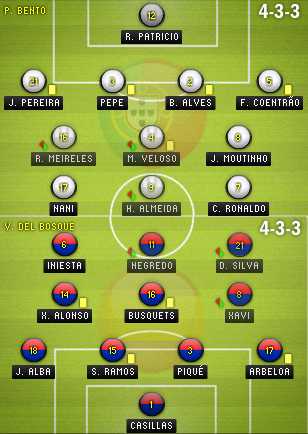 Portugal Approach
Prior to the game Bento had stated his intention not to park the bus. Portugal would attack. For the first time in the tournament, we saw a team prepared to push high up against Spain and press them all over the pitch
Throughout the game, Portugal defended well and sought to push forward and create scoring opportunities.
They pressed aggressively and energetically across the whole pitch, forcing Spain to play long balls which the aerial ability of Alves and Pepe could deal with easily.
Spain were clearly unsettled by this and yet for all of the effort displayed, Portugal ultimately failed to muster a single shot on target.

Why Negredo?
"Negredo suits our needs more than Soldado. He's better aerially and he links up more with the team" – Vicente del Bosque
The inclusion of Alvaro Negredo surprised many yet in some respects it made perfect sense. Negredo can provide the compromise solution between Fernando Torres and Cesc Fabregas. He offers a range of qualities most notably his powerful physical presence allied to his finishing but his ability to drop deeper than a normal striker on occasion and link with the midfield arguably helped gain him the starting slot.
The Spanish Assistant Toni Grade noted: "Each forward has different characteristics. Negredo is ideal today – power, athleticism & height defending corners."
One area where Spain have struggled so far is how to use the high number of corner kicks they win. Despite having seven corners last night, Spain inevitably lose possession if the corner is played into the penalty area. Negredo, in theory, should have helped with this.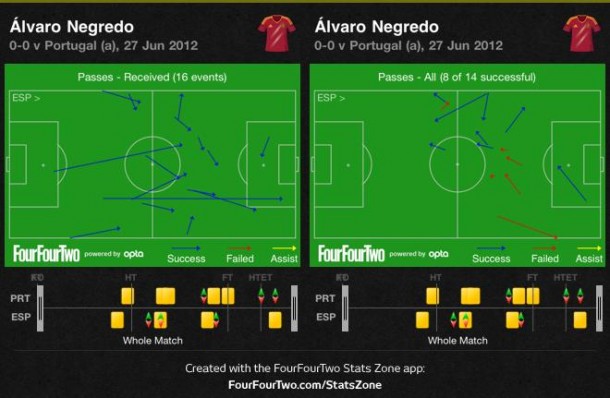 Alvaro Negredo – vs Portugal
Negredo had just 22 touches of the ball before he was substituted. What many had considered to be a gamble, even though it was nothing of the sort, had failed. Negredo appeared static and often isolated and whilst he much accept a portion of the criticism for this, part of the reason must also lie with his team mates. Arbeloa has the opportunity to cross to Negredo in the opening 15 minutes but delayed and lost possession. If you select Negredo, you also need to supply him.
The final part of the reason for his lacklustre performance was the manner in which Portugal performed and in particular, their midfield trio.

Portugal Midfield
The usual midfield trio lined up in the midfield for Portuguese with Veluso the deepest of the three, Meireles seeking to link defence and attack and Moutinho providing the creative spark in a more advanced role. Yet to label the three players in such a fashion does them a great disservice. The trio showed tremendous versatility as they provided triangular rotation throughout as the situation dictated.
They were able to press Spain aided by the high defensive line being held. When Spain broke through the midfield, Pepe was very quick to step forward and close down space.
The pressing though was also apparent higher up the pitch. Moutinho stealing the ball from Alba in the 29th minute to offer Ronaldo an opportunity to shoot.
The trio broadly shadowed their Spanish opponents in central midfield with Veluso given tha task of marking Xavi. This was visible in the 19th minute when Xavi, frustrated by his limited involvement, became the deepest Spanish midfielder dropping between the centre backs to collect possession where Veluso followed him.
The result of the aggressive pressing by the Portuguese was that Spain's pass completion rate in the first half dropped to their lowest level thus far in the competition at 85.3%. Spain ended the first half with 56% possession, again a substantial drop on their normal levels.
It was obvious how much Spain had been affected by the pressing of their opponents. Spain played 29 long balls in the first half beginning at the very outset with a long ball forward to Negredo straight from kick off. The longs balls continued in the second half when Spain played 44 long balls forward.
It should be abundantly clear why Spain play in the manner in which they do. When forced to play long balls and enter a more physical contest, the Spanish are lacking.
This tight marking and aggressive pressing by Portugal resulted in a loss of fluency in the game especially during the second half which developed into a fraught, tense affair.
Xavi Squeezed Again
Just as he had been squeezed against France, last night witnessed another performance by Xavi which is not in keeping with his normal performance level.
His starting position was once again, much higher than normal creating two key problems; he has fewer passing options ahead of him when he receives the ball and he is easier to mark by opposition players, in this instance, Miguel Veluso.
Against France, Spain coped with the performance of Xabi Alonso by as he too was pressed, te Spanish lost their fluent style and any creativity from midfield forward arrived via the driving runs of Andres Iniesta.

Portuguese Left vs Spanish Right
What was billed as being a pivotal duel in the contest never quite lived up to expectations. Much of the pre-match hype surrounded Ronaldo and his ability to cause his team mate at club level, Alvaro Arbeloa, numerous problems.
Arbeloa managed to stay high and attack early on rendering the conventional viewpoint that he would remain defensive, redundant. He linked well with David Silva whilst Ronaldo took up slightly more central positions.
As the second half progressed, Almeida looked to drift across to the left into the space vacated by Arbeloa. This resulted in Almeida having two clear shots on goal but on both occasions, his shooting was wayward.
Ronaldo Shots vs Spain
Billed as the weak link in the Spanish defence, Arbeloa proved defensively solid throughout. Indeed, both he and Pique combined successfully to nullify the threat from Ronaldo. All of Pique's tackles coming in the right back area as he offered cover to Arbeloa.
Arbeloa did have an element of fortune in his performance through. He committed 8 fouls, the most by any player at Euro 2012 so far, yet his inevitable yellow card arrived due to a handball and not one of the more cynical fouls he committed higher up the pitch.
Arbeloa and Pique – Tackles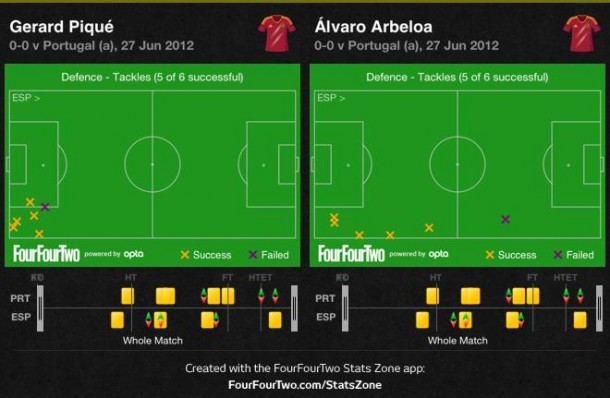 Extra Time
As with their other games to date, Spain gradually took control of the game as their opponents tired. The introduction of both Pedro and Navas on the wings helped stretch a tiring defence wider apart and offered the necessary space for Iniesta to have an increasing influence as the game progressed.
Jordi Alba also provided ample evidence of why Barcelona have just signed him with a number of surgng runs forward on the left as Portugal sought to contain their opponents, no longer able to maintain their pressing. Portugal dropped deeper into defence as the extra time wore on.

Penalties
"I looked for people who were confident. Cesc said he wanted to take one which could be decisive."
del Bosque
Just as he had done on Sunday 22 June 2008, Cesc Fabregas stepped up and scored the decisive penalty kick which took Spain into the European Championship final.

Conclusions
Despite their exit, Bento must be happy with the performance of the Portuguese team at these finals considering the opposition they faced in their initial group.
That Portugal were able to stick with Spain for so long, only really showing visible signs of tiredness as extra time began is a testament to both the tactical system employed by Bento and the ability of his players to implement it.
For Spain, the performance will not do anything to alleviate the critics of the team but at this stage those critics are highly unlikely to change their viewpoint and arguably fail to understand how and why the team is functioning as it is.
For all the talk of teams knowing how to stop Spain, they have still to meet a team who can achieve that objective. Spain now stand on the cusp of footballing history.
Follow @icentrocampista