Barcelona make central defender priority following Alba signing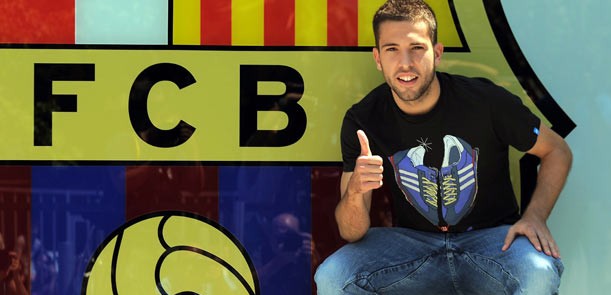 FC Barcelona concluded the signing of Spain's European Championship winning left back Jordi Alba on Thursday evening. The defender's 14 million Euro price tag is a steal considering the acclaim he attracted this summer, and is a typically savvy piece of transfer business by Sandro Rosell. The Barça President will need to go one better if he's to find the Catalans a central defender of Alba's quality for an equally unbelievable price tag however.
Barcelona have made no secret of their limited resources this summer, and of the original 40 million Euros set aside for reinforcements, only 26 million now remain following Alba's arrival. Had AC Milan's Thiago Silva even been available, that surely would not have been enough to secure the Brazilian. Fortunately for Barcelona, they've managed to dodge that potentially embarrassing bullet after Milan renewed his contract beyond doubt.
With Silva now no longer even worth dreaming about, the name on the tips of the tongues of the Catalan press is Athletic Bilbao's Javi Martinez. In a footballing sense Martinez is the perfect fit: young but experienced, skillful but robust, and above all, versatile, or polivalent as the Catalans say. The Athletic man's transformation into a top class central defender along with his ability to play across the midfield makes him an attractive prospect for any club, and had Barcelona still been in the era of over indulgent spending as encapsulated by the extravegant signing of Zlatan Ibrahimovic, they would surely have payed above the odds to land their man.
That is no longer an option however, and so Barcelona will need an incredible slight of hand to convince Athletic to sell a player that they can't afford to lose without an offer they can't refuse. Perhaps if the will of the player is strong enough then some kind of agreement could be reached, but while Martinez has publicly stated his admiration of and indeed good relationship with the Barcelona players in the Spain set-up, he has equally made clear his desire to remain in Bilbao.
Raising any additional funds will be difficult when the Catalans have no desire to sell any members of their current crop for extra funds. Even Seydou Keita, whose status at the club has been cast in doubt this week, is rumoured to have a clause which would allow him to walk for free should he so desire. In any case, there is no indication on behalf of the player that he even wishes to leave in the first place, and Andoni Zubizarreta used Jordi Alba's presentation to make clear Barcelona's intention of keeping the Malian on their books.
There is an unusually realistic mood amongst the local press that Barcelona will not be signing a defender for the sake of signing one this summer, and although fantasy-laden names like David Luiz and Thomas Vermaelen have been occasionally banded around, there is a general consensus amongst supporters that neither is likely to arrive at the club in their current financial situation. Cheaper options have also been touted on occasion, but equally it seems Barcelona are reluctant to opt for an experimental signing with the lessons of Dmytro Chygrynskiy still fresh in their mind.
Should the Catalans fail to secure someone of the quality of Martinez, if not the Athletic man himself, then there is a realistic possibility that they will not bring in any further additions in this window. Such a suggestion has already been admitted from Barcelona HQ, who are keen to make it known that they don't intend on paying above the odds just to fill a position. In this scenario, much pressure will be placed on Andreu Fontas and, to a lesser extent, Marc Bartra to plug the gaps where necessary.
With no guarantee that Fontas will have recovered from his career-threatening cruciate ligament injury without any hiccups, 21-year-old Bartra will need to show that he is able to perform as admirably as he does for Barcelona's B team on the bigger  stage. Bartra doesn't lack quality, and indeed, many consider him to be a superior player to Fontas, but Barcelona have a poor record when it comes to bedding in defenders that have shown promise at a youth level.
With so much uncertainty, perhaps the only certainty is that Barcelona's last move in the summer window are sure to be intriguing. Whether that means pulling off a second transfer coup, or producing a rabbit out of a hat as they done so successfully with Isaac Cuenca last season remains to be seen.
Follow @icentrocampista