When Diego Maradona met the Butcher of Bilbao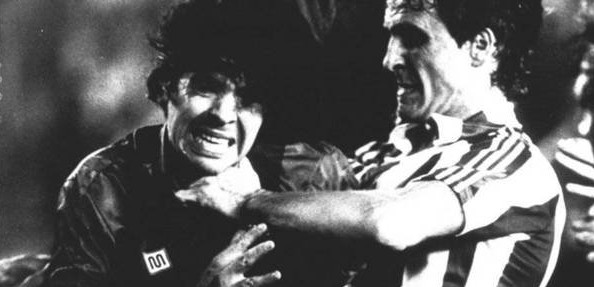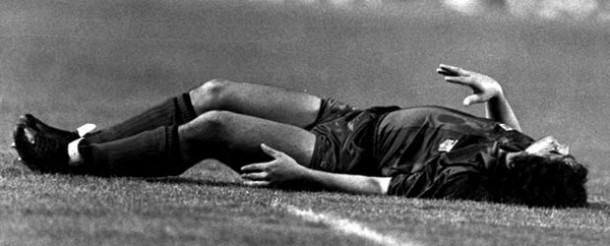 When Diego Maradona arrived at Barcelona airport in June 1982, many believed it signalled the beginning of a new dawn for the city's most famous football club who had won just one league title in over two decades.
President Josep Lluis Nunez had just paid Boca Juniors a world record £5 million for the mercurial Argentine after all, and brought his former national team boss and World Cup winner Cesar Menotti along for the ride.
Less than two years later however, and Maradona was on his way out of the Camp Nou as Napoli paid out another world record fee of £6.5 million to take el Diego to Southern Italy.
It proved a short and difficult stay in the Catalan capital for the 23-year-old and Maradona seldom reached the levels that would make him one of the greatest footballers ever during his time in Serie A.
Maradona contracted Hepititus during his first season in Spain and was restricted to just 20 league games – although he showed glimpses of brilliance to score 11 goals. He then spent the majority of his second season out through an injury suffered in probably the most infamous incident of his time in La Liga.
It came during a league clash against Athletic Club in September 1983. The Catalans were cruising to victory at the Camp Nou when Diego Maradona was scythed down by a horrendous tackle from Basque defender, Andoni Goikoetxea – better known as the 'Butcher of Bilbao'.
The Argentinian maestro was carried off in agony to be later diagnosed with a broken ankle. It was claimed after that Goikoetxea retained the boot he wore that day and wheeled it out at parties as the "the boot he had used to destroy Maradona's ankle ligaments". How true this is, nobody knows but it certainly adds a enigmatic edge to the myth.
Goikoetxea had already begun his one-man war against the Catalan side two years prior to the Maradona incident, when he broke the leg of Barça's German international Berndt Schuster.
It gives some idea to the ferocity of Goikoetxea's play that he was a notorious hardman in an age when football was less regulated on the pitch and bad tackles were lapped up by the crowd (just as long as it was by your own player.)
It is also extremely doubtful that Goiko would get anywhere near a football pitch in today's game. That is not to say the Athletic legend was a bad player however – 39 international caps and two Liga titles dissolve that accusation. The fact was, he could actually play a bit as well.
Born in May 1956 in Alsonopegi, a small town in the Basque province of Biscay, the young Goikoetxea began his fledging football career at local youth side, Arbuyo. After coming to the attention of scouts from Athletic Club in his mid-teens, the player eventually moved to Bilbao when he was 17-years-old and soon settled into life at the famous club.
Known for his strength and commitment, Goiko was seen as an ideal player for the club and soon moved through the ranks until he was ready to make his first-team debut in 1975. By the end of the decade he was a key part of the Athletic Club side and had also represented his country at under-18 and under-21 level.
Goiko played a pivotal role in Athletic's 1982/83 and 1983/84 La Liga triumphs as Javier Clemente's side dominated all before them with their own style of aggression and power. The second league title was complemented by victory in the final of the Copa del Rey as Athletic cemented themselves as the top team in Spain.
By the time Goikoetxea finally left San Mames, for a short unsuccessful stint at Atletico Madrid, he had played over 270 games for the club and scored a more-than-respectable 35 goals. Not bad for defender.
He also scored four goals while on international duty, including grabbing one of the five when Spain beat Denmark 5-1 at the 1986 World Cup in Mexico.
A career in management has followed with spells at Salamanca, Compostela, Numancia, Racing, Rayo Vallecano, Hercules and his current club, Cueta, but he has rarely hit the heights of those successful years at San Mames.
Despite his impressive playing career however, it seems that Andoni Goikoetxea will be forever remembered for his tackles or more specifically for 'that' tackle, which is slightly unfair to a player who has won La Liga and scored at a World Cup.
Maradona himself has said he soon forgave Goiko for the challenge although his wasn't quite as enamoured with his assailant's coach: "With time I forgave Goikoetxea," the Argentine said, "But I'll never forgive Clemente. He declared, just after the match that he was very proud of his players and he would wait a week to see if my injury was really that bad." So the Butcher has been forgiven by el Dios.
Just out of interest, how many of you know what happened when Maradona and Barcelona faced Athletic Club for the first time following his injury?
We'll let this little clip speak for itself…
Follow @icentrocampista