Mario Balotelli's needless jibe provides extra motivation for Gerard Pique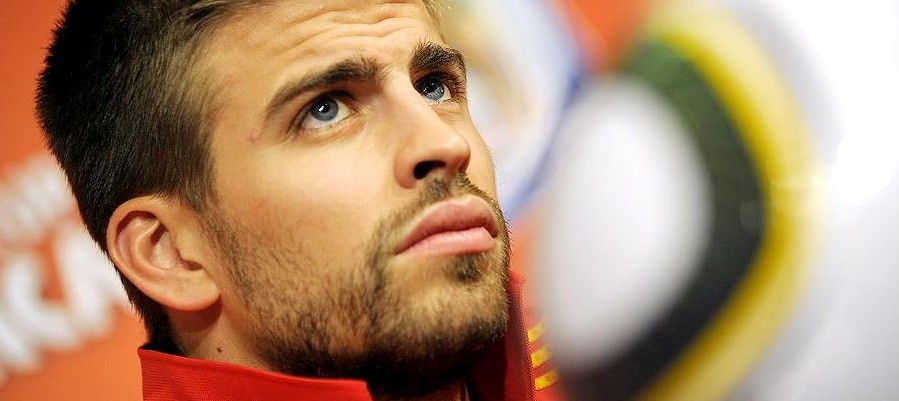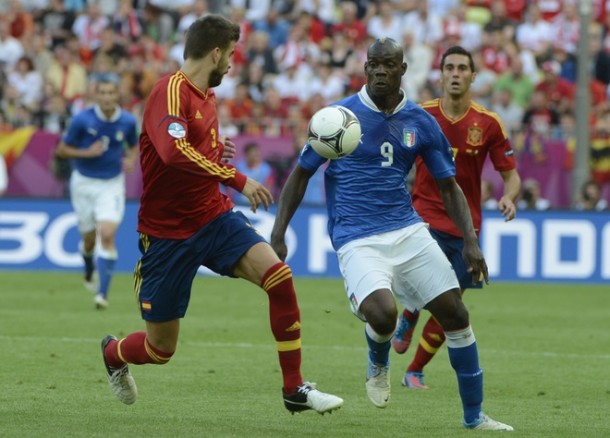 Few players are as decorated at such a young age as Gerard Pique. The 25-year-old has won every major title placed in front of him at Barcelona at least once, and as an international he has the greatest prize of them all in his cabinet. Pique has one final trophy to add to his haul however, and it's the very one Spain will look to make history with by winning tonight.
Pique's burst to the fore at the Camp Nou from the depths of the bench at Manchester United seems an eternity ago, but it was less than four years past that the Catalan came of age. Too late indeed for him to take part in Spain's last European Championship victory in 2008, his position at the time occupied by then-Valencia defender Carlos Marchena. To say Pique will be motivated to make sure his name joins those of his colleagues in being etched on Spain's Eurocopa history would be an understatement.
Pique's drive to win trophies doesn't make him unusual – any top-class footballer surely believes he is capable of lifting a cup or two – but it is the way in which he has seen out several brutal league or cup campaigns to the very end that puts him in that unique category of top-level winner. It is not only this desire to lift the Euro trophy for the first time that will drive Pique tonight however.
As if the young defender needed any more motivation, he approaches the Euro 2012 final off the back of a sub-par season that saw him receive widespread criticism for the first time since arriving at Barcelona. The reasons for his drop in form at club-level earlier this season vary, from the realistic excuse of injuries and inconsistent game time to the slightly more sensationalist claims that his relationship with a certain singer are the cause. In any case, Pique was, for the most part last year, not at his best, and he will know that as well as anyone.
For the Gerard Pique that looked so shaky during the 2011-12 campaign to partner Sergio Ramos at the heart of a Spanish defence would have made Carles Puyol's absence painfully evident. Spain are fortunate however, as Pique's final game of the season with Barcelona also proved to be his best.
In the Copa del Rey final against Athletic Club, Pique seemed to have instantly shaken off the shackles of his tremulous year, producing a vintage display with all the traits we have come to expect from the defender. He has taken this confidence-boosting performance and ran with it at the Euro, growing in strength as the tournament progressed.
There was no better image to sum up the return of the Pique that captured the hearts and minds of Barcelona and La Roja fans alike than that of him dominating Cristiano Ronaldo on the by-line during the latter half of Spain's victory over Portugal. Confidence, technique and courage, even when faced with one of the best attackers on the planet. Those are the traits Gerard Pique has shown in winning at the highest level.
To add unnecessary fuel to Pique's fire, Mario Balotelli decided he would attempt to unsettle his opponent prior to tonight's clash, perhaps mindful of the aforementioned problematic season for the defender. 'I will invite Shakira to the final, so that she can see what I will do to her boyfriend', the young striker warned.
Pique's response was typically assured and measured, surely cutting Balotelli more than the striker's own childish jab had impacted the Catalan. 'Balotelli wins games', he said, 'Pirlo wins championships'.
For someone of Balotelli's narcissism it isn't a stretch of the imagination to suggest that the Italian will be irked by Pique's retort. In Andrea Pirlo, Italy have one of the greatest midfield players in recent memory, someone who has played a key role in major title wins for club(s) and country alike. Balotelli on the other hand is still no more than an erratic, if immensely talented player who has much yet to prove before he can be spoken of in the same breath as the great midfield maestro. Balotelli's trophy cabinet is growing, but he cannot yet claim to have been as essential in any of those campaigns as his compatriot.
One player who can be talked of in the same category as Pirlo is the very one Balotelli aimed to destabilise. His record for club and country proves that, and he'll be looking to go one further tonight. Balotelli wins games. Pique wins championships.
Follow @icentrocampista