The life and times of a Real Madrid legend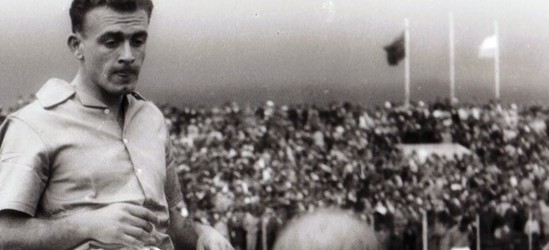 Once given the accolade of 'the most complete footballer' in the history of the game, the story of Alfredo Di Stefano is one that has included strikes, immigration, and a whole hoard of trophies.
Born into a family of Italian immigrants, the Argentine is synonymous with Real Madrid, with his 246 appearances for the club being a crucial factor in their unparalleled dominance of the fifties and sixties.
In an age where the media thrives on sensationalism, the word 'legend' is one that is all too frivolously handed out to any player who has amassed double figures in one season, or perhaps even made a last ditch tackle in a crucial relegation decider. Sure they may be branded heroes for a short period of time but legends? Not quite.
In stark contrast, Di Stefano doesn't just qualify for legend status; he sets the bar for it. In terms of footballing attributes Di Stefano had it all. So often the majority of players have at least one weakness in their game, be it physical or technical, but the 'blonde arrow' had no flaw.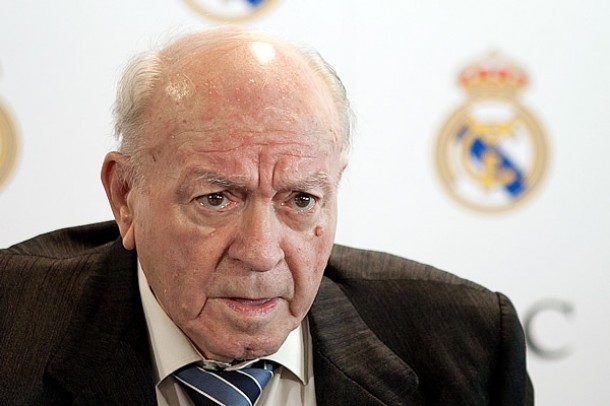 His extraordinary stamina combined with a versatility that coaches dream about, meant he not only played an instrumental role in the success of the fifties but left a lasting legacy from which Real Madrid could build. And yet it could easily have been all so different.
Due to a footballer's strike in Argentina in 1949, Di Stefano spent a large part of his early career at Columbian outfit Millonarios of Bogata, where he carved himself a reputation for being the deadliest of hitman with a near goal a game record.
It was no surprise when both Real Madrid and Barcelona decided to call and the Catalan club even agreeing terms on a contract with the player and his contracted club River Plate before the Spanish Federation refused to recognise the deal.
Ultimately, the problem lay with the fact that at the same time, Real Madrid had agreed a deal with Millonarios, the Columbian team that Di Stefano was playing for then.
Confusion reigned before it was eventually, and somewhat ludicrously, decided that Di Stefano should play two alternate seasons with each club (something which never happened). It was a decision that infuriated Barcelona and proved too much for their president, Marti Carreto, who promptly resigned.
And so with jubilant Real Madrid fans viewing the deal as a getting one over their arch rivals, the Buenos Aires-born player  was always going to be a fans favourite before he had even kicked a ball for Madrid.
However what followed was to be even more popular; in his eleven years in the Spanish capital Di Stefano helped Real Madrid to no less than a staggering eight league titles.
And when you add to that collection the first five editions of the European Cup, it should come as no surprise that the two times European Player of the year is still held with the highest of regard by all the Santiago Bernabeu.
He was made honorary life president of the club in 2001, while Real Madrid's reserve team, Castilla, play their home games at the Alfredo Di Stefano Stadium.
Never one to hide from the headlines, Di Stefano was last season vocal on his views of the current Real Madrid 'hero' Cristiano Ronaldo after he was unhappy at being booed and jeered at the beginning of the season.
Di Stefano commented: "The public are paying and are always right. The stadium is always correct and this should not be questioned."
Despite going on to score over 40 league goals last season and subsequently cement himself as a firm favourites in the eyes of the fans, it is unlikely that he will ever match Di Stefano's popularity.
New heroes will come and go with time, but no one will ever forget the influence of the 'Blonde Arrow' on this iconic club.
Follow @icentrocampista