This season could define the Barça future of Oriol Romeu and Bojan Krkic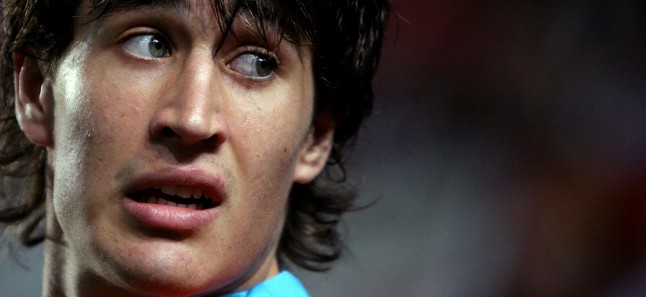 Barcelona's summer dealings got off to an emphatic bang with the signing of Jordi Alba, but since then, finding that elusive central defender is proving less simple. As previously detailed on these very pages, Barcelona's financial situation combined with their refusal to accept second best has meant that their options are severely limited when considering players for their second summer signing.
It is partly for those reasons that Oriol Romeu's name has popped up in the Catalan media in recent weeks. The talented young midfielder got off to a flyer under Andre Villas-Boas at Chelsea, and while his success stalled with the arrival of Roberto Di Matteo, he will have another chance to shine at this summer's Olympics. Romeu started his career as a central defender and therefore fits the profile Barcelona are looking for, and the suggestion that he could return to Barcelona sooner rather than later is a reminder of how his contractual situation favours Barça should they decide he's worth pursuing. The Catalan club have a clause in his contract which would enable them to repurchase him from Chelsea at a set fee prior to its expiration date (regardless of what Chelsea's former manager may have invented to the contrary).
In one of my first articles for El Centrocampista last summer, I mentioned that this type of clause is a cunning alternative for Barcelona from the expensive loan-deals they were so fond (and became victims) of in the past. Wage bills are completely offloaded and, should the players fail to shine in their new environment, Barcelona benefit from a decent transfer fee without having to reinvest any of it to bring their ex-squad members back to the club. A win-win situation for the club.
From the player's perspective the benefits are clear too. Promising talents who would otherwise be unhappy with reduced game time at Barcelona are given the opportunity to make their mark in a different environment, all the while learning from experiences they otherwise wouldn't have gained if warming the bench with Barça. At least, that's the idea in theory.
The flip-side is that, as has occurred with Romeu, a change in manager or change in thought at their new club may mean they end up in the very situation they came there to escape from. The Chelsea midfielder referenced this in the Catalan press in recent weeks by stressing his desire to play first team football, regardless of the location. It's why he left Barça in the first place, and it would likely be the main motive should he decide to leave Stamford Bridge in the near future.
For Bojan Krkic, the situation is somewhat similar. Under Luis Enrique, the young striker had a manager who would place the utmost confidence in him even if he wasn't necessarily achieving his best form. Bojan knew that Enrique would give him opportunities to find his feet based on his manager's knowledge of the player's qualities from their corresponding spells at Barcelona. Unfortunately for Bojan, Luis Enrique and Roma's relationship is no more, however.
Suddenly, the striker may find that a record similar to last season's seven goals in 37 appearances just isn't enough for new coach Zdenek Zeman, and he's no longer a part of Roma's future plans. The second season is always important for any signing, but given the circumstances it's absolutely pivotal for Barcelona's former teen sensation.
This year could prove crucial for both of these players not only at their current clubs, but at their former one, too. There's a sense that both are going through a sort of audition process which, with all due respect to Roma and Chelsea, invites them to use the period to convince Barcelona that they're worth forking out the money and swallowing their pride over to bring them home. Should either player turn himself into a first team player in Italy or England's first division, Barcelona would be foolish to miss the opportunity for a cut-price re-purchase. Continue to warm the bench, and they'd be foolish to consider bringing them back.
Make no mistake about it, Barcelona are not afraid to be ruthless when it comes to players in this situation. You need look no further than Alberto Botia for an example. The former Barcelona defender made his name at Sporting Gijon, but despite starting ample games and often performing admirably well, the Catalans have decided not to exercise his buy back clause and have allowed it to expire. The feeling is that Barcelona have simply concluded that he lacks the quality to succeed at the Camp Nou, harsh as it may seem.
Do they feel the same about Romeu and Bojan? That remains to be seen. It's now up to the players to prove that Barcelona really have missed a trick by letting them go. If they can do that, they need only look to Jordi Alba, Cesc Fabregas or Gerard Pique for an example of how willing Barcelona are to bring the cream of the crop back to their childhood home.
Follow @icentrocampista