Are the good times finally over for Kaka as Madrid exit looms?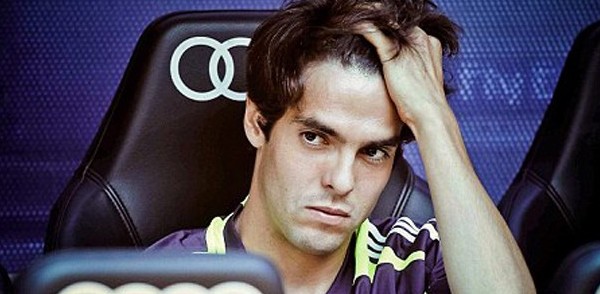 "Kaka is a player with great quality and that makes him stronger than Cristiano Ronaldo."
Not one noted for being accurate with his predictions and tips, yet still few would have disagreed with Brazilian legend Pele when he uttered these words in the summer of 2007. Back then Kaka was literally on top of the world. His awe-inspiring performances for Milan led them to an unexpected Champions League triumph and a host of individual awards, most notably the Ballon d'Or. It was the best of times for the Brazilian. 
And they proved to be the last of them. Aside from helping Milan claim the Club World Cup later that year, Kaka failed to win anything in his two remaining seasons in the Italian fashion capital. Not that it was his fault. He went on scoring and creating goals in an ageing Milan side that was growing ever more dependent on him. By doing so, his reputation went unhindered as Real Madrid's lust for him intensified until Florentino Perez managed to put enough euros on the table – all €65 million of them – to convince Milan to sell and for Kaka to say 'yes'.
Along with Cristiano Ronaldo – signed in the same summer – the plan was for the two players to form a lethal partnership that would guide Real to it tenth European crown, la decima, as they call it in Madrid.  The plan never quite worked. While Ronaldo hit the ground running, Kaka struggled for form and fitness and, eventually, his confidence took beating, too. Three years on, Real are still searching for la decima.
Last season there were some signs that maybe Kaka was finally turning things around. A decent start to the campaign was followed by a purple patch at the beginning of March where he went on to score three goals and create six for his team-mates in seven games. Soft mutterings that Kaka was back, or at least heading in this direction, began to be heard.
But, sure enough, as the business end of the season approached, Mourinho used him significantly less. In fact, he appeared only twice in the Real's last eight outings – partly, it seemed, as punishment for his entirely inept display in the derby against Atletico. As the transfer season dawned, it became fairly clear that Real Madrid were happy to let him leave. If it was not clear at the start, Mourinho spelt in out in big bold letters when during a meeting with the player and his father in July, the Portuguese said, "You'll be a substitute, look for another team".
A reunion with his old club Milan has looked a possibility all summer, yet, the Italian club's financial difficulties have made signing their former star virtually "impossible", as Adriano Galliani put it. Indeed, Kaka's wages for any club interested in his services will prove a stumbling block – he does earn €10 million a season, after all.
Despite a more than decent showing in the preseason matches, most notably against Milan where he set up three goals in Real's 5-1 win, Kaka has been unable to find another club nor win any points with his coach, at least this was the message on Sunday night as the Spanish champions kicked-off their title defence.
Chasing three points against Valencia, Mourinho threw caution to the win as he brought on Jose Maria Callejon and Karim Benzema. Sami Khedira and Marcelo were also seen warming up on the touchline. But, as for Kaka, he was not even asked this much as he remained seated for the entire match.  Mourinho never minces his words. What he told the Brazilian back in July, he meant every word of it.
While Kaka has repeatedly, and most admirably, stated that he wants to succeed at the Santiago Bernabeu, it seems like it is too late now. That boat has sailed and unless he moves on he will remain left out in the cold.  This week Real are close to signing Tottenham's Luka Modric. They have been after him all summer and, according to reports, the deal might become official in a matter of days.
If it does, it will be the nail in the coffin for Kaka's Real career and he may have to start being more open-minded about his next destination. The player has stated his desire to remain in Europe. He still wants to play at a top club. However, apart from cash-strapped Milan, no one wants him, least not in Europe. Unless the Italian side pull a rabbit out of the hat or some euros they don't have, Kaka may have to start considering the overtures for his signature from places like the USA, China and the Middle East.
Of course, such a move will spell the beginning of the end for the 30-year-old. However, such a move will represent the chance for Kaka to go somewhere where his football will be appreciated and where his global star-like status along with his professionalism will be a boon for the game – and his confidence. He may not want to leave Europe just yet, but, if it is between sitting on the bench being left to rot or going to a league where he will play regularly and be a star once again, Kaka may just have to accept that his days at the top are over.
Follow @icentrocampista