Is Alex Song the player Barcelona need, or the player Barcelona can afford?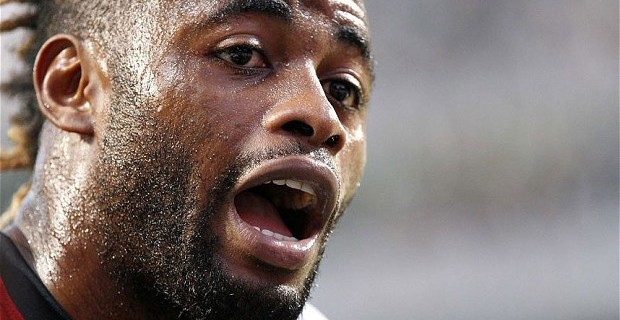 The transfer window may as well be re-named 'the gift that keeps on giving' when there's no club football being played, and there's only one name on the lips of the Catalan media. Barcelona supporters could be forgiven if a potential move for Alex Song doesn't particularly excite them. Given the profile of recent acquisitions like Cesc Fabregas, David Villa and Zlatan Ibrahimovic, expectations of new arrivals are high, but times are tight in the Catalan capital, and a player who at one time probably wouldn't have been heading the list of potential Camp Nou imports is now a very realistic possibility… or so we're told.
At the moment no one outside of the club really knows whether Barcelona are targeting the Arsenal man or not, with the clubs refusing to speak openly on the subject. As the saga drags on however, murmurs are beginning to filter (allegedly) from both the player himself and his friends to suggest that a move is indeed in progress, so it looks like the headlines are at least marginally true. In partially answering the questions over the validity of the rumours however, a bigger, more pressing question for Barcelona is in turn created: is Alex Song the player they need, or simply the player they can afford?
Any sense of realism from the end of the previous season seems to  have evaporated by this stage in the summer, and Seydou Keita's departure  from the Camp Nou equally appears to have distorted perceptions of which area Barcelona truly need to reinforce in. While Tito Vilanova was clear that what was required was a left-back and a central defender who, ideally, could also assist in midfield, the exit of the Malian international has led to the press transforming that priority into a quest for a midfielder that can potentially help out at the back.
While there's no doubting that Keita was an admirable servant to Barcelona, his displays as a holding midfielder for Barcelona last season were often poor at best, and the notion that Barça should now suddenly prioritise the signing of yet another middle man is in truth misplaced. Remember, this is a team that at times last season was almost entirely composed of midfielders. Look how that worked out.
Anyone who followed the Catalans over the last twelve months can see that the area in which they looked painfully exposed was at central defence. The failure to find a suitable academy graduate for the position in recent years has only further emphasised that problem, and it is only logical that is should take priority in the summer's second and, as is likely the case, final transfer dealing. Though I'm not suggesting Barcelona are using the mood of the media to gauge their transfer targets, their current strategy is somewhat baffling from any angle other than the financial. Signing Song has the potential to be a faux-pas per excellence, especially if it's done for the wrong reason.
Many will point to the miracle of Javier Mascherano in an attempt to justify a transfer, but in doing so it's easy to forget just how unique the Argentine's taking to a defensive role has been. It's only right to pay credit to El Jefecito for adjusting to the position so brilliantly, and in truth there are few footballers on the planet capable of doing so at such a high level. Lest we forget, Mascherano went from a Liverpool side on the decline to playing in and winning a Champions League final within a year. No small task at all.
Though Song has played in the defensive position sporadically throughout his career, there's no denying that at his current Arsenal best he's a midfielder first and foremost, and only a defender in an absolute emergency where required. Would Barcelona really be confident in fielding him in a decisive tie against Real Madrid as part of a back two alongside Javier Mascherano, for example? Few would be optimistic if so.
Admittedly, the entire debate is only being had in the first place because Barcelona couldn't get their man. Javi Martinez was the logical fit for the Blaugrana this season, having spent the majority of the last campaign as a defender in a system similar to that used by the Catalans. His familiarity with the players from the national team, as well as requiring no period of adjustment to the league would at least in theory have made any transition as pain-free as possible. Unless there's a sudden change of heart, lack of funds at the Camp Nou dictate that Barcelona will be unable to move for the Athletic man however, and so, with a tight market and little money to fantasize with, the scraping of the barrel began. Though it's hard to know just how much truth is involved in any players linked with the club, names ranged from as ludicrous as Vedran Corluka to the perhaps more palatable but nonetheless questionable Daniel Agger, finally settling on Song.
It's not only from Barcelona's perspective that the potential transfer is questionable. For Alex Song, moving to Spain may not be as straightforward as it seems. Sergio Busquets plays an overwhelming amount of games for Barcelona, and is very rarely rested until the most hectic stage of the season. Likewise, Carles Puyol, Javier Mascherano and Gerard Pique would all be ahead of the Arsenal man in the pecking order should he make the move, so he could soon find the process of switching from a starting player to an occasional back-up  man frustrating. Even moreso if Barcelona's better organised and structured pre-season results in the lessening of muscle injuries to key players that they're hoping for. Time could be scarce for the Cameroonian.
Closer to home, Arsenal have made some of their most ambitious signings in years, putting together a team with attacking talent capable of taking on anyone in the Premier League if they hit their best form. Stay at Arsenal, and Song could be a key player in the first genuine push for the Premier League title in years. Leave, and as well as the scenario above, it would be a cruel blow for Arsene Wenger when he is finally attempting to deliver what Arsenal supporters want by coughing up the money where it counts.
Of course, there's also a touch of arrogance in suggesting that the player himself isn't considering such issues, and that his switch is a foregone conclusion should Barcelona meet Arsenal's evaluation, but perhaps Alex Song should ask himself this question: is it better to stay at the club where I'm wanted, or move to the club where I'm required? I know which one I'd choose, and you only need to ask some of Barcelona's less successful recent acquisitions for what can happen as a result.
Follow @icentrocampista