The Revolution will not be televised – La Liga starts on schedule but storm clouds continue to gather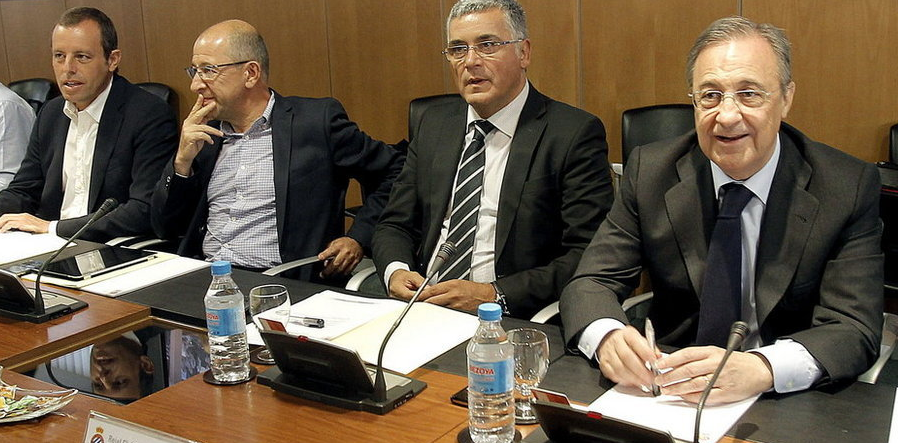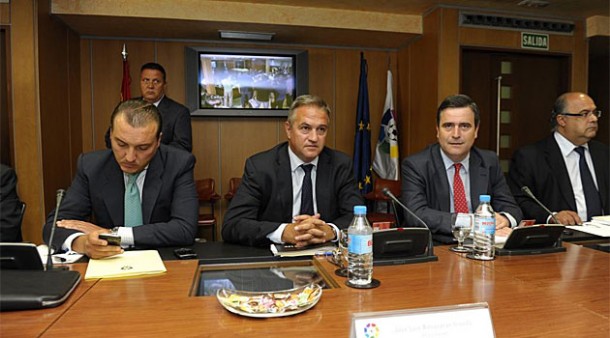 And so it seems, the hiatus remains in Spanish football's fight for parity. After a lengthy meeting held on Tuesday morning in Madrid, LFP president Jose Luis Astiazaran emerged to inform waiting reporters a number of important issues had been discussed among the 40 clubs in attendance. In fact he said little else before withdrawing back inside the 'emergency meeting' that had been hastily convened with the threat of strike action looming.
The good news for La Liga is that the season will begin as planned this weekend, despite the obvious and mounting division within the Spanish game. The bad news is the cloud of discontent is growing and is sure to cast a looming shadow over La Liga for the foreseeable future. Just twelve months on from the now infamous 'huelga' that brought chaos to the start of the 2011/12 La Liga campaign, it seems Spanish football just can't help itself.
The root of this year's unrest runs much deeper than the player-initiated strike of August 2011, however, and could have far-reaching effects on football in Spain. Unhappy with the current disparity in TV revenue distribution, 13 'rebel' clubs had threaten to delay the season – leading to Tuesday's meeting being held in the Spanish capital. The current broadcast deal sees two clubs, Real Madrid and Barcelona, receive almost 50% of the €600m TV revenue between them – leaving the other 18 top flight clubs to share the remainder.
Somewhat predictably, the inequality is leaving a bitter taste in the mouth, with a number of clubs also left less than enamoured by news they will kick off the new season at the unearthly hour of 11pm. Conspiracy theories abound, with growing suggestions in Spain that the LFP are working against Canal + in their current commercial war with MediaPro – who incidentally owe money to a number of clubs in La Liga. These outstanding debts have led to some clubs breaking contract with the broadcaster in order to  sign new deals with rivals Canal +. Adding to this unrest is the anger emanating towards the two media giants over their continued failure to settle the TV rights dispute.
Controversy over Spanish football's TV revenue has been bubbling for a number of years, with Jose Maria del Nido launching an unsuccessful campaign to address the situation last season. The Sevilla President urged clubs to disregard their current contracts in order to seek a better deal, however, his efforts proved insufficient to prompt any change.
Not to be deterred, however, Del Nido remains at the forefront of the continued fight for equitable distribution as a growing number of clubs seek to persuade Barca and Real Madrid to adopt a system of collective bargaining and income sharing similar to that used in other top European leagues.
Atletico Madrid President Enrique Cerezo, who has been among the most vocal of the 'rebels', also addressed reporters after Tuesday's meeting saying the talks had been "positive", however, in truth there currently seems little light at the end of the tunnel. Understandably, Barcelona and Real Madrid seem keen on maintaining their stranglehold on broadcast revenue, enjoyed courtesy of lucrative individual deals the two clubs enjoy – despite both Florentino Perez and Sandro Rosell being in attendance on Tuesday.
Neither President chose to comment on their input in the meeting but in his brief address, LFP President Astiazaran told reporters: "We discussed issues to do with the league, with governance and with television broadcasts. There will be games this weekend that will start at the scheduled time."
And unfortunately, therein lies much of the problem. If you are Mallorca or Espanyol, you will have to wait until 11pm on Saturday night for your scheduled kick off time, and those clubs involved are understandably angry.
Fast becoming the new revolutionary spokesman, Cerezo rather poetically finished his statement by declaring: "We are 13 teams united and we have to carry on until we achieve our goals. We will try to win the battle for the good of our own interests and for the good of La Liga." Rousing stuff indeed.
Follow @icentrocampista