Juventus switch could prove a match made in heaven for Fernando Llorente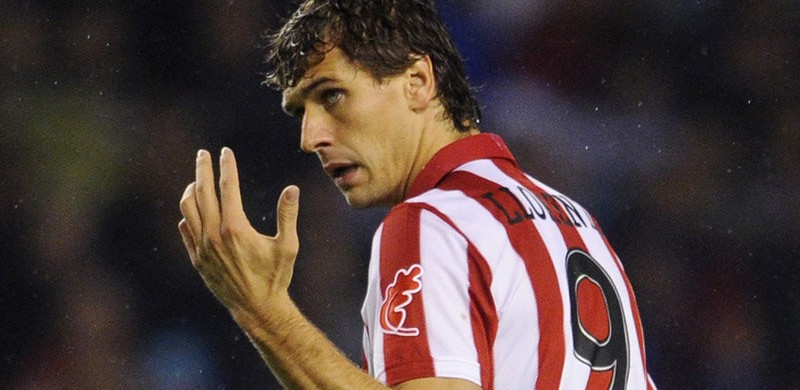 It is no secret that Italian giants Juventus are in the market for a striker, and not just any striker. Juventus are clearly on the hunt for the best of the best, proven strikers who have fired in the goals at the highest level. One old enough to be experienced yet young enough to become the focal point of the team for years to come.
Of course that costs big money but that doesn't seem to be an issue as Juventus look for the player that can ensure they have the best chance of retaining the Serie A title they won last season – their first championship for nine years. They have been attempting to lure Premier League duo Luis Suarez and Robin van Persie to Turin since the transfer window opened, but as yet have been unsuccessful in their efforts.
Suarez appears happy at Anfield, despite the clear gulf between the two clubs at the moment. Last week he signed a brand new long-term contract with Liverpool, so the chances of signing him now appear to be almost zero.
Van Persie is desperate for a move away from Arsenal. His sensational last season at the club has made him one of the hottest properties in Europe and Juventus are currently vying with Manchester United and Manchester City for his signature. However the Dutch international  has expressed a desire to stay in the Premier League and Arsenal are valuing the player at a price that Juventus do not feel is realistic.
Nonetheless, as we get closer to the end of the transfer window Arsenal will be forced to relax their demands and then the opportunity for Juventus to sign the player may present itself.
For now though, not wanting to rely on ifs and maybes, the old lady of Italy has turned its attentions to another of Europe's hottest strikers; Fernando Llorente. 'El Rey Lion', as he is affectionately known, certainly fits the bill. An out-and-out centre forward with a consistent and proven goal record in one of the top leagues in World football.
For Juventus the prospect is signing a player who is coming off his most prolific season yet, with 30 goals in all competitions, is mouth-watering. Llorente also produced some sensational individual performances in the Europa league last term which only served to enhance his reputation.
Unlike Van Persie, the 27-year-old  has been consistently firing in goals for the past five seasons, he also has remained relatively injury free, he has appeared in more than 30 league games in each of the last five campaigns. Van Persie had one sensational season which was followed up with a disappointing European Championship, who knows if he will be able to reproduce the goods at Juventus.
Suarez has found goals harder to come-by in the Premier League, despite his creative play and his performances verging on sublime at time. That may have just been first season teething problems but if Juventus want a finisher then Llorente is better suited than the Uruguayan.
Juventus would also benefit financially from signing Llorente over Suarez or Van Persie. A Llorente transfer would cost significantly less, closer to €15m than the €30m it would likely take for either of the Premier League pair. The wages would also be significantly lower, Suarez's new deal is reportedly €150,000 a week while Van Persie is said to be on €100,000 at Arsenal. Llorente would likely seek close to €100,000 whereas the Premier League stars would expect a pay rise.
The Athletic star, it seems, would be open to a move. Talks have broken down over a new contract at the club amid reports of a feud with outspoken coach Marcelo Bielsa. That twinned with Athletics poor league finish and the fact that at 27, this might be the last big chance Llorente gets to taste glory means he's more than open to the transfer.
Llorente has always been linked with the step up to Barcelona and Real Madrid but that ship seems to have sailed. Barcelona have been interested but never went knocking and Real Madrid have turned elsewhere for their striking options. Juventus presents a realistic chance to move to a title challenging side and to play Champions League football on a regular basis.
Playing for a club like Juventus will also increase his chances of playing more regularly at international level. Llorente didn't even get a chance to get on the pitch in Spain's recent European Championship triumph which he must have been very disappointed with, considering Torres' form coming into the tournament.
Juventus have reportedly put in an offer of around €16m over the last couple of days. Whether this meets Athletic's valuation is yet to be seen, but it cannot be far from the mark. With Llorente reportedly discontented with life at San Mames they cannot afford to be too demanding.
The move would suit Juventus and Llorente. Juventus would be acquiring one of Europe's hottest marksman, and for a fraction of the cost of similar targets across Europe. While Llorente is getting the chance he is more than deserving of. The negotiations, if they are ongoing, are in their infancy and with transfers of this magnitude it may take a couple of weeks to flesh out the deal.
It is time for Llorente to move on. He has given everything to Athletic, but he has always looked destined for greater things. In his mind the ideal move I'm sure would have been to Barcelona where success is almost guaranteed but that chance appears to have passed. Juventus appeared to have presented a massive opportunity for the Spaniard and he should grasp it with both hands.
Follow @icentrocampista