Morbo Minute – La Liga around the Web: Week 2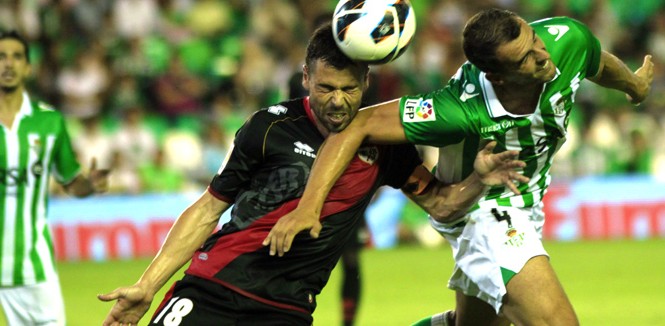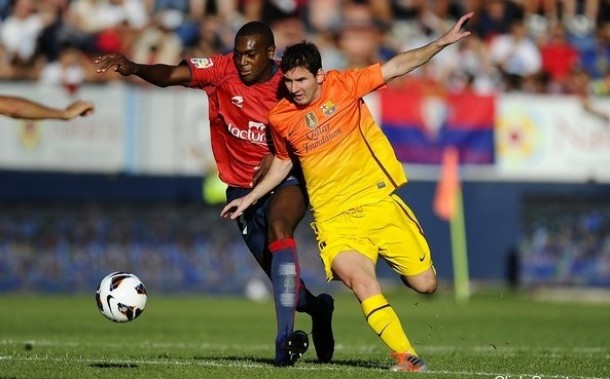 Another weekend of goals and intriguing results in La Liga, with the champions suffering against Getafe while Rayo continued their 100% record.  Valencia drew again and FCB is on the horizon for Los Che, with the Blaugrana making hard work of it against Osasuna.  In the final match of the round, Atleti crushed Bilbao 4-0 to put Los Leones rock bottom of the league.
Saturday night saw me try to expand my La Liga knowledge as I watched the replay of Real Betis against Rayo Vallecano.  Didn't know the result and didn't have a rooting interest for each side, so just watched the game to see what these two teams had to offer.
The first half saw a spellbinding opening 15 minutes:  two goals in the first four minutes, and then each team hit the woodwork with excellent strikes.  Real Betis came out in what looked like a 4-3-3 and pressured Rayo all over the field, with the visitors replying with some sort of 4-5-1 and composed possession.  The great start to the match eventually wore off and set the template for the rest of the match—moments of quality amongst a series of cynical and professional fouls.
The second half saw Betis on the front foot but a lack of urgency in front of goal saw nothing come of their dominance.  Rayo's composure and interplay of the first half seemed to have disappeared and they were just hanging on to a draw, but everything changed on 62 minutes.  A Betis turnover in midfield allowed Leo to start the counter with a ball out wide left to Lass.  Leo supported his pass, maintained his balance and slotted the ball under the keeper, who probably should have done better.  It was a well deserved goal for his efforts, and I really enjoyed watching him, as he was full of running, decent going at people and his flicks and first time passing allowed Rayo to create several chances, including the opening goal.
Once Rayo went ahead, they were back on track, keeping the ball away from the hosts and letting time tick away.  The movement and crispness of the opening half returned and they looked quite good at time.  Los Verdiblancos reacted by driving forward with a lot of energy but little sharpness, almost trying to equalize by sheer force of will, which was not enough
A couple of other player notes:
Salvador: The Betis midfielder was like a Portuguese Theo Walcott: one direction one speed, very little finished product .
Benat:  Thought he had a good match, particularly in the first half with his passing and creativity giving the hosts some sort of direction.
Campbell:  Guess he is on loan from Arsenal.  Thought he gave Betis a little impetus upon his introduction.
Lass:  Critical sub as his pace really unbalanced Betis their right hand side.  Looking to see more of him.
Trashorras:  Just love his name.
Casado:  The left back for Rayo was sure on the ball, usually finding the right pass, but his defending left a little to be desired.
Both teams went for it, which was enjoyable for the neutral, but the lack of quality in front of goal kept the game from really hitting the heights.  As the game wore on, the fouls and dark arts became prominent and the game eventually petered out with three points to the visitors.
Adam at Forever Betis found it hard to find the positives in the match, starting his post with Betis looked tentative, lightweight and rudderless right from the start and were deservedly beaten by a competent Rayo side.  He was especially critical of the keeper among other players as the home side were undone.
Osasuna 1 FC Barcelona 2
After church I headed into work so that I could get on the internet, find an illegal feed and join the match late.  Finding a feed and getting my computer to cooperate took much longer that I had anticipated, so I missed the first half.  I got caught up via highlights and analysis on Sky and sat down for the second half.  It was like watching the Chelsea Champions League semi all over again as the Blaugrana hit their head against a wall that would not crumble.  There was a lack of sharpness and drive combined with a team determined to hold on to their lead.
Eventually the substitutions of Pedro, Xavi and Villa tipped the balance and FCB ran out winners.  But let this not mask the fact that the team is not cohesive, especially in defense.  With Puyol out for a little while (maybe not), Masch will probably return to the side, so we'll see if this changes things.  If I were a Spanish side I would sign Fellaini and let him terrorize the back line as he did against United on the opening weekend.
Kxevin at the Barcelona Football Blog recapped a match that was crazy in so many ways: crazy in the way Osasuna executed their game plan to near perfection; crazy in how so many Barca players were off the pace; crazy in the way subs can totally change a match.  FCB had a tricky fixture in between the Super Cup and survived.  With Real Madrid on Wednesday and Valencia next weekend, fans will see if Tito can continue to navigate a tough of fixtures.
Articles and Pods
Phil Ball reviewed a busy four days in Spain, starting with an entertaining Super Cup first leg to Real's shocking defeat againstGetafe.  He picked out several players that caught his eye: Benat from Betis, Iago from Celta Vigo, Leo Baptistao from Rayo.
Graham Hunter was on Off the Ball last week (8/26) and discussed the situation at Athletic Bilbao, as the work done by Bielsa last season is unraveling.  Part of it is the club's negotiations with Llorente and Martinez and part of it is the antics of the coach, but the club is in real trouble after a season of promise.
As for the Champions, Madridista Mac wondered if the alarm bells should be ringing as Real has started the season without a win.  With CR7 and Ozil not in top form, Los Merengues have suffered, losing the lead in all three matches and not having the answers at the end of matches.  Of course by this time next week, they could be Super Cup champions and on four points (with a home win over Granada), just behind FCB who could conceivably lose to Valencia.  But defeats in both . . .
Iain at El Centrocampista echoed concerns about Real Madrid's start after the defeat, with Euro 2012, the US tour and player choices all listed as factors.  One thing that I did not consider was Albiol on for the injured Pepe.  Surely Mou won't throw Varane into the fire on Wednesday but must consider using him on the weekend.
Finally, the Champions signed Luka Modric, ending a long saga that surely took too long and may not pay off for a while due to lack of games for the Croatian.  Sid Lowe took a look at Real Madrid's newest signing for the Guardian, while Terry Gibsongave his thoughts on the transfer on La Liga Extra.
To wrap everything up, the panel at Inside Spanish Football commented on most of the weekend's action from round 2, looking at key moments and players before moving on to their team of the week.
Follow @icentrocampista