Impressive Atleti heap more misery on floundering Bilbao: Atletico Madrid 4-0 Athletic Club – Tactical Analysis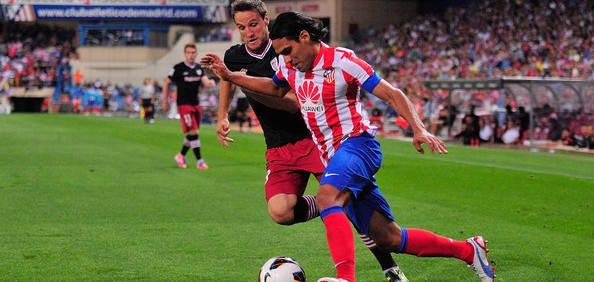 Atletico Madrid and Athletic Bilbao met at the Vicente Calderon for the first time last night since that evening in May when Atleti won the Europa League crushing Athletic Bilbao in the process.
There were a number of key tactical issues during that game which can be reviewed here.
And, as inconceivable as it may seem, judging by last night's performance, Bielsa and Athletic failed to learn anything from that defeat. The same mistakes were evident again as Atleti delivered a performance of incisive play and quality surpassing their display  in Bucharest and epitomised throughout by the superb Falcao.
Line Ups
Atletico made four changes from the side which drew 1-1 away to Levante on the opening day. Silvio, Cata Diaz, Adrian and Tiago all dropped to the bench to be replaced by Koke, Suarez, Luis Filipe and Juanfran.
Atleti change their system also, moving away from their opening day 5-4-1 to their usual 4-2-3-1. It appears likely that Simone will adopt a more cautious approach for away games this season whilst being more attack minded at home.
Bielsa made just one change to Athletic with Aduriz replacing Toquero as the striker but there were a number of positional changes within the system. Inigo Perez switched places with De Marcos moving from midfield back to left back.
In central defence, San Jose and Gurpegi also switched positions in central defence with San Jose moving back to the left side.
Despite the various alterations to the line up and within the line up, Athletic utilised their normal 4-3-3 variation at the Vicente Calderon.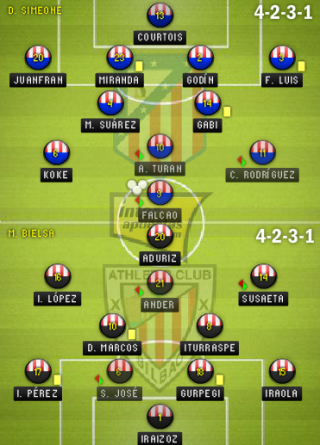 The Stats
Athletic dominated possession yet failed to muster a single shot on target. The failings of last season returned with a vengeance for Athletic. More possession, more passes but ultimately less penetration as the opponent has more shots and wins the game.
First Half
Atleti began the first half pressing their opponents quickly with both Filipe and Juanfran pushing forward from their full back positions when the opportunity arose. This is important to note. Atleti are content to defend but will commit men forward when the opportunity presents itself.
In the defensive phase, Atleti would fall back to a fairly deep 4-1-4-1 with Falcao being their only  player remaining in the opponents half. With Falcao on such devastating form, it is easy for Atleti to retreat and Falcao to remain the reference point in attack.
The first warning for Athletic arrived in the 14th minute when Falcao collected a long pass and spun past two opponents before Gurpegi cynically blocked him. The resulting yellow card prevented Gurpegi from competing effectively for the remainder of the game, fearful of a second caution and the resulting red card.
The opening goal arrived via some woeful defending by Athletic combined with some lovely play by Falcao. A long throw in found Falcao. MIkel San Jose, who was now man marking Falcao, was turned far too easily before Falcao scooped the ball over Iraizoz.
Athletic gradually settled after this but offered little of an attacking threat. Despite the importance of Iraola and Susaeta last season, neither offered much in an attacking sense. It was on the left with Inigo Perez supporting Isma Lopez where Athletic offered patches of decent play. It was also the Athletic left which Atleti deliberately chose to attack down with Arda presenting numerous problems to Inigo Perez. In the absence of Aurtenexte, Simeone may have pinpointed Inigo Perez as a weak point. Despite the number of attacks in this area, Perez successfully won a number of tackles in the left back area as key battle developed between him and Arda:-
However, Inigo Perez was cautioned in the 35th minute for tripping Arda.
Throughout the first half, Los Colchoneros pressed their opponent in a highly structured and coordinated fashion. There was seldom any aimless pressing by just one player and when required, everyone dropped deep. With less possession, Atleti were much more vertical with an emphasis upon moving forward quickly but by interplay and surging runs rather than long passes.
Athletic by contrast to their hosts, played numerous passes but failed to turn their possession into territorial dominance or chance creation. Their first meaningful attack materialised in the 14th minute.
Defensively, following Gurpegi's caution, San Jose man marked Falcao whilst Inigo Perez man marked Arda. This led to the bizarre scenario of Inigo Perez trailing Arda over to the opposite flank on one occasion in the first half, leaving the left flank completely exposed.
Atleti scored their second goal shortly before half time. Although well finished by Falcao, Godin was offside in the build up. A corner was cleared and when the ball was returned, Godin opportunistically hooked the ball across the face of goal and Falcao scored from an acute angle.
Second Half
Athletic made two changes at half time with Susaeta and San Jose being replaced by Ibai and Muniain. This resulted in yet more shuffles of the team with De Marcos moving to left back, Inigo Perez going to midfield, Iturraspe moving to central defence (where he partnered Gurpegi, another central midfielder), Ibai on the right wing and Muniain supporting the anonymous Aduriz.
The changes had no effect upon the game failing to stem the tide which flowed towards Iraizoz. Ibai, as ever, looked lively when he arrived but with little meaningful possession his impact was limited.
In the 57th minute Gurpegi was penalised for handball, and judging by some earlier decisions, he was lucky to avoid a second yellow and remain on the pitch. Falcao scored the resulting penalty. Yet the penalty all stemmed from Atheltic's inability to clear their lines following a throw in. Athletic had three separate opportunities to clear the ball and failed on each occasion.
There then followed a succession of chances for Atletico with a number originating down the Athletic right with Iraola caught extremely high on each occasion. Chances arrived in the 61st, 65th and 68th minutes all from the right.
The fourth goal was another example of poor defensive play from Athletic. The Atleti substitute Diego Costa ran across the edge of the penalty area evading pitiful attempted tackles by Gurpegi and Inigo Perez. Costa's shot was eventually blocked with the resulting loose ball slammed into the net from twenty five yards by Tiago.
Falcao
Its difficult analysis this game without some reference to the Europa League final given the striking similarities between both games. There were many differences that night but the performance of Falcao. Again, Falcao had a massive impact upon this game.
His ability to collect the ball and move into the channels whilst support arrives is invaluable to a team that wants to defend deep and with numbers.
Prior to the season commencing, Falcao was asked whether he could compete for the "Pichichi" this season:-
"Pichichi'? Why not?"
The heat map bellows shows where Falcao operates. He receives the ball just wide of either central defender outside of the penalty are. Then, when inside the penalty area, his is positioned centrally.
Falcao collects the ball just inside the opponents half of the pitch and distributes team mates running off him, quite often on the flanks before making a run towards the penalty area. From his 23 passes, only 4 passes were either into or inside the penalty area:-
Almost all of Falcao's passes are outside of the box yet all of his shots, with the exception of two, are from inside the box.
There were suggestions when he arrived that Falcao would not contribute outside of the penalty area and the key issue for Atleti was developing a system which maximises his strengths and links the team to him. Simeon appears to have struck this balance perfectly.
With the likes of Arda, Adrian, Rodrigues and Koke running off him, Falcao has plenty of options and an excellent supply line.
Athletic Structure
Athletic were missing five key players against Athletic but the manner of their performance suggested something much worse than just missing players, however important those players may be.
The changes made in the second half were strange, bordering on the bizarre at times. Constant reshuffles must have a detrimental effect upon players at some point, when instructions stop making any sense through a confused haze.
The withdrawal of San Jose , who was not enjoying a good game, can be debated but why replace him with Iturraspe in defence? You then have two central midfielders operating in defence whilst Ekiza remains on the bench. What made this worse was positioning Inigo Perez at the base of midfield when he had already been cautioned. In a role which requires tackling, Inigo Perez was not going to be able to cope fully.
As the second half progressed, Athletic lost all sense of structure and became a collection of individuals on the pitch. Iraola was posted missing on a number of occasions, allowing Rodriguez to break into acres of space. Aduriz appeared totally isolated throughout with barely any combination play involving him and any other Athletic player. On the one occasion when he linked up, Muniain threaded a pass through and Aduriz moved behind the Atleti defence but his shot was blocked.
Athletic spent the entire game playing in front of Atleti but lacked the creativity and guile to unlock a defence. This was not the only quality which was absent from their game.
Muniain can be a spiky character when things are not going well for him on the pitch but there was little aggression from him. There was a general sense of inevitability about Athletic from the moment the opening goal went in. The team lacked any sort of desire or mental strength.
Conclusion
Atleti can look forward to the European Super Cup game against Chelsea with confidence. The team is playing well and there are ample solutions on the bench which now contains real quality. The final scoreline probably flattered Athletic Bilbao a little and there will be real optimism within Atleti that under Simeone, this can be the season when they secure Champions League once more.
The optimism and jot which engulfed Athletic last season is now all but gone. The performance was insipid and represents the low point of Bielsa's reign in Bilbao. Bielsa recognises this:-
"At no time were we in this match. They were more powerful than us in most aspects of the game… we were impotent in the face of the dimension of our opponent"
And yet with the loss of Llorente and Martinez all but guaranteed, the solution for Athletic would be to sign quality replacements such as Benat but Bielsa, as ever, defies conventional wisdom:-
"For a team that is in the cycle we are, it is impossible not to be generate concerned. I have no expectations to resolve this through the arrival of signings."
Unlike last season when Bielsa arrived and the team struggled at the start of the season, there was always hope that the season would improve. It looks like hope has all but drained from Athletic now.
Follow @icentrocampista