Lionel Messi's growth into Argentine leader shows there's something still to prove for the Barcelona man
Updated: 11 September, 2012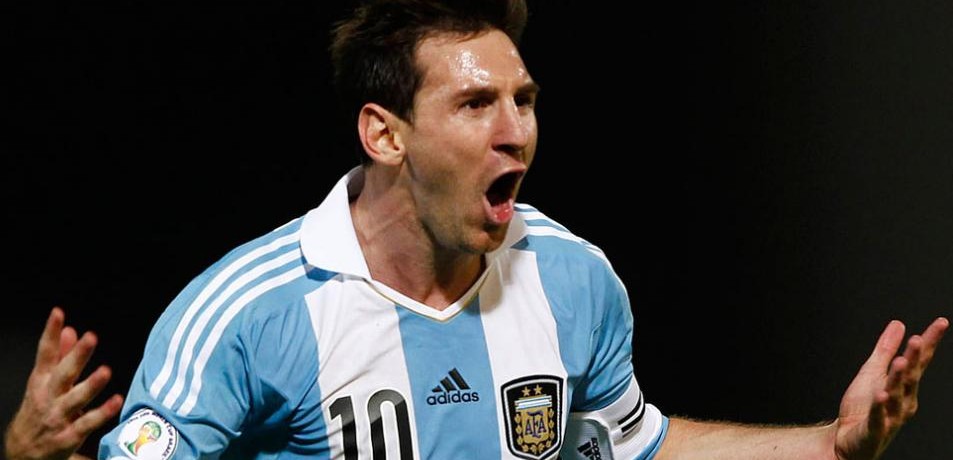 Lionel Messi's ability to produce effortless brilliance has pulled the wool over our collective eyes in recent years. While we once greeted his moments of inspiration with cries of 'he's still improving', any notion of there being anything left to learn for the Argentinean these days has been abandoned in the aftermath his three successive Ballon d'or victories.
Yet Messi's recent displays for his country have shown that there is one process of  learning the Barcelona man is yet to complete, and once again, he's on the cusp of triumph.
Messi's exploits with Barcelona in stark contrast with his relative failure on international duty have naturally led eyes to fix on his club football, not the Albiceleste. It's perhaps for that reason that his transformation into a leader on the field of play for his country has went largely unnoticed. Aside from collective foaming at the mouth over his latest wonder-goal in the blue and white shirt, little real analysis has went in to his process of growth while on home-duty across the Atlantic.
In truth the goals tell only half of the story. Unlike when Diego Maradona attempted to force the Argentina captaincy onto Messi at the 2010 World Cup through a misplaced sense of inheritance, Messi's recent turn as skipper of his nation has revealed a footballer comfortable with his status as the best around in club football, who is now determined to achieve the same with his nation.
It also shows a more complete footballer, one capable of taking the burden of leadership on his shoulders and inspiring those around him when they need it most. That the Barcelona man has become growingly vocal in recent seasons and his fortunes as a leader for Argentina have upturned is no coincidence.
Messi's brilliant free-kick against Paraguay is a perfect example of the continued determination that is also taking him toward glory with his nation. The Barcelona man was once an adequate free kick taker that, if the position of the dead-ball allowed, could curl a decent shot on goal, but was often third in line after Xavi and Dani Alves.
Recently however, he has shown a variety of talents from set plays, ranging from powerful but accurate shots into the un-saveable corner of the goal to a piece of inspired, quick thinking genius as was the case against Atletico Madrid last season.
In broadening his repertoire Messi becomes an even better, more versatile player, and in doing that he becomes better for his teams. Only pure, hard work on the training pitch could facilitate such a broad range of new skills, regardless of how talented the number ten clearly is. Hard work that will have required motivation, something that burns within the forward now more than ever, because the biggest motivation of all is less than two years way.
Messi is a sharp man, and will no doubt be aware that old rivals Brazil are on a downward curve these days. While Argentina seem to be steadily improving, the Brazilians are in a transitional phase that has produced some of the worst football played in a yellow shirt for decades. Appropriately, Brazil's expectations of and over-reliance on Neymar at such an early age has a hint of Argentina circa 2010 about it.
With Brazil fading ahead of their big moment, Messi must surely smell blood, and if his nation can maintain their position at the top of the qualification pile going into the 2014 World Cup, it will lay down a marker, not only to the rest of the nations participating, but particularly to the team playing at home. A marker that says that Lionel Messi and Argentina mean business this time, if we hadn't already taken notice.
If Messi could do the unthinkable and lift the World Cup as Argentina captain on Brazilian soil, it would put his status as the greatest ever beyond even the most skeptical of doubters. Let's not misplace where his resolve to claim the trophy comes from however – if we've learned one thing about Lionel Messi it's that his exploits aren't fueled by a sense of self-gratification. Rather, Messi will be hoping to bring joy to the country that, after arriving in Barcelona, he longed for to the point of tears.
In the process, victory would finally put to bed the still-lingering doubts over his just how Argentine he truly is, doubts that remain in spite of his decision years ago to opt for his home-nation over Spain. If he can finally convince Argentina at large that the country of his birth is where his heart really lies, then Lionel Messi may just achieve the greatest personal triumph of his career.
Follow @icentrocampista