What a difference a week makes for Mourinho and Madrid
Updated: 6 September, 2012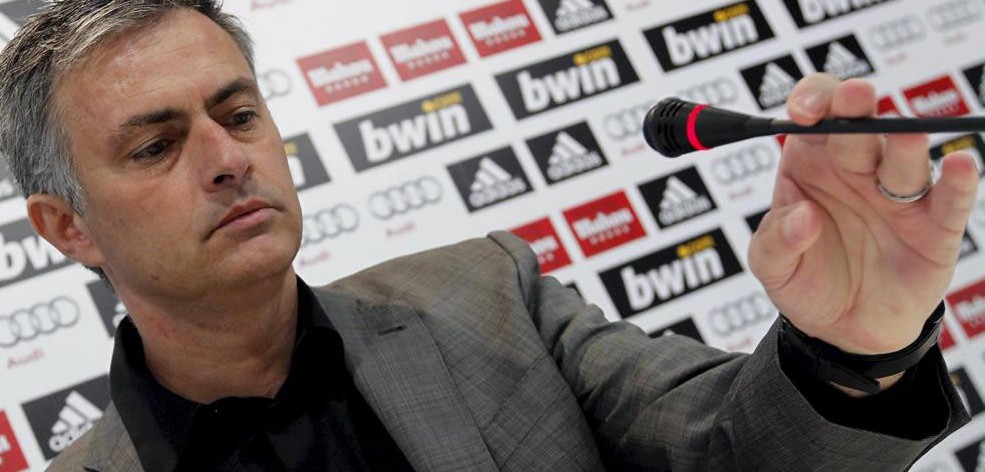 On the weekend Real Madrid continued where they left off from their Supercopa triumph. They strolled to victory in routine fashion against Granada without moving out of second gear, so it seemed. Jose Mourinho was not entirely convinced. But, one can be sure the Portuguese was happy with the win, his team's first three points of the season. After gaining just one point in their opening two La Liga matches, including their defeat of Barcelona just days before, the all whites seem back on track. Everything is well in the capital, again.
Well, not quite. They may have beaten Barcelona, they may have recorded their first win of the season, Ronaldo may have opened his account for the season and he may have scored his 150th goal for the club, but, none of the talk has centred on such matters. Rather, the attention, or perhaps more accurately, the hysteria has focused on these words: "I'm sad and people at the club know why, this is why I didn't celebrate the goals". Of course, these were the words uttered by Ronaldo in the press conference following the Granada match.
Wild speculation has inevitably ensued with numerous theories emerging as to why Ronaldo is 'sad'; from Marcelo's claim that Iker Casillas deserves the Ballon d'Or, to Andres Iniesta winning the UEFA Player of the Year to even the mistreatment of his friend, Kaka. These are all just theories, of course, no one knows exactly why. Though, one popular feeling is that he simply feels under-appreciated by the club – something a new and improved contract is usually the best remedy for. Considering that he has scored 150 goals in 149 matches, perhaps he is worthy of one.
Ronaldo's words will have the Spanish press in hysterics for the next two weeks, when La Liga action resumes turning the attention back to football, again. But, even then the speculation will continue. We certainly have not heard the last of this.
While the rumour mill has gone into hyper drive, the significance of Real's win on Sunday night has gone almost unnoticed. But, given that the champions endured their worst start to a season in 40 years following their draw at home to Valencia and then their shock defeat away to local rivals Getafe, it is worth a mention.
After their 2-1 loss at Coliseum Alfonso Perez, there was talk of crisis at the club; Mourinho was angry, his players were underperforming, they had not won once in three matches and Ronaldo was not scoring. Things were not going well. Meanwhile, Barcelona, if only just, were picking up wins. They went five points clear of their rivals ahead of the second leg of the Supercopa, of which they held the advantage also.
But, in a matter of days everything changed for Madrid. They defeated the Catalans to claim the Supercopa – their first since 2008. They not only won, but, they outplayed their fierce rivals. At half-time the score was 2-1. It could have easily been more. The hosts were carving open Tito Vilanova's men, seemingly at will. And, it told. In a desperate attempt to prevent another Real goal, Adriano hauled down Ronaldo, rugby-tackle style. Rightly, he was given his marching orders. For a good part of the contest, Mourinho's side were even matching Barca in terms of possession. A remarkable achievement given that in the last three games between the two sides, the Catalans had averaged 70 per cent.
Against Granada, it was not the same Real. But, it need not be. The Andalucians – all due respect – are a modest side. They have a net worth of €73 million. Ronaldo alone is worth more. So it figures.
Mourinho said after the match: "I did not like the way the team played. We had little ambition and not very much pace and intensity".
He was right. There was not much intensity or pace. Yet, from the start the match had an air of inevitably about it. A win was always coming. So much so that it some home fans the whole occasion was simply too dull, evidenced by their early departure from the stadium.
But, a win is a win. And, for Mourinho's side, it was an important win – their first in three league games. Surely they can play better, they showed this against Barcelona. But, even when they take it down a notch, they can muster a convincing victory – even with Mezut Ozil and Angel Di Maria starting on the bench.
In a week Real have got their season back on track. They have added some silverware to their cabinet. They have beaten Barcelona, no doubt a psychological advantage in the race for the title. Ronaldo is scoring again. The arrival of Luka Modric has added yet more quality to their ranks. Michel Essien has been brought in, too. Everything was well again. Then, Ronaldo said: "Maybe I am a bit sad".
Follow @icentrocampista